Banking Terms and Definitions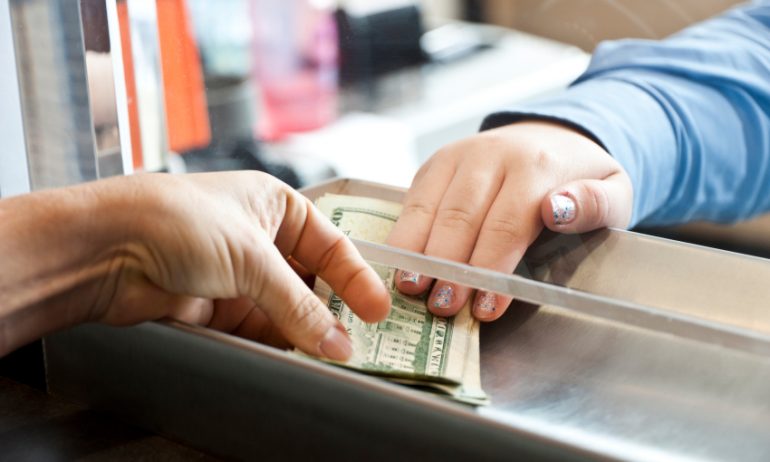 Many or all of the products featured here are from our partners who compensate us. This influences which products we write about and where and how the product appears on a page. However, this does not influence our evaluations. Our opinions are our own. Here is a list of our partners and here's how we make money.
When you're dealing with your finances, unfamiliar words and acronyms can make complicated processes even more confusing. Here's a quick guide to help you navigate banking terms.
SoFi Checking and Savings

APY
4.20%SoFi members with direct deposit can earn up to 4.20% annual percentage yield (APY) on savings balances (including Vaults) and 1.20% APY on checking balances. There is no minimum direct deposit amount required to qualify for the 4.20% APY for savings. Members without direct deposit will earn 1.20% APY on all account balances in checking and savings (including Vaults). Interest rates are variable and subject to change at any time. These rates are current as of 04/24/2023. Additional information can be found at http://www.sofi.com/legal/banking-rate-sheet
Bask Interest Savings Account

APY
4.75%Annual Percentage Yield (APY) is accurate as of 05/09/2023. APY is variable and subject to change at any time without notice. No monthly service charge. No minimum balance requirement. Must fund with 15 days of opening account.
Automated Clearing House, a system operated by the National Automated Clearing House Association that banks use to process electronic transfers such as direct deposits and tax refunds.
Annual percentage rate. The amount of interest you gain from keeping money in an account in a year, not including compounding interest.
Annual percentage yield. The amount of interest you gain from keeping money in an account in a year, including compounding interest.
A plastic card issued by a financial institution that gives you access to an ATM. It does not necessarily allow you to purchase items as a debit card would.
A fee that banks and interbank networks charge when you use an ATM outside your bank's network.
A check issued by a bank, usually for a fee, funded by the bank's money and signed by a cashier or teller. It may be requested by some sellers in place of a personal check to ensure the check won't bounce for lack of funds.
Commonly known as a CD, an account in which you deposit money for a specified length of time. The account typically pays higher interest rates than standard savings and checking accounts.
A way of organizing a sum of money into separate certificates of deposit of varying lengths so that they mature at different times. The method allows greater accessibility to your money than putting all of it in one certificate for a long period.
An account at a financial institution into which you can deposit money and from which you can write checks for purchases. Most people use checking accounts to receive their wages and pay their bills.
An agency that banks use to see whether you have mishandled any accounts in the past. Banks and credit unions communicate with ChexSystems when you apply to open a new account with them.
Interest that applies to the original deposit as well as any newly earned interest. For example, if you put $100 in an account that earns compound interest at 5% a year, in the next year you will earn 5% on $105. Non-compounding interest would continue to earn 5% on $100.
A financial institution similar to a bank that is not-for-profit and is owned by its members. Credit unions tend to have reduced fees, higher saving rates and lower loan rates than banks.
A plastic card issued by a financial institution that allows access to ATMs and can be used to pay for items at stores or online. Funds are drawn directly from your checking account.
Money transferred directly from a payer's account to a recipient's account electronically rather than with a paper check. It is typically used for paychecks, Social Security checks, pensions or other recurring payments.
The interest paid on money in a savings account at a credit union.
An account, usually checking, savings or money market, that has had no activity for a certain period of time, which varies from state to state. Accruing interest is not considered an activity.
A fee that financial institutions may charge customers for closing an account before a specified amount of time from when it was opened, usually several months.
An extra charge that you may incur when you use a debit, ATM or credit card in a foreign country.
A fee your financial institution may charge you if you have not made any transactions in an account for a specified time.
The rate the bank pays on the money in your accounts.
A bank account that has two owners who can access and view transactions. The accounts are commonly used by couples, parents and their teenage children, and adults assisting aging parents.
A checking or savings account that's connected to another account, usually with the same owner, to facilitate transfers between the two.
The process of accessing or using banking products and services through a mobile device. It's usually accessed through an app your financial institution provides.
A way to deposit checks into your bank account using your mobile device. It typically requires you to take a picture of the check and send that picture to your bank through an app.
A program that allows you to hold common financial items such as credit cards, debit cards or store loyalty cards in digital form on a mobile device. They are usually collected under one app.
An account similar to a savings account that typically pays higher interest rates and a higher minimum balance requirement. Some also may have limited check-writing and debit card capabilities.
A prepaid, secure way to send money to others, issued by a bank or post office. It is a physical slip of paper and must be signed by both the sender and receiver for it to be valid.
The National Credit Union Administration. A government organization that regulates and supervises credit unions, and insures up to $250,000 worth of deposits.
Non-sufficient funds fee. A fee your bank or credit union charges when you don't have enough funds in your account to cover the amount of a check. An NSF fee means the bank rejected the check or card payment.
A bank that is operated entirely online. Most offer higher interest rates or lower fees because they don't have to maintain branches.
A fee incurred when your checking account doesn't have enough funds to cover a payment that is requested. The financial institution will pay what your account lacks, after which your account may have a negative balance.
Money you borrow from your bank or credit union if you go over the amount available in your account. You will have to pay interest on the overdraft.
A service offered by financial institutions that allows you to pay for an item even though you don't have the total funds available in your account. This means your card will not be denied, but the service usually comes with a hefty fee.
PEER-TO-PEER (P2P) AND PERSON-TO-PERSON PAYMENTS
A way to send money from your checking account or credit card to another person's account through the internet. Many P2P platforms are used on mobile devices, including platforms such as Venmo, PayPal and Snapcash.
An alternative plastic banking card that must be loaded with money before it can be used. Only the amount put on the card may be spent. Once loaded, the card can be used like a regular debit card.
RELATIONSHIP INTEREST RATE
A higher amount of interest you can get on your checking, savings or certificate accounts, if you hold other accounts at the same financial institution. Availability depends on the financial institution.
A bounced-check fee, charged to the person trying to deposit the check. It can be charged if there are insufficient funds in the check writer's account or the account is closed.
A nine-digit number that identifies your financial institution. Larger banks may have multiple routing numbers that are based on the geographic location where the account was opened.
A secured container in a vault at a bank or credit union that only its owner(s) can access. It comes with a yearly fee and can be used to store valuable items such as jewelry, keepsakes or important documents.
An account that usually pays interest at a financial institution that holds money you want to keep for long-term goals or emergencies.
SAVINGS AND LOAN ASSOCIATION
A financial institution that accepts deposits in exchange for a share of ownership, and primarily lends money for mortgages. Deposits are insured by the FDIC for up to $250,000.
The equivalent of a certificate of deposit for credit unions. An account in which deposits are left for a designated period of time to collect interest. Interest rates for share certificates are often higher than rates for savings and checking accounts offered at the same financial institution.
The equivalent of a checking account for credit unions. It functions the same way as a checking account but indicates that you are a partial owner of the credit union.
A request you can make to your financial institution to deny a check or payment that has not cleared.
Another name for a certificate of deposit. An account that holds your money for a specified amount of time and typically offers higher interest rates than a regular savings or checking account.
A quick way to send money electronically to another person, domestically or internationally, through a bank or another provider.
A federal limit on how many times you can transfer and withdraw money from your savings or money market account, which is six times per month. Going above the cap usually results in a charge from your financial institution.
Get more smart money moves – straight to your inbox
Sign up and we'll send you Nerdy articles about the money topics that matter most to you along with other ways to help you get more from your money.