How to Find a High-Interest Savings Account in the Age of COVID-19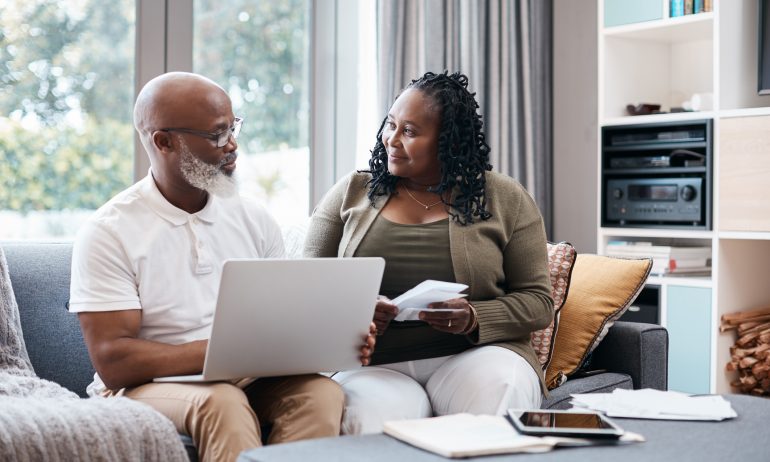 Many or all of the products featured here are from our partners who compensate us. This influences which products we write about and where and how the product appears on a page. However, this does not influence our evaluations. Our opinions are our own. Here is a list of our partners and here's how we make money.
It is possible to find a high-interest savings account during the pandemic. It can even be easy, since you don't have to leave home to open one. The key is to avoid "average." That's because the rate on an "average" savings account is just a fraction of one percent, and it's harder to grow your cash cushion when the yield is close to zero.
Fortunately, some banks offer rates that are consistently better than average, so your money can grow faster than at the typical bank. Lately, even good annual percentage yields can seem relatively low. But high-yield accounts earn more than 10 times the yield of traditional accounts. Couple that with consistent saving, and your bank balance can increase, even during a pandemic.
Why are interest rates dropping?
In normal conditions, savings account interest rates can remain the same for weeks or even months. But they are variable, so banks can change them at any time. When the Federal Reserve reduces rates — as it did in March 2020 in response to market reactions to COVID-19 — banks often follow by lowering the rates on their deposit accounts.
Historically, banks have also increased yields after Federal Reserve rate hikes, so low rates aren't permanent, though they may last for quite a while. It's a good idea to check the best interest rates periodically to see how your bank compares. (Check NerdWallet's roundup of the best savings rates this month.)
Why open a high-interest savings account?
The average savings account earns only 0.45% annual percentage yield. If you put $10,000 in a savings account at the average rate, you'd earn less than 10 bucks after a year. But if you put it into an account that earns 1% APY — close to what many high-interest savings accounts offer — you'd have more than $100.
It might not make you rich, but it can help you build your savings balance. In addition, the $100 will also earn interest each year, on top of any additional interest you've earned, compounding to grow your bank balance even faster. (To learn more, read NerdWallet's compound interest primer.)
» Looking to take advantage of fixed rate options? Review NerdWallet's best CD rates.
How can I find a high-interest savings account?
Start with a list of accounts that earn a good annual percentage yield, say an APY of around 1%. (Read NerdWallet's best savings accounts for top options.) You also want to consider any requirements for earning the best rate or avoiding monthly fees. Some savings accounts charge around $4 a month unless you keep a minimum balance, say $500. It makes sense to consider only those savings accounts in which your typical balance can earn the best rates and help you avoid fees.
Other accounts, particularly online savings accounts, don't have minimum balance requirements or monthly fees. Online banks don't have the branch expenses that traditional banks do, and they generally pass the savings on to customers in the form of better rates and low fees. Some online savings accounts are associated with well-known financial companies that generally don't operate neighborhood bank branches.
How do I open a bank account during a pandemic?
You can almost always open an account online, without face-to-face interaction, even if you have a bank branch around the corner. And because of COVID, many neighborhood banks have scaled back in-person services. But if you have to do more of your banking online anyway, it makes sense to go with an online bank that pays a better rate.
To open an account, you'll need to provide your Social Security number and contact information, along with information from at least one form of identification, such as a driver's license or a passport. (For a joint account, everyone wanting access to the account must provide this information and ID.) You can generally make a deposit via bank transfer from another account, or by mailing a check.
If you have questions about opening or maintaining your account, institutions — including online banks — typically have customer service representatives you can talk to, with many available seven days a week.
Given how unpredictable financial markets are during the pandemic, it is smart to consider whether your bank will weather the storm. Even if it doesn't, your money is safe in a bank account that is federally insured. For a bank, this means it is covered by the Federal Deposit Insurance Corp., and for a credit union, by the National Credit Union Administration. The money is insured up to $250,000 per depositor. So even if the financial institution fails, you can get your money back.
Most banks and credit union websites will note if their accounts are insured by the FDIC or NCUA. You can also check the FDIC's BankFind tool (for banks) and the NCUA's look-up tool (for credit unions) to find out if your financial institution participates.
How often can I take money out of a savings account?
As long as your account has the funds, you're generally free to make savings withdrawals, even if you only recently made a deposit. That's why we recommend using savings accounts for emergency funds. (You can read NerdWallet's tips for emergency funds here.) But there are some limits.
Typically, you can make up to six "convenient" withdrawals from savings accounts each month. These include electronic and phone-initiated bank transfers, including overdraft protection transfers. Go above the limit, and your bank may charge an excess withdrawal fee. Visits to an ATM or teller do not have a limit, however, as they are not considered "convenient" transactions.
It is always important to earn as much as possible on your savings, especially during challenging financial times. Fortunately, with a little research, you can find a high-yield savings account that earns good rates, while keeping your money safe.
APY
0.50%
With $0 minimum balance
Bonus
$250
Earn up to $250 with direct deposit. Terms apply.
Get more smart money moves – straight to your inbox
Sign up and we'll send you Nerdy articles about the money topics that matter most to you along with other ways to help you get more from your money.