Here's a Post-Wedding Name-Change Guide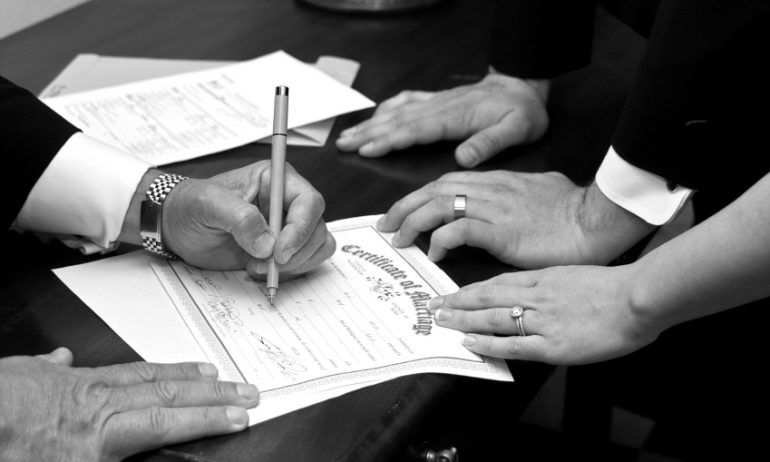 Many or all of the products featured here are from our partners who compensate us. This influences which products we write about and where and how the product appears on a page. However, this does not influence our evaluations. Our opinions are our own. Here is a list of our partners and here's how we make money.
Discover the bank accounts that fit your financial goals
Just answer a few questions to compare bank accounts that meet your needs.
From raucous bachelor and bachelorette parties to the subsequent — and perhaps more peaceful — honeymoon, tying the knot can be an unforgettable milestone.
As much as you'll want to simply enjoy the entire experience, remember that there are a handful of administrative tasks that'll require your attention. One such chore, for those altering their surnames, involves notifying various organizations and institutions that you've made that change.
Don't fret; this process is relatively straightforward. You just need to know what steps to take and whom to tell. Aside from friends and family, here are some of the most important things to do and places to share the news.
Keep an eye out for your marriage certificate
Obtaining your marriage certificate is a vital first step in initiating the name-change process. You can expect to receive this document in the mail within a few weeks of getting married.
Remember: A marriage license is the document that essentially gives you the green light to get married; the certificate legally documents your union. You'll need the certificate when going to places like your bank or credit union and state agencies to have your new surname recorded in their systems.
SoFi Checking and Savings

APY
4.60%SoFi members with Direct Deposit or $5,000 or more in Qualifying Deposits during the 30-Day Evaluation Period can earn 4.60% annual percentage yield (APY) on savings balances (including Vaults) and 0.50% APY on checking balances. There is no minimum Direct Deposit amount required to qualify for the stated interest rate. Members without either Direct Deposit or Qualifying Deposits, during the 30-Day Evaluation Period will earn 1.20% APY on savings balances (including Vaults) and 0.50% APY on checking balances. Interest rates are variable and subject to change at any time. These rates are current as of 10/24/2023. There is no minimum balance requirement. Additional information can be found at http://www.sofi.com/legal/banking-rate-sheet.
Before you do anything, you'll need to update your Social Security information. Although you can't do this online, making the change is free. You'll need to fill out the appropriate forms and provide a couple forms of identification, as well as an official copy of your marriage certificate. You can either drop these off at the nearest Social Security office, or mail them in. You'll need to send original documents, but the Social Security website says that these will be mailed back to you.
Failing to notify the Social Security Administration about your new surname can delay tax refunds and lower your future benefits, so this isn't something to put off.
Driver's license, passport
Next, you'll need to get your state driver's license updated. Depending on where you live in, this may cost you anywhere from $10 to $30.
You'll also need to apply for a new passport by filling out several forms and sending them in by mail, along with your current passport, the original marriage certificate, and a color passport photo. When booking honeymoon trips abroad, keep in mind that it can take the U.S. State Department six weeks or more to process your application, during which time you won't have a passport, limiting your travel options. Be sure to photocopy any original documents you send in, just in case something goes missing in the process.
Financial services providers
Be sure to notify your bank or credit union, as well as other financial services providers, about your name change, especially if you've recently opened a new account or taken out a loan or plan to in the near future. The easiest way to do this will be to visit the office closest to you with your marriage certificate and new driver's license in hand. While there, look into ordering new checks and getting an updated debit card. Don't neglect contacting your credit card issuer and charge account providers about the change as well.
Other parties worth informing
You'll also want to notify the U.S. Postal Service, your employer, insurers and your doctors. Again, simply showing these various parties your marriage certificate and updated driver's license should be sufficient to get them to record the change. It'd be worth calling ahead first, to see if you can get the information updated online instead of in person.
If hunting down the necessary paperwork sounds too stressful, consider investing in a so-called "name change kit," which generally costs $20 to $30. These kits include all the forms and documents you're likely to need, along with instruction and labels for envelopes. Although tackling the name-change process on your own is totally possible, these kinds of services can save you some of the hassle of figuring out which forms you need to fill out.
If you change your name after getting married, it'll be important to spread the word. All it takes is a little organization, time and energy. Before you know it, you'll be able to turn your attention back to your other half.
This article originally appeared on US News here.
Get more smart money moves – straight to your inbox
Sign up and we'll send you Nerdy articles about the money topics that matter most to you along with other ways to help you get more from your money.