How I Ditched Debt: Thrifty Living and Side Gigs
Bad choices in college and a bad job market after led to too much debt. Now she's smart about her finances and future.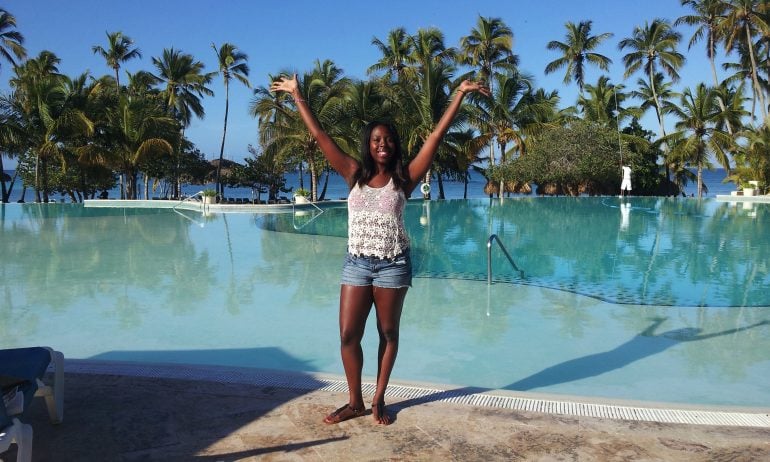 Many or all of the products featured here are from our partners who compensate us. This influences which products we write about and where and how the product appears on a page. However, this does not influence our evaluations. Our opinions are our own. Here is a list of our partners and here's how we make money.
In this series, NerdWallet interviews people who have triumphed over debt using a combination of commitment, budgeting and smart financial choices. Responses have been edited for length and clarity.
Graduating from college during the Great Recession made getting a job and paying off debt a challenge for Tanya Nwamkpa.
After failing to find work for a year, the Dallas resident deferred $31,000 in undergraduate student loans and returned to school. She earned an MBA from the University of North Texas in 2012 and landed a full-time job shortly after. But the additional student loan pushed her debt to $57,000.
"

If I had been smarter about my choice of undergraduate major, courses and living arrangements, I probably could have borrowed less.

"
Tanya Nwamkpa
"If I had been smarter about my choice of undergraduate major, courses and living arrangements, I probably could have borrowed less," Nwamkpa says.
Through careful budgeting, working full-time and supplementing her income with part-time jobs, Nwamkpa, who is now 34, eliminated her debt in five years. She connected with NerdWallet to share her story, which may inspire you to pay off your debt.
What was your total debt when you started your repayment journey and what is it now?
I had $4,000 in credit card debt and $53,000 in federal student loan debt when I finished graduate school in 2012. I paid everything off by 2017, and today I have zero debt.
How did you end up in debt?
I made stupid choices in college. I charged things I couldn't afford on credit cards, including a two-week trip to Europe. But I also spent money on important things like health care, since I didn't have insurance coverage then.
My undergraduate degree in advertising ended up not worth much. I wanted to work at an ad agency as a brand manager, but it's a competitive field and the job market was terrible in 2008.
After looking for a job for a year, I decided to go to graduate school for an education that could set me apart. I took another student loan, which added more than $20,000 to my debt.
What triggered your decision to get out of debt?
Reading personal finance books, including Dave Ramsey's "Total Money Makeover," inspired me to get rid of the credit card debt as soon as possible.
Knowing I could pay off at least one of the cards kept me motivated [to pay them all off].
I didn't pay down the student loans as aggressively as I should have. After I lost my full-time job [as a marketing coordinator] in 2014, I decided to prioritize paying off the remaining loans.
What steps did you take to pay off the student loan debt?
I refinanced the student loans in 2015 with a $47,000 loan from SoFi. It had a fixed rate of 4.6% and a five-year repayment term. I chose a shorter term to motivate myself to pay it off faster. The payment was about $870 a month. At first, I paid just the minimum because it was already pretty high, but I increased my monthly payments in order to pay it off in two years.
I also kept my expenses extremely low. My monthly rent and bills totaled around $1,000. I lived in a small efficiency apartment and had no car payments because my parents gifted me a car in 2008.
I signed up for the cheapest cell phone plan and insurance and constantly negotiated with service providers for lower rates. I lived a thrifty lifestyle, shopping exclusively at Ross, Walmart or Goodwill, and had a very good understanding of needs versus wants.
What additional sources of income did you have?
I got a part-time job, earning $13.50 an hour, rating how well various websites matched search engine queries. I also tested websites for $3 to $15 per test, earning $1,600.
I also earned around $200 a night working at summer festivals for my friend's family's concession-stand business.
What advice would you give to someone interested in a side hustle?
Be creative — and don't be afraid to get your hands dirty. Working those summer festivals wasn't ideal because it gets really hot in Texas. Sitting outside, serving funnel cake and getting covered in powdered sugar wasn't exactly how I wanted to spend my summer. But it's worth doing stuff like that to pay off debt.
How did paying off debt improve your credit?
I've always made on-time payments, so my credit score was already in the 700s. It gradually rose by 100 points as I repaid the debt. This helped me get approved for a rewards credit card with a credit limit of $27,000.
How did you stay motivated during your debt-free journey?
I made a giant spreadsheet that projected out five years and tracked every debt payment, the repayment timeline, and the impact extra payments had on my net worth, which was motivating.
I also joined the SoFi Facebook group, whose members were either trying to pay off debt or had already paid it off. Reading their stories motivated me to get to that point, too.
I developed an understanding of needs versus wants. You may feel like you need to upgrade your phone or your car, but when you sit and think about it, you don't really need to.
What are your next financial goals?
My short-term goal is to have a net worth of $100,000. I'd like to buy a house as an investment property, too. The ultimate goal is to retire early, maybe by 55.
How to tackle your own debt
Nwamkpa used the debt snowball method to pay off her debts, but the debt avalanche works better if you don't need short-term victories and want to save the most on interest.
Flexible side hustles can boost your income and help you pay off debt faster. Consider other ways to make extra income.
Create a budget to see where your money is going and areas where you can save more.
Photo courtesy of Tanya Nwamkpa.