How Much Cell Phone Data Do You Really Need?
Videos and songs burn through cell phone data quickly. Track your mobile phone habits to determine how much data you really need.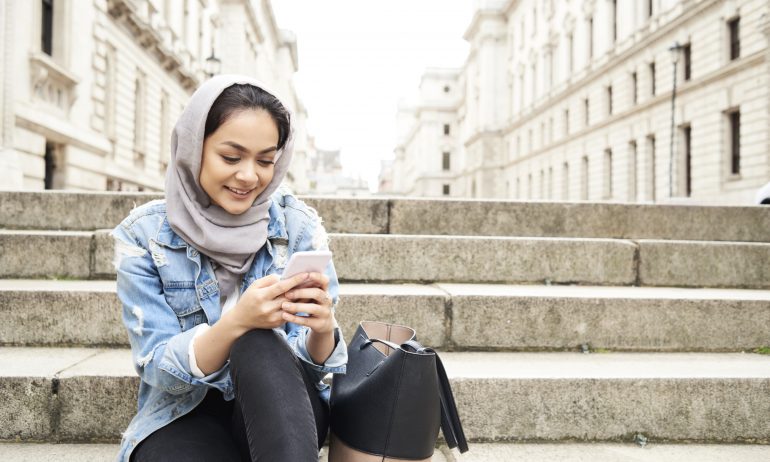 Many or all of the products featured here are from our partners who compensate us. This influences which products we write about and where and how the product appears on a page. However, this does not influence our evaluations. Our opinions are our own. Here is a list of our partners and here's how we make money.
Our love affair with cell phone data is strong. So strong, in fact, that wireless carriers are doubling down on unlimited data plans.
But before you bump up to unlimited, dig into your habits and learn what it takes to run your favorite apps. You may find you can reduce your data plan — and monthly bill.
A smart way to monitor your money
Track your cash, cards, and bank accounts all at the same time.
Take the next month or two to investigate, and if needed, moderate data-heavy cell phone activity with these steps.
Know how much data you use
The average smartphone owner used 12 gigabytes of data per month at the end of 2021, according to a study by communication technology company Ericsson. To know whether your usage falls above or below that threshold, look no further than your phone.
Most phones track overall data usage. They also break it down by app, so you can see how many of your precious gigabytes are being drained by Spotify or Instagram.
Find data usage settings on your iPhone or Android
To view how much data you're going through, dive into the settings of your iPhone or Android phone. Find the "cellular" or "network/internet" section, and look at overall data usage and data by the app.
On an iPhone, the "current period" of data usage doesn't correspond with your most recent billing cycle. You'll have to reset it to zero and start from a specific date to get an accurate picture of how many gigabytes you use in a month. Similarly, an Android allows you to manually pick a time period to monitor.
Understand how much data your apps use
As you check your stats, you'll probably notice some apps are more greedy than others.
It's common knowledge that streaming video and music use heaps of data. You can generally expect to burn through 500 megabytes of data per hour for standard definition video and around 50MB an hour for streaming music, according to a data calculator on Verizon's website. (There are 1,024MB in 1GB.)
What's not common knowledge is how much data usage varies by app and streaming quality. Spotify has four streaming quality settings, and YouTube videos can play in a handful of resolutions.
Sound confusing? It can be. We broke down the data burned by the Spotify, YouTube and Netflix mobile apps.
Data usage by streaming quality

Low: Listen to roughly 95 hours of music for 1GB of data.

Normal: Listen to roughly 24 hours of music for 1GB of data.

High: Listen to roughly 14 hours of music for 1GB of data.

Very high: Listen to roughly 7 hours of music for 1GB of data.

Estimates for common YouTube resolutions viewed on mobile:*

SD (480p): Watch about 2 hours of video for 1GB.

HD (720p): Watch about 50 minutes of video for 1GB.

Full HD (1080p): Watch about 30 minutes of video for 1GB.

4K (2160p): Watch about 6 minutes of video for 1GB.

*Based on calculations conducted by tech website Makeuseof.com.

Settings that balance data usage:

Automatic: Watch about 4 hours of video for 1GB of data.

Save data: Watch about 6 hours of video for 1GB of data.

Maximum data: Watch about 20 minutes of video for 1GB of data.
Adjust phone and app settings to save data
Once you know how much data you use, you can cut yourself off or let your device do the work. From your phone's settings menu, you can turn off certain apps so they don't use cellular data, or you can toggle on data-saving options within the settings menus of common video and music apps.
You'll also want to check the settings on your social media apps, which have become increasingly dominated by video content. A never-ending stream of video reels can make an hour fly by — all the more reason to stop autoplay if the app allows you to turn it off. If not, you might want to watch the clock while you swipe through reels.
Use Wi-Fi (instead of cellular) to save data
You can also save the mobile entertainment for home (or the local coffee shop). When you connect to Wi-Fi, you stop using cellular data. That means you can stream, download and upload to your heart's content without cutting into your data allotment. A slick move is to download your favorite albums or playlists within your music streaming app while on the home Wi-Fi, then take the grooves on the road in offline mode.
After you've made adjustments — to your apps' behavior and your own — you can determine how many gigabytes you actually need. A good rule is to wait a month or two for your usage to reflect your new habits. Then, check your bill or your phone's data usage meter. If your usage is well under your current plan's limits, it might be time to switch plans — or even providers.
If you can't get your gigs down, going unlimited might be unavoidable. Check out budget carriers like Visible and Mint Mobile — each offers an unlimited plan for as little as $30 a month — if you're considering a switch.