Women's Soccer Games Are Way Cheaper Than Men's, So Cheer Them On
The National Women's Soccer League is home to some of the best players on the planet.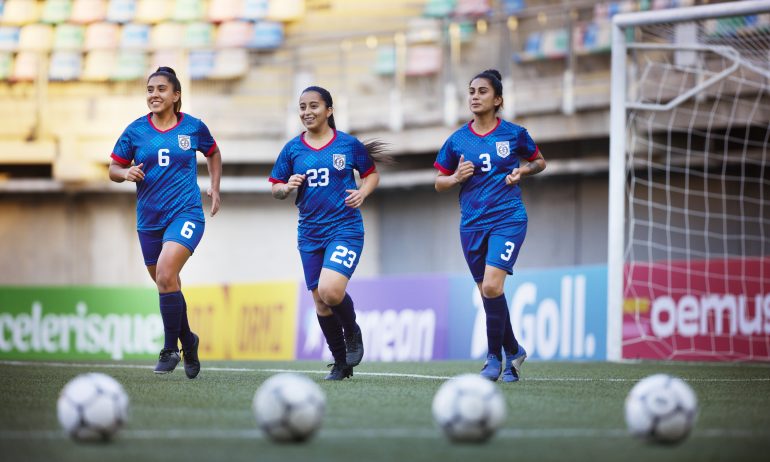 Many or all of the products featured here are from our partners who compensate us. This influences which products we write about and where and how the product appears on a page. However, this does not influence our evaluations. Our opinions are our own. Here is a list of our partners and here's how we make money.
The 2023 Women's World Cup may be wrapping up in a few weeks, but there's still plenty of soccer to enjoy in the U.S. throughout the fall.
If you're looking for cost-effective entertainment, attending a soccer match can be an affordable blast, offering the bright lights, concessions and high-octane moments you'd expect from other major league sporting events, often at a lower cost. That's the case for both men's and women's games — but you could probably guess which ones are cheaper.
Men's soccer games typically cost more than twice as much as women's
On the resale markets, men's soccer tickets are always pricier than women's tickets. Like, a lot pricier.
First, a primer. The U.S. has two professional soccer leagues: the National Women's Soccer League (NWSL) and the Major League Soccer (MLS), which is the U.S. league for men's soccer.
To get a broad sense of what fans can expect to spend on MLS or NWSL tickets, consider data from SeatGeek, a ticket resale marketplace that has calculated average ticket costs for teams' events.
Among tickets listed for resale on SeatGeek, MLS tickets cost an average of $50, while NWSL tickets cost an average of $23. Put another way: On SeatGeek, women's soccer tickets cost less than half the price for a ticket to a men's game.
And city to city, the gulfs between ticket costs range dramatically.
The starkest discrepancy is in Houston, where Houston Dash NWSL tickets average $15, and Houston Dynamo MLS tickets average $45 — three times as much.
Tickets to men's and women's games are the most closely priced in Washington, DC., with tickets to the Washington Spirit NWSL matches averaging $29, and those of the D.C. United MLS team, at $42, per SeatGeek.
The value of attending a women's soccer game
So yes, across the board, tickets to NWSL matches are significantly cheaper than tickets to MLS matches — a disappointing byproduct of systemic discrimination in sports, but an excellent reason to put your entertainment dollars toward women's soccer games.
And chances are, your local women's team has some of the best professional soccer players on the planet. That's because NWSL players also make up the U.S. Women's National Team (USWNT) — you know, arguably the best women's soccer team in the world.
The U.S. Women's National Team has won four of the eight FIFA Women's World Cups that have been held. Meanwhile, the U.S. Men's National Team (USMNT) hasn't won any of the 22 FIFA World Cups held since 1930. The women's team has won four Olympic gold medals, while the men's team has nabbed one Olympic medal since 1904 — bronze, in 2000.
Americans seem to be catching on to the hype. The NWSL is growing explosively a​s attitudes around women's sports continue to evolve. Attendance skyrocketed 80% year over year in 2022, and revenue from ticket sales swelled more than 125%, according to CNBC.
Attending a NWSL match means supporting the league — and watching world-class players — for a relatively low cost.
"The rocket fuel behind the growth of any sport league is attendance," Jessica Berman, commissioner of the National Women's Soccer League, told ESPN in 2022.
Catch a women's soccer game if you live near one of the 12 U.S. cities with NWSL teams: Cary, North Carolina; Chicago (technically Bridgeview, Illinois); Houston; Kansas City, Kansas; Los Angeles; Louisville, Kentucky; Harrison, New Jersey (in the New York area); Orlando, Florida; Portland, Oregon; San Diego; Seattle and Washington, D.C.
If attending isn't feasible, you can watch U.S. soccer matches on streaming services like Fubo, a streamer focused on live sports.
The 2023 Women's World Cup concludes on Aug. 20, and all of its matches will be streamed on the Fox Sports app, through certain cable providers. Alternatively, Fubo, YouTube TV or Sling TV subscriptions may be your best move. For details, read up on how to watch the Women's World Cup.
Get started with budget planning
Check your current spending across categories to see where you can save