Millennial Parents Outpace Gen X, Boomer Parents on Retirement Savings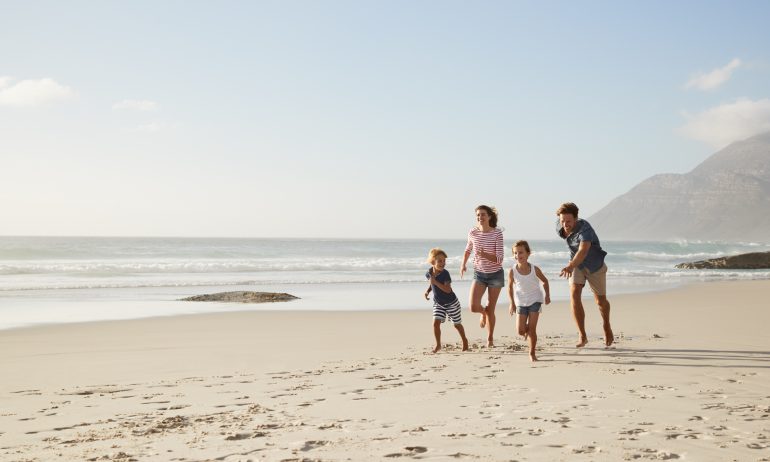 Many or all of the products featured here are from our partners who compensate us. This influences which products we write about and where and how the product appears on a page. However, this does not influence our evaluations. Our opinions are our own. Here is a list of our partners and here's how we make money.
---
The investing information provided on this page is for educational purposes only. NerdWallet, Inc. does not offer advisory or brokerage services, nor does it recommend or advise investors to buy or sell particular stocks, securities or other investments.
Millennial parents may be out-saving parents of every other generation in terms of retirement, according to a new NerdWallet survey.
In some cases, the margin is wide: The survey found that of those saving for retirement, millennial parents (ages 18-34) are contributing a median of 10% of their annual income to their retirement savings. Generation X parents (ages 35-54) are contributing a median of 8%, while baby boomer parents (ages 55+) are contributing a median of just 5% of their annual income. All respondents to this survey question were employed, so retired baby boomers did not skew that generation's contribution rate.
The survey, which was conducted online by Harris Poll on behalf of NerdWallet, asked more than 2,000 U.S. adults, among whom 1,112 are parents and 874 are non-parents, about their retirement savings habits. The savings habits of millennial parents stood out: Despite being earlier in their careers and having lower incomes, they're saving considerably more than conventional wisdom gives them credit for.
Millennial parents are set to out-save other generations: NerdWallet's proprietary analysis finds that if each generation maintained its surveyed savings rate between ages 26 and 67, the higher savings rate of millennial parents could set them up to retire with over $1 million more than baby boomer parents and over $400,000 more than Generation X parents.

Many millennial parents are supersavers: Among employed parents currently contributing a percentage of their income to retirement savings, 38% of millennials report contributing more than 15% of their income, compared with just 24% of Generation X and 23% of baby boomers. Nearly half of millennial parents currently contributing to retirement savings (45%) say they contribute more than 10% of their annual income.

Very few aren't saving at all: Millennial parents and Generation X parents are less likely than boomer parents to skip saving for retirement altogether, with only 7% of millennial parents and 8% of Generation X parents reporting that they are not saving, compared with 18% of baby boomer parents.

Parents are more prepared than non-parents: The research found that parents of all ages are surpassing non-parents in terms of their retirement readiness, despite the added expenses from raising children. Among those saving for retirement, 84% of employed parents say they're currently contributing a percentage of their annual income to their retirement savings, compared with 69% of non-parents. Parents are also more likely than non-parents to describe saving for retirement as a priority (60% vs. 49%).
Higher savings rates mean extra retirement dollars — and greater retirement confidence
Overall, employed millennial parents who are saving for retirement report contributing a median 10% of their annual income to retirement savings, in line with the 10% to 15% range that financial experts frequently recommend. Meanwhile, Generation X parents report contributing just 8% and baby boomer parents report contributing 5%.
A savings differential as small as 2 or 5 percentage points may not seem like much, but it adds up over time to make a big difference in how much money the parents in these age groups could have available for retirement.
Assuming the median savings rates reported in the NerdWallet survey, here's how much those saving for retirement in each generation could accumulate by age 67. Note that for illustrative purposes, this analysis assumes each generation's reported median savings rate remains constant throughout the time period considered, age 26 to age 67.
Overall, parents are more likely to report confidence that they're saving enough for retirement compared with non-parents (57% vs. 47%), with the generational breakdown of parents as follows — 61% of the millennial parents say they're very or somewhat confident they're saving enough for retirement, while 54% of Generation X parents and 59% of baby boomer parents say the same.
Achieving that level of savings and retirement confidence doesn't come easily: According to the research, 76% of millennial parents who are saving for retirement report that they've made sacrifices to do so, while 69% of Generation X parents and 60% of baby boomer parents say the same. This survey question asked if those saving for retirement have ever sacrificed anything to save for retirement, allowing all three generations to include past sacrifices when answering.
Despite their generation's reputation for wasting money by dining out, the top sacrifice reported by millennial parents who are saving for retirement is going out to eat — 43% say they've cut back there to save for retirement. That's roughly in line with the proportion of all millennials saving for retirement — parents and non-parents — who say they've cut back to save (41%).
Advertisement
Promotion 

None

no promotion available at this time

Promotion 

Get up to 12 free fractional shares (valued up to $3,000)

when you open and fund an account with Webull.

Promotion 

Get $50

when you open & fund a new account with $5K on Chase.com or the Chase Mobile® app.
Millennials show strong savings habits
Millennial parents not only seem to be contributing more to retirement savings than older generations, but they also bucked many common stereotypes by revealing several impressive savings and retirement planning habits.
Perhaps the most notable: A whopping 38% of employed millennial parents who are currently contributing a percentage of their annual income to their retirement savings report contributing more than 15% of their income. Only 24% of Generation X parents and 23% of baby boomer parents report the same.
Millennial parents report that saving for retirement is a priority at the same rate as Generation X parents, with 61% of both generations saying it is one of their top long-term savings goals. This is despite the fact that millennials have a long time horizon until retirement, while that stage is rapidly approaching for many in Generation X, which extends to age 54.
Putting retirement high on the priority list may be one reason why millennials are also most likely to say they have increased their retirement contributions when going through several big life changes. Life changes are a good reminder to shore up your finances, and those that come with a reduction in expenses are an opportune time to save more without feeling the pain that comes with an increased savings rate.
Tips to help parents of all generations save more
Look for opportunities to increase savings contributions. Millennial parents seem to have the right idea: Many life changes are opportunities to save more money. If you land a higher-paying job or a raise, immediately bump up your savings contributions. Transitions in your children's lives may also pose opportunities: 24% of millennial parents who are saving for retirement said they boosted their savings contributions after their children entered school (kindergarten-12th grade). If your child is now in public school and you have lower expenses because you've shed day care or preschool costs, it is a natural time to increase your savings rate.
Save when you can to weather periods when you can't. Much of parenting is about thinking ahead, but it comes with its fair share of curveballs. Saving more when you have extra funds can help lessen the blow of the times when you need to cut back due to increased expenses. It also gets money invested, so even if you're not making additional contributions, those investments continue to grow in the background.

Make a plan. Research has shown that those who have a plan for how they're going to save for retirement feel more confident and prepared to meet their goals. A plan doesn't have to be formal or involved — using a retirement calculator to figure out how much you should be saving is enough in many cases. NerdWallet's retirement calculator gives you a monthly savings goal. If you can't reach it now, you at least know what you need to work toward.

Your retirement comes before the kids' college. More millennial parents list college or private-school tuition as a top long-term savings priority (64%), compared with those who list saving for retirement (61%). For those who have limited resources, retirement and college should not be considered equal priorities; saving for your own retirement takes precedence. If you'd like to straddle the line between both goals, a Roth IRA can be a good multipurpose savings vehicle due to its flexibility. Read more about Roth IRAs here.
This survey was conducted online within the United States by Harris Poll on behalf of NerdWallet from August 15-17, 2017, among 2,001 U.S. adults ages 18 and older, among whom 1,677 are saving for retirement and 1,112 are parents. This online survey is not based on a probability sample and therefore no estimate of theoretical sampling error can be calculated. For complete survey methodology, including weighting variables and subgroup sample sizes, please contact Julianne Rowe.
NerdWallet's proprietary analysis of potential retirement savings accumulation is based on the median savings contributions reported in the survey by employed millennial, Generation X and baby boomer parents. The analysis assumes savers begin those contributions at age 26 — the average age of first-time mothers, according to the Centers for Disease Control and Prevention — and retire at age 67, earn an average annual return of 6% and receive increases in income of 2% per year. Retirement balances are not adjusted for inflation.
Get more smart money moves – straight to your inbox
Sign up and we'll send you Nerdy articles about the money topics that matter most to you along with other ways to help you get more from your money.