What You Need to Know Before Buying a Used Electric Car
Here's how to weigh the risks and rewards of buying a used EV.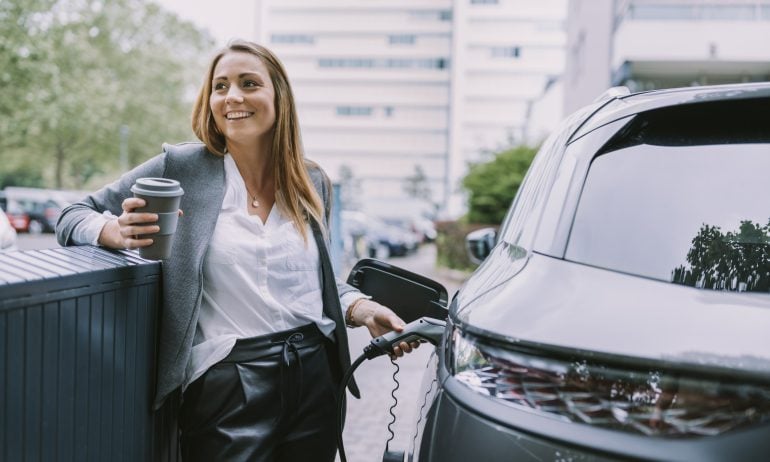 Many or all of the products featured here are from our partners who compensate us. This influences which products we write about and where and how the product appears on a page. However, this does not influence our evaluations. Our opinions are our own. Here is a list of our partners and here's how we make money.
Shopping for a used electric vehicle can be an attractive alternative to buying new. For some budgets, the used-car market is the only realistic place to find an EV: Only a few new electric cars are available for under $30,000, and the lowest-cost option is nearly $10,000 more than the most affordable gas-powered cars.
In addition to thinking about price, shoppers looking for a used EV may have EV-specific questions, particularly about the batteries, how long they last and the cost to replace them.
Used EVs are cheaper than new, but be realistic
A handful of new EVs cost less than the average new car, but "average" — $44,585 as of November 2022, according to Kelley Blue Book — doesn't necessarily mean affordable. And yes, car prices recently have decreased a smidge, but rising interest rates counteract much of that, leading to stubbornly high monthly payments for anyone who finances their purchase.
So how much can you save on a new EV?
Recent Edmunds data shows that EVs less than two years old — a market dominated by Teslas and car flippers — were listed for an average price of $58,179 in late 2022, says Ivan Drury, senior manager of insights for autos site Edmunds.com. That might not be the bargain you're hoping for.
But if you look at slightly older models, you'll see bigger savings. A four-year-old EV cost an average of $30,400.
So instead of lumping all used EVs together, consider the specifics of the particular EV you're looking at and how much you're willing to pay for it. If you can find an older EV with a battery in good shape, it could be a bargain, says Drury. But if you buy an EV that is being flipped at a premium that doesn't qualify for a tax credit, it could be a value trap — cheaper than a new EV, but not worth the price you pay.
Factor in possible savings from buying a used EV
While used EVs cost more than gas-powered cars — with the average transaction price at about $41,000 — you have to look at the total cost of ownership, says Jesse Toprak, chief analyst for Autonomy, an EV subscription service. For example, he says driving an EV could save as much as $5,000 in gas costs in one year.
EVs can also save money in the long run due to:
Incentives and rebates. State and federal incentives might effectively reduce the price of a used EV. For example, the Inflation Reduction Act lets you recover up to 30% of the sale price, up to $4,000, on eligible used EVs.  

Maintenance savings. The cost of upkeep on an EV is generally lower than upkeep for a gas-powered car. EVs don't require oil changes, and they have fewer parts, which means fewer things that can break. EVs also use regenerative brakes, which recapture energy, so their brake pads wear out slowly.
Auto loans from our partners


Used EVs' batteries are important, but not scary
EV batteries are designed to last a decade or more. Over time, however, they'll lose the ability to fully charge, so an EV's range will gradually decrease as well. Estimates for the cost of new batteries are all over the map, from $0 (meaning it was replaced under warranty) to $20,000. As a result, someone in the market for an EV could be wary of shopping for a used one.
But battery degradation doesn't happen overnight, and it won't leave you stranded by the side of the road.
Nearly all new EV batteries are warrantied for at least eight years or 100,000 miles. In California, EV and hybrid batteries will be covered for 10 years or 150,000 miles by the year 2030, as part of the Advanced Clean Cars II regulations.
If your search is focused on lightly used EVs, there's a good chance the cars you're looking at still run on a battery that's under warranty. And just because a warranty expires doesn't mean the battery is near death. Fears of battery failure "are a bit overstated," Toprak says. He thinks the anxiety comes from people thinking of an EV battery as being like a cell phone battery that degrades quickly. But in actuality, a Tesla Model 3 battery was built to deliver power for over 300,000 miles, he says.
How to test the battery health of a used EV
An EV's potential range can be checked by taking these steps:
Research the original range. Before you see the car in person, go to the manufacturer's site to find its listed maximum range. The Environmental Protection Agency also has a searchable database, which can be useful if you're looking for an older model that has minimal online presence on the manufacturer's website.

Charge up. Ask the seller to have the vehicle's battery fully charged prior to a test drive.

Note the range. Check the range of the fully charged battery on the EV's mileage gauge. If you can't find it, ask.

Make it a true test. Take the car for an extended test drive. Turn on the air conditioning on and simulate your typical style of driving. The range can be affected by a number of variables. See how it performs under the conditions you'll throw at it.

Check the range again. Note the remaining range at the end of the test drive, and calculate the difference between that number and the beginning range. Compare it to the distance you actually drove, which might require you to map the route you took.

Still interested? Consider a used car inspection with a brand specialist or a local EV mechanic.
How concerned should you be if your test drive shows a battery that has lost some charge? That depends. Some manufacturers say a decline of 30% is normal, even when under warranty. Your needs are also important. If you expect to put on heavy miles on a regular basis, range will be a priority. But if, for example, you plan to use the EV primarily for shorter, daily use (the average driver puts on 37 miles per day, according to the Federal Highway Administration) while using a different vehicle for road trips, you might compromise an EV with max range for one with a lower price tag.
Get more smart money moves – straight to your inbox
Sign up and we'll send you Nerdy articles about the money topics that matter most to you along with other ways to help you get more from your money.