What to Know About Buying a Condo
To buy a condo, you'll want to choose a complex that fits your lifestyle and budget, familiarize yourself with its HOA and carefully review condo documents before you close.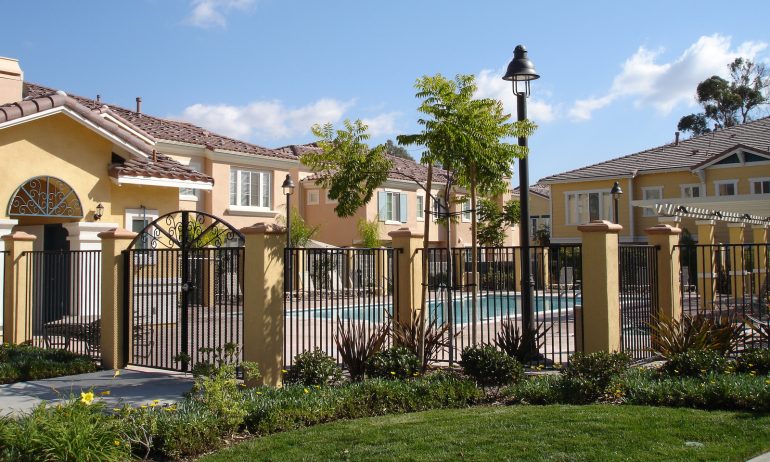 Some or all of the mortgage lenders featured on our site are advertising partners of NerdWallet, but this does not influence our evaluations, lender star ratings or the order in which lenders are listed on the page. Our opinions are our own. Here is a list of our partners.
For some prospective home buyers, a condo can be a springboard to homeownership. A condominium can be an affordable alternative to a detached single-family home, giving you ownership of an asset that may appreciate in value and can be customized with more improvements than a rental. At the same time, like many renters, you won't have to take care of all the upkeep.
Getting ready to buy a home? We'll find you a highly rated lender in just a few minutes.
Enter your ZIP code to get started on a personalized lender match
Here's what to consider if you're thinking about buying a condo.
A condo is a housing unit that's part of a larger condominium complex. The complex could be a multistory building with apartment-style dwellings or a sprawling development with detached units.
One key distinction between condos and single-family homes is that while you own the condo itself, you don't own the land on which it sits. In other words, the walls of your condo and what's inside them are yours; what's outside (including the building's exterior) is not.
Buying a condo typically means you'll share access to the complex's outdoor and common spaces. On the plus side, that means you may get to use amenities like a gym, lobby, elevator or garage. The downside is that your ability to use or make changes to the areas outside your condo — like planting a garden — may be limited.
While a single person, company or group of investors owns the condo complex, shared areas are typically managed by the development's homeowners association. HOAs are generally made up of condo owners from within the complex.
HOA members don't have a greater ownership stake than others in the complex, but they do have the power to make and enforce rules. This can include some restrictions on what goes on inside your unit, like how many pets you can have or how loud your music can be.
The HOA also sets the monthly fees that pay for maintenance of common areas. You'll pay HOA fees in addition to your mortgage, so they're an important part of your homebuying budget.
Is buying a condo a good idea?
Jan Stern, a Century 21 real estate agent based near St. Petersburg, Florida, says the decision to buy a condo or house ultimately comes down to lifestyle.
"There's more privacy in a house, but there's much more to take care of," Stern says. With condos, "some people don't like that there's a maintenance fee. But would you have a pool, a volleyball court, a tennis court without it?"
She recommends considering what condo amenities you would enjoy — and actually use — and weighing these against the recurring costs of a single-family home.
Finding the right condo for you
Pinpoint the condo complex where you want to buy, rather than stressing over the exact unit. "You need to be in an environment that feels good," Stern says. She suggests checking out the complex or building at different times of day, and asking current owners whether, if given a do-over, they'd buy there again.
Why is it so important to identify the condo community where you hope to buy? Because the complex and its HOA can impact your ability to get a condo mortgage.
The government-sponsored enterprises (like Fannie Mae and Freddie Mac) and agencies (like the Federal Housing Administration and Department of Veterans Affairs) that back mortgages set certain standards for condos, which can limit your choices when it comes to financing.
Guidelines for FHA-approved condos are more lax than they used to be, but borrowers using a VA loan are still limited to VA-approved complexes, for example. Even if your condo complex is up to standards, you may have to fork over a larger down payment to get a better interest rate.
What's different about buying a condo?
Though many aspects of buying a condo are similar to buying a house, there are a few parts of the process that aren't quite the same.
When you apply for condo mortgage preapproval, you may have to provide some documentation about the condo complex in advance. For example, before deciding if the condo is eligible for mortgage financing, lenders will generally want to know whether the HOA is named in any lawsuits, what percentage of the units are owner-occupied and what types of insurance the complex has. In addition to scrutinizing your finances, lenders will likely also check to see that the condo complex's books are in order.
Once your offer on a unit has been accepted, you'll need to do even more due diligence. According to Stern, buyers often can't get the full documentation on a condo complex until after they have had an offer accepted. This includes the list of covenants, conditions and restrictions by which residents must abide, a breakdown of what's included in the monthly HOA fees and a list of disclosures specific to your unit.
The HOA's budget — which your lender will likely also ask for — is another biggie. Check to see that the HOA isn't running a deficit, and that funds have been set aside in case of emergencies. If there are not sufficient funds to cover a big expense, like replacing a roof, you as a condo owner may face a special assessment — an additional, one-time charge to cover the cost.
Stern also recommends having your real estate agent ask for HOA meeting minutes from at least the last six months. The minutes can clue you in on any ongoing issues or disputes, as well as upcoming projects (like aesthetic updates or new amenities) that might require additional payments.
Once you've done your homework, you can feel more confident that a condo — and the community that comes with it — is the right fit for you.
Getting ready to buy a home? We'll find you a highly rated lender in just a few minutes.
Enter your ZIP code to get started on a personalized lender match
Get more smart money moves – straight to your inbox
Sign up and we'll send you Nerdy articles about the money topics that matter most to you along with other ways to help you get more from your money.