10 Best Business Ideas for Couples
If you love to do everything together, explore your entrepreneurial side with these business ideas for couples.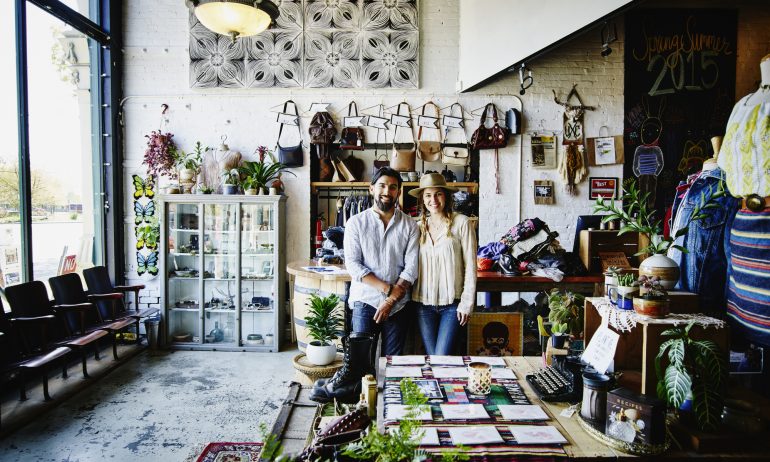 Many or all of the products featured here are from our partners who compensate us. This influences which products we write about and where and how the product appears on a page. However, this does not influence our evaluations. Our opinions are our own. Here is a list of our partners and here's how we make money.
You share everything with your beloved, but should you share starting a business with your partner?
Only you and your partner can answer that, but whether you have aspirations of running a bustling corporation or want to earn a little side hustle money to help fund your joint goals, it's important to align on the right business idea at the onset.
Why couples should consider starting a business together
Starting a business as a couple may sound messy, and chances are it won't always be smooth sailing. But who better to share the ups and downs of business with than the person who is committed to being by your side for better or for worse? If your business succeeds, your success will feel that much sweeter because you can celebrate with someone you love. If things take a turn for the worse, you'll have someone to help you through the tough times.
Another bonus is that you'll spend more time together and be able to relate to one another easier. While starting a business as a couple is not for the faint of heart, it can strengthen your bond and bring success to your professional lives.
10 best business ideas for couples in 2021
If you and your partner are set on starting a business together in 2021, then you'll want to make sure you pick a business idea that aligns with your passions, skillset, and has the potential to be profitable. To make the task of picking a business idea easier, we've rounded up some business ideas for couples in 2021.
One of the perks of working with your favorite person is that you know you'll love your coworker. Spread those good vibes by starting a wellness business—a business idea for couples that is equal parts profitable and helps give back to your community. As of 2019, it is estimated that the global health and wellness industry is worth $4.2 trillion.
So you might want to take advantage of this profitable trend. Especially if you're the couple who loves to hit the gym, cook healthy meals, and knows exactly what the health benefits of turmeric are. Wellness businesses can range greatly from teaching yoga classes to selling all-natural beauty products to starting a meal prep business. With so many options, chances are good that you can find a wellness business that suits your skills and interests.
What if there was a way to make sure your happy customers come back for more of what you're selling time and time again? Well, if you start a subscription model business, you'll have a much better chance of retaining customers and receiving sales from them on a weekly, monthly, or quarterly basis.
From 2014 to 2017, subscription model business websites had about 37 million visitors, so clearly consumers are interested in this type of business model. While it would be hard to compete with Amazon, you can take inspiration from them. Their subscription service alone made over $1.4 billion in a single quarter in 2018.
The other great aspect of this type of business is there are limitless options for what your subscription can be for. Whether it's beauty products, fresh dinners, clothing, pet toys—there's an opportunity for everything. What are you passionate about? Choose a theme and start sourcing products.
3. Online educational resources
Take a minute and consider what your top skills are. Maybe you're a total marketing wiz or have creative writing skills that would impress the toughest critic. Take your specialty and make it work for you by providing online educational resources. Even if you choose to step away from your comfort zone and create educational resources outside of your area of expertise, you'll have fun and learn a lot along the way.
Selling online courses, e-guides, instructional manuals, advice books, or virtual tutoring sessions are all inexpensive ways to start an online education business. E-learning sales are expected to grow to $325 billion by 2025. Because you won't need to actually print educational materials, ship products, or have a storefront, you can keep your costs to a minimum while you grow your business. This is an ideal business to team up with your partner on. One of you can focus on creating the educational offerings and the other can focus on the business development, accounting, and marketing side of the business.
4. Travel products and services
With flight prices dropping and Instagram inspiration flowing, it's no surprise that almost everyone you know has caught the travel bug. If you have it too, you might want to consider turning your love of travel into a business. A bed and breakfast is a fun business idea for any couple. Especially if you consider the fact that U.S. hotel booking grew from $116 to $185 billion just from 2009 to 2017.
If getting into the hotel game isn't for you, consider other travel business ideas like becoming a virtual travel agent team, start a tour guide business in your region, or design travel accessories like luggage. Think about what services or products you wish you had when you travel and then get to work making them a reality.
5. Meal delivery services
If you and your partner love to cook, then a meal delivery service business may be the right business for you. People are always looking for ways to save time, and one of the easiest ways to do this is having fresh, healthy meals delivered right to your door.
You can sell meals piecemeal, or you can take advantage of those subscription-based models we talked about earlier. Plan on targeting busy professionals who want healthy, delicious, and convenient food dropped off at their doorstep. Why should you focus on a meal delivery service in particular? Because 27% of internet users purchased meal kits online in 2016. As that number continues to grow, you can capitalize on this demand by starting a food business of your own. Just make sure you research your competition and think of a way to make your business stand out.
6. Wedding products and services
What could be better than two love birds helping other couples plan their special day? The average wedding costs over $30,000, which leaves plenty of opportunities for you and your partner to find a niche in this market.
The business opportunities in the wedding industry are pretty extensive, which means you can likely find something in line with you and your partner's interests and skillsets. You could start a wedding venue, design dresses and other formalwear, start a wedding planning business, bake the cake, or any other number of businesses related to food, florals, music, stationery, and more.
Chefs and food lovers alike flock to food trucks for two good reasons: freedom and affordability. Having a food truck is much more manageable than opening a restaurant, especially for a team of two. The limited physical space of a food truck allows you to keep overhead costs low and creativity high.
Do you want to only sell fried potatoes on a stick? While that concept wouldn't keep an entire restaurant afloat, it is enough to make a food truck massively popular at carnivals, street fairs, and other fun events. This year, it is estimated the food truck industry will reach a value of $996.2 million, so clearly this delicious trend is here to stay. Hit the road with your partner and park your food truck in the hottest spots around.
Starting a business as a couple doesn't mean you have to quit your full-time jobs. You can run a small side hustle and still make great money without too much effort. If you and your partner have a home with an extra room you're willing to rent or don't mind renting out your entire house while you're away on vacation, then you can make a solid income through websites like Airbnb or HomeAway.
Couples who don't yet live together can doubly benefit from this side business because they can list one apartment or home for rent and stay in the other. Just make sure you're following proper regulations regarding renting out your home as determined by your city and homeowners association.
with Fundera by NerdWallet
Do you and your significant other have a love of coffee and want to share it with your community? Opening a coffee shop in your town will allow you and your partner to do just that. You can set reasonable hours, work in a homey environment of your own design, and become a staple business in your town.
Experts are predicting the coffee industry will grow by 4.5% every year through 2023. Coffee shops have been popular for decades and if you create the right environment, a mouthwatering menu of beverages, and even consider adding some light bites or baked goods, you could have a profitable business on your hands.
If opening a coffee shop or food truck feels like too big of a step right now, keep your culinary aspirations small and open up a stall at your local farmers market. Renting a space at your weekly farmers market is inexpensive and a great way to test out your products and receive feedback from customers.
You could sell baked goods, home-grown produce, or even specialty products like infused olive oils. This is a really fun and simple business to start as a couple and will be a profitable way to spice up your weekends.