Can Your Small-Business Idea Actually Make Money?
Before leaving the 9-to-5 for a life as a small-business owner, you need to know if your business idea is a moneymaker or a money pit.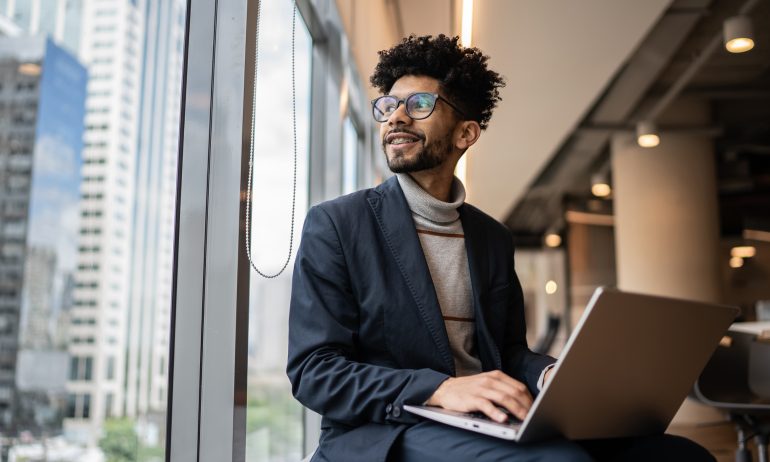 Many or all of the products featured here are from our partners who compensate us. This influences which products we write about and where and how the product appears on a page. However, this does not influence our evaluations. Our opinions are our own. Here is a list of our partners and here's how we make money.
Business applications have been steadily on the rise in 2023, according to data from the U.S. Census Bureau, with over 451,000 filed in March alone. With the majority of this number attributed to small businesses, you may be one of the thousands of Americans considering a small-business idea of your own.
However, starting a business doesn't guarantee success. Based on 1994-2020 data from the Small Business Administration, about 1 in 3 new businesses won't survive two years. Before you start scouting locations and looking for financing, take the initial step of checking the feasibility of your small-business idea with some research and a little math.
Does your idea solve a problem?
Successful businesses help consumers solve their problems. First, identify what problem your business is going to solve and how. Framing your idea in this way will help you identify your target customer and also explain your business to others.
Based on the problem you're solving, you can develop a profile of your target customer. This would include their pain points, interests and demographic data such as age range, gender, location and income levels. While you're researching, make notes on the size of the group and their buying patterns so you can use it in your revenue calculations later.
Once you know who your target customer is and what problem you're solving for them, you can get their input directly. "What a lot of people haven't done when they have a great idea — they haven't talked to potential customers," says Al Everett, a certified mentor of SCORE, a nonprofit that offers free resources to small-business owners. "Talk to people that are in your family or people you have a lot of respect for in terms of how they buy," he recommends.
Does your idea stand out from the competition?
You also need to know who your competition is and the ways your business is different from others in the market. When meeting with entrepreneurs, "I try to strongly encourage them to do a SWOT analysis around the strengths, weaknesses, opportunities and threats from the competition. They also need to do that on themselves," says Everett.
In addition to researching your competition, Everett also recommends talking to them directly and even buying their products to see how they compare to yours.
When soliciting feedback from potential customers and your network, find out where they currently shop, what they like and dislike about those businesses and whether they'd consider alternatives. Their honest reactions can be an indication of whether your idea has a place in the market.
Have you crunched the numbers?
It's time to crunch the numbers to see what potential revenue your business would generate. Begin by developing estimates of your monthly revenue and expenses. To calculate your projected monthly revenue, estimate your number of monthly sales and multiply it by the selling price of your product or service. If you're not sure how to price your product, mirroring a competitor's pricing can be helpful.
Next, total all your monthly expenses. This includes the costs directly related to the product or service your business will provide — such as materials, inventory, packaging, shipping and labor — as well as additional business expenses like rent, utilities, equipment, marketing, licenses, insurance and fees. "Make sure you think about all your expenses," says Vanessa Uteau, owner of Pazza Market & Cucina in San Diego. "All your permits, all your fees, all your bank fees, whatever fees are going to be incurred in your business."
Now, subtract your total expenses from your revenue to roughly estimate your monthly profit or loss. The more detail you include in these estimates, the more accurate the calculations.
You may want to consider creating a few different projections based on adjustments you could make to your revenue and expense estimates. For example, selling your product at a higher price would increase the monthly revenue number. Or, monthly expenses could be reduced by operating your business remotely instead of leasing office space.
Next step: write a business plan
The next step in your journey is to write a business plan, if you still see your idea as profitable. You've already done some of the work required for a business plan such as researching the market and your competition, identifying your typical customer and making basic financial projections.
It may also be time to consider getting assistance, especially if you don't have a business background or haven't run a small business before. SCORE business mentors, Small Business Development Centers, as well as organizations for veteran, women and minority business owners can help when you're starting a small business, often at no charge.
Everett recommends having two to three mentors, whether from business organizations or by leveraging groups on LinkedIn or Facebook. "Businesses, especially entrepreneurs, are proud of what they've done and they will share," he says.