Many or all of the products featured here are from our partners who compensate us. This may influence which products we write about and where and how the product appears on a page. However, this does not influence our evaluations. Our opinions are our own. Here is a list of our partners and here's how we make money.
TurboTax is generally pricier than everything else out there, but even though confident filers may not need all the bells and whistles that most TurboTax online products offer, many people will find the experience and the availability of human help worth the extra cost. We've long praised TurboTax for its design and flow.
User-friendly, interview-style Q&A.

Live, on-screen support option offers human help at extra cost.

Some of the most expensive software on the market.
---
TurboTax has a lot going for it, but price isn't one of them. The list price of its software routinely is on the high end of the spectrum, especially when adding the cost of a state return. And if you want access to human help, it costs even more.
What you get from TurboTax's free version
TurboTax offers a free version for simple tax returns only; it lets you file a Form 1040 and this year can handle unemployment income reported on a 1099-G.
But it can't itemize deductions or handle schedules 1, 2 or 3 of Form 1040, which means it probably won't work for you if you plan to deduct mortgage interest, report business or freelance income, report stock sales or income from a rental property, or deduct student loan interest.
Available versions and list prices
• Federal: $0 • State: $0

For simple tax returns only; it allows you to file a 1040 and a state return for free, but you can't itemize or file schedules 1-3 of the 1040. Generally, it works only for people who don't plan to claim any deductions or credits other than the standard deduction, the earned income tax credit or the child tax credit.

• Federal: $80 • State: $45

This is essentially the free version but with on-demand video access to a tax pro for help, advice and a final review.

• Federal: $60 (with Live: $120) • State: $50 (with Live: $55)

This version lets you itemize and claim several other tax deductions and tax credits. And if you have business income but no expenses, this might work for you, too.

You can't report capital gains or rental income (Schedules D and E).

• Federal: $90 (with Live: $170) • State: $50 (with Live: $55)

This is the Deluxe version with added capability for reporting investments and rental income (Schedules D and E, and K-1s).

• Federal: $120 (with Live: $200) • State: $50 (with Live: $55)

Gets you everything in the Premier version, plus it can handle both business income and expenses on a Schedule C. It also works for the home office deduction, and offers extra deduction help and special Square, Uber and Lyft features for freelancers, independent contractors and side-hustlers.
One note about prices: Providers frequently change them. We'll keep updating this review, but you can verify the latest price by clicking through to TurboTax's site. TurboTax also offers desktop software, where your return doesn't reside in the cloud, but it's not part of our review.
---
TurboTax's interface is like a chat with a tax preparer, and you can skip around if you need to. A banner running along the side keeps track of where you stand in the process and flags areas you still need to complete.
Embedded links throughout the process offer tips, explainers and other resources. And help buttons can connect you to the searchable knowledge base, on-screen help and more.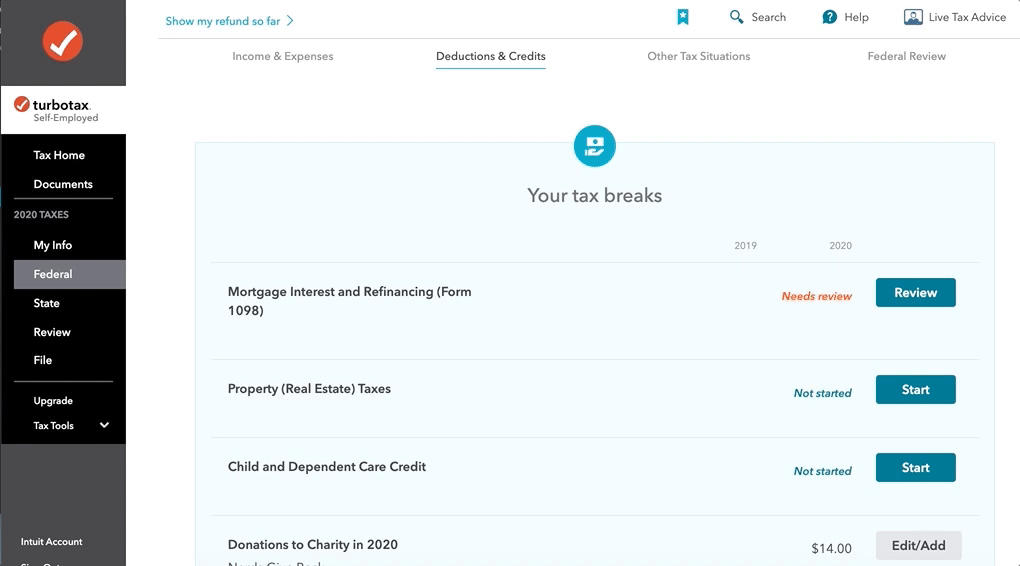 You can switch from another provider: TurboTax imports electronic PDFs (not scans of hard copies) of tax returns from H&R Block, Credit Karma, Liberty Tax, TaxAct and TaxSlayer.
Auto-import certain tax documents: You can automatically import W-2 information from your employer if it's partnered with TurboTax, but you can also take a picture of your W-2 and upload it to transfer the data to your return. You can import certain 1099s, and the Self-Employed version also lets you upload 1099-NECs from clients via photo, as well as import income and expenses from Square, Uber and Lyft.
Donation calculator: The Deluxe, Premier and Self-Employed packages integrate ItsDeductible, a feature — and standalone mobile app — that's helpful for quickly finding the deduction value of donated clothes, household items and other objects.
Platform mobility: Like many other providers, TurboTax lets you access and work on your return across devices: on your computer via the website or on your phone or tablet via an app.
---
TurboTax's support options
Here's a look at the various ways you can find answers and get guidance when filing your return with TurboTax.
General guidance: Searchable knowledge base, forums and video tutorials are helpful for research on the fly.

Tech support: All users have access to TurboTax Assistant, a chatbot, or a contact form. Paid users get access to a TurboTax specialist.

One-on-one human tax help: Live, on-screen tax advice or review of your whole tax return by a tax pro is available if you buy the TurboTax Live version. These users also can submit written questions that a tax pro will answer within 24 hours.
One of TurboTax's most outstanding support options is TurboTax Live. It offers a one-on-one review with a tax pro before you file, as well as unlimited live tax advice throughout the year. You can make an appointment or talk on the fly to a tax pro via one-way video (you see them, but they see your screen only).
New this year is TurboTax Full Service, which does away with tax software altogether. Instead, you upload your tax documents and a human puts together your tax return. You meet the tax preparer on a video call before they begin working, then you'll meet again when your return is ready for review and filing. Prices range from $130 to $290 for federal returns, depending on complexity, plus $45 to $55 per state return.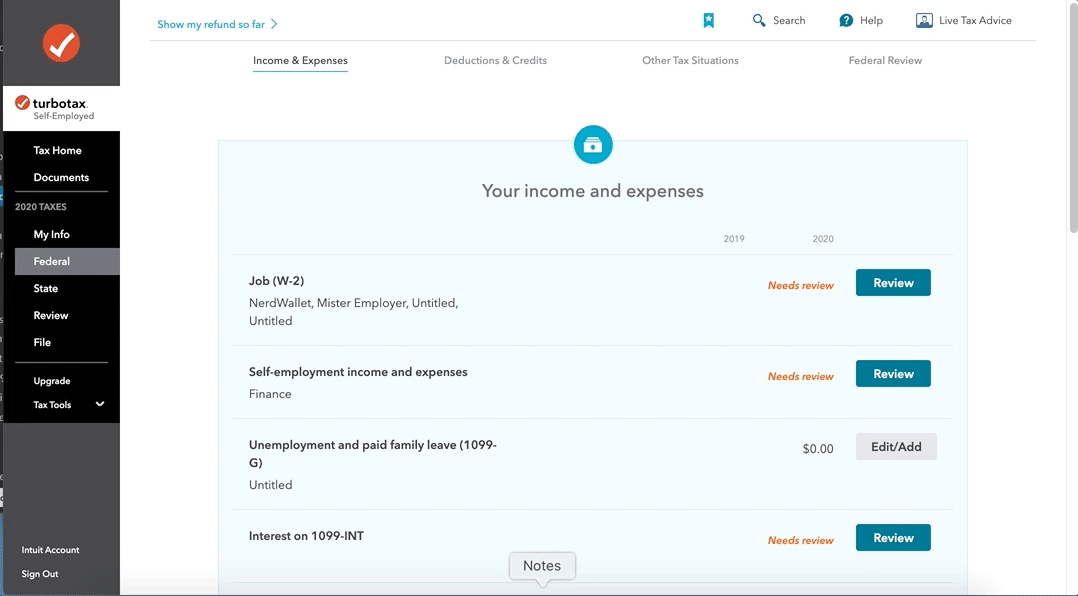 Getting audited is scary, so it's important to know what kind of support you're getting from your tax software. First, be sure you know the difference between "support" and "defense." With most providers, audit support (or "assistance") typically means guidance about what to expect and how to prepare — that's it. Audit defense, on the other hand, gets you full representation before the IRS from a tax professional.
TurboTax gives everyone free audit support from a tax pro to help you understand what's going on if you get that dreaded letter about your 2020, 2019 or 2018 tax return; if TurboTax can't connect you with a pro, you'll get a refund. If you want someone to represent you in front of the IRS, you'll need TurboTax's audit defense product, called MAX. It runs an extra $60 and includes features such as identity theft monitoring, loss insurance and restoration help.
If you're getting a refund
No matter how you file, you can choose to receive your refund several ways.
A direct deposit to a bank account is the fastest option. You can also have it loaded onto a Turbo Visa Debit Card (if you're getting a refund on your state taxes, see if your state offers a prepaid card option as well) or sent as a paper check.
Other options include applying the refund to next year's taxes and directing the IRS to buy U.S. Savings Bonds with your refund.
You have the option of paying for the software out of your refund. But there's a $40 charge to do that.
---
| | |
| --- | --- |
| | Pricing: $47.95 to $94.95, plus state costs. |
| | Pricing: $60 to $120, plus state costs. |
| | Pricing: $49.99 to $109.99, plus state costs. |
---
With its intuitive design and experience and variety of support options, TurboTax is in many ways the standard for the do-it-yourself tax-prep industry. Its products come at a price, however, and similar offerings from competitors this year may provide a better value elsewhere.
Get more smart money moves – straight to your inbox
Sign up and we'll send you Nerdy articles about the money topics that matter most to you along with other ways to help you get more from your money.