Why ANA Is a Great AmEx Transfer Partner for Flights
ANA's high-value miles and stopover rules make the Japanese airline a standout among AmEx's transfer partners.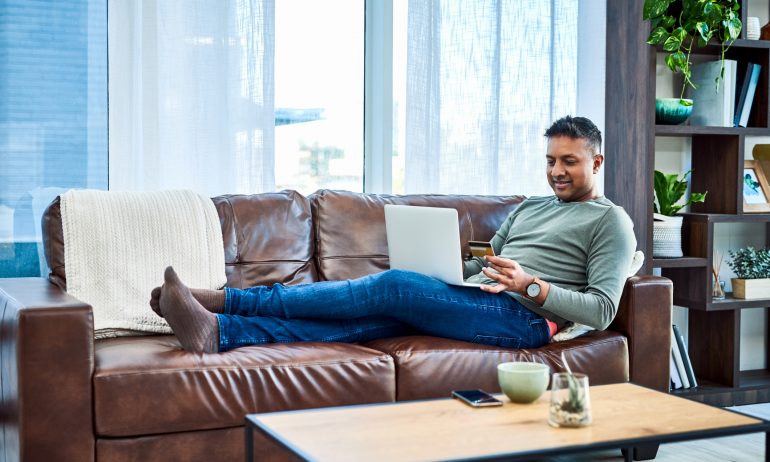 Many or all of the products featured here are from our partners who compensate us. This influences which products we write about and where and how the product appears on a page. However, this does not influence our evaluations. Our opinions are our own. Here is a list of our partners and here's how we make money.
ANA has a generous partner award chart with sweet spots that you can use to fly some of its Star Alliance partner airlines. We're talking round-trip business class award tickets (with a free stopover if you're feeling adventurous) between the U.S. and Europe for only 88,000 miles.
Despite these advantages, ANA doesn't get enough attention. Here's why you should consider transferring your AmEx Membership Rewards to ANA the next time you book a flight.
Reasons to transfer to ANA
ANA has insanely valuable miles
After a deep dive valuations analysis, NerdWallet determined that the typical value of ANA miles for economy awards is 2 cents each, but jumps to as high as 7.4 cents per mile when redeemed for business class. Both of these valuations were the highest compared with the other airlines in our analysis.
This mile value plays out in some of the sweet spots we found, where it would cost thousands of more miles if you booked the same flight with another airline loyalty program.
Also, if you were to use your AmEx Membership Rewards to book travel through the AmEx portal, you'll get only about 0.7 cent to 1 cent of value. That means that you can get, on average, 7x more value if you transfer those points to ANA and then use them to book business class award tickets.
ANA has generous round-trip, stopover and open jaw rules
You might be able to add extra destinations to your trip by leveraging ANA's open jaw and stopover rules. These rules allow you to add an extra flight between two cities or simply depart from a different city than the one you flew to originally.
The best part is that it won't cost you any more miles than a mere round-trip ticket — so long as you remain in the ANA's designated zone. Here's how it works.
The ANA Star Alliance and partner award zones
Below are ANA's designated zones, which you need to refer to when looking up award prices for one of the Star Alliance member airlines or ANA's other partner airlines. The number of miles required depends on which zone you're flying from and flying to.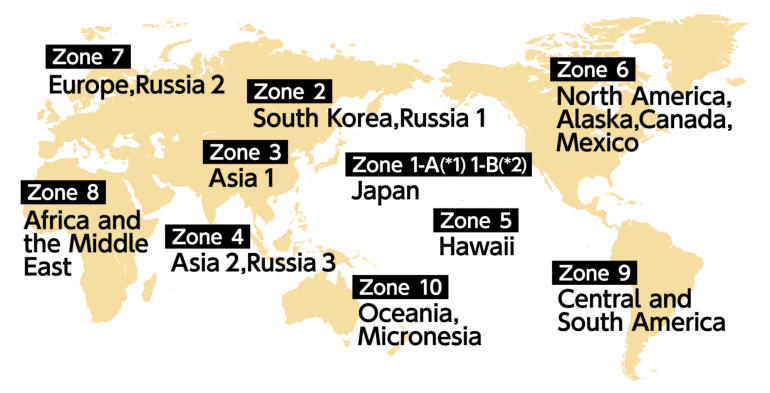 Booking a round-trip ANA partner award
Let's consider the example of a round-trip flight from New York (Zone 6) to Amsterdam (Zone 7) in business class for 88,000 miles.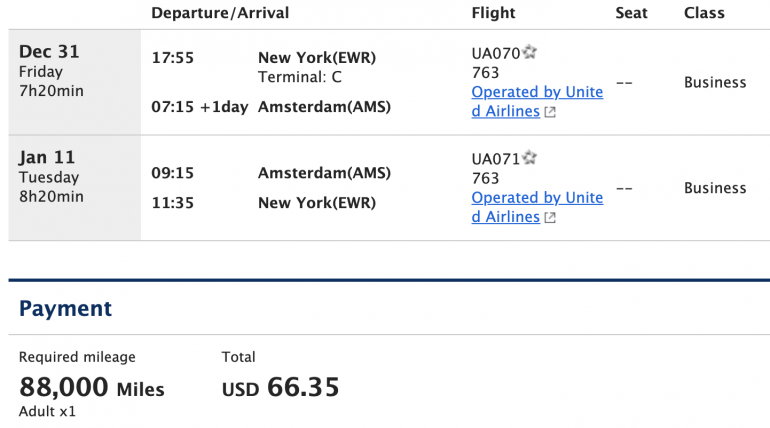 You could turn this same itinerary into an open jaw flight or add a stopover, and the number of miles needed would remain the same. Here's how.
Booking an open jaw partner award via ANA
Remember: The only caveat to book an open jaw partner award is that the departure airport of the return flight must be within the same zone that you arrived in.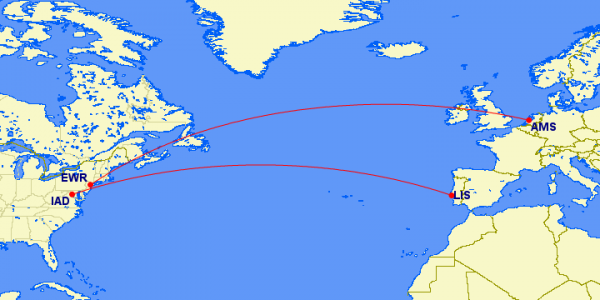 You can use those same 88,000 miles to fly from New York (Zone 6) to Amsterdam (Zone 7) and then return back from Lisbon (Zone 7) to Washington, D.C. (Zone 6).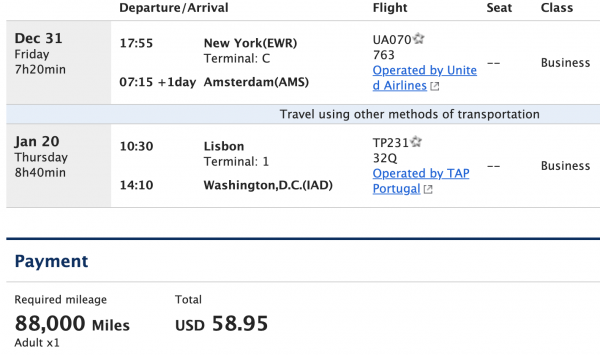 Since there are plenty of low cost carriers in Europe you can fly to get from Amsterdam to Lisbon, this generous routing rule allows you to visit two great cities.
Booking an open jaw plus stopover ANA partner award
To maximize this 88,000 miles business class award even further, you can add in a stopover to make it even more exciting. A stopover on ANA means you can spend more than 24 hours in a connecting city. So, how can you use this card to your advantage?
Fly from New York City (Zone 6) to Amsterdam (Zone 7) and have a stopover for a week. You then can get a free flight from Amsterdam to Zurich because they are both within the same zone. On your return, you can fly from Rome (Zone 7) back to New York City (Zone 6) or any other destination within Zone 6, including Mexico or Canada.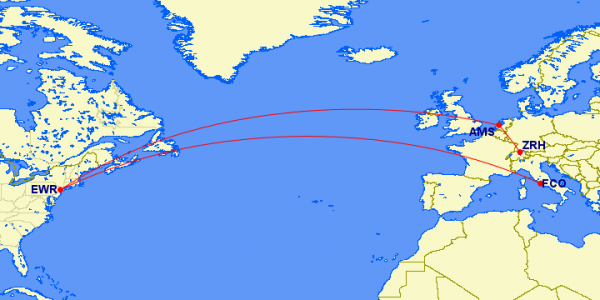 You'd effectively have the opportunity to visit the Netherlands, Switzerland and Italy (and possibly end your trip in another city other than New York City, perhaps even in Mexico or Canada) for 88,000 miles in business class — the same price as a round-trip award.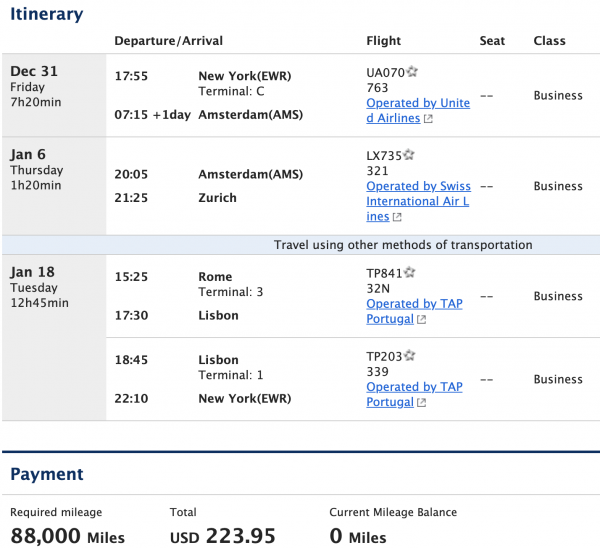 Though the mileage requirement remains unchanged at 88,000 miles, the taxes of $224 are quite high, as ANA charges consumers the taxes that are charged by other airlines. To avoid taxes, aim to fly United whenever possible as this airline typically doesn't pass on significant taxes to flyers.
Once you make your booking, changing airports (but not travel dates) will incur a fee. If you're booking a complicated itinerary, consider the cost benefit analysis of paying for a change. You can change the dates for free, offering some flexibility.
Favorable award rates compared with other airlines
Now, let's compare the prior award of 88,000 miles + $224 in taxes to United, which also offers a free stopover (known as the Excursionist Perk). If you were to book this award ticket with United, it would cost you 120,000 miles + $130 in taxes.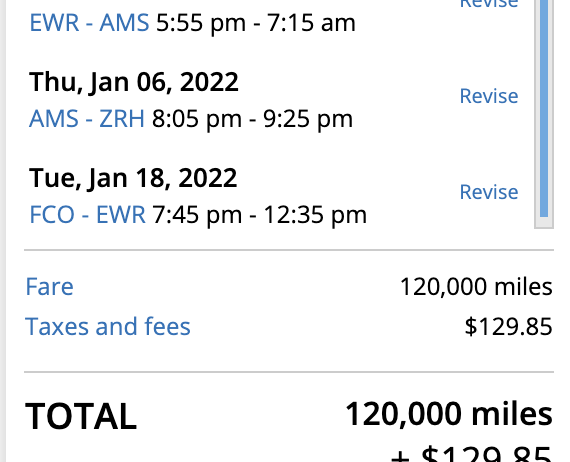 Though the flight from Amsterdam to Zurich is also free, United charges at least 60,000 miles each way from the continental U.S. to Europe. By using ANA for this award, you'd save 32,000 miles.
As you can see from these examples, ANA has generous routing rules and favorable award prices, so don't ignore this airline. You can apply these same stopover rules when you're booking award tickets to fly on ANA to Japan.
Drawbacks of transferring to ANA
ANA doesn't allow booking one way awards, which can turn many people off, especially since many other airlines (e.g., United, American Airlines, Delta) offer this flexible option. However, ANA's aforementioned 88,000 round-trip business class award ticket is one of the cheapest redemptions available for this route, so for this reason alone, the airline deserves a mention.
Unpredictable transfer times from AmEx to ANA
American Express Membership Rewards is the only transferrable point program that offers transfers to ANA. AmEx doesn't disclose transfer times to its airlines, so the majority of the information is crowdsourced or from personal experience.
With that said, point transfers from American Express to most of its partner airlines are usually instantaneous. However, transfers to ANA can take anywhere from two to four days. When I transferred points from American Express to ANA it took about two days.
Waiting days for your AmEx points to transfer exposes you to the risk that the award you want to book will be gone. This is pretty stressful, especially since one-way awards can't be booked, so when you're doing a transfer, the number of miles is usually substantial.
The best thing to do in these instances is to be flexible with your travel dates in case your preferred award ticket is gone before the ANA points transfer in to your account.
One way to mitigate availability risk is to check business class award space during the week you want to fly on United, which can provide some indirect guidance on award likelihood ahead of your points transfer. Or, simply book travel way in advance, when availability is more likely to give you the ability to be flexible.
Fuel surcharges on award tickets on some partner airlines
When you book a partner award with your ANA miles, ANA will pass on any fuel charges that are charged by the partner airline. United and TAP Portugal do not assess fuel surcharges, so when you use ANA miles to book awards on these airlines, your cash outlay will be more reasonable than flying on other carriers.
Lufthansa, Swiss Airlines, Austrian Airlines and Brussels Airlines pass on fuel surcharges, which can be a big deterrent in using your miles. Do your best to use ANA miles with airline partners that have no or low surcharges.
If you're considering transferring AmEx points to ANA ...
ANA offers generous routing rules, providing ample opportunities for round-trip, open jaw, and open jaw plus stopover award tickets. In addition, the airline offers various sweet spots when you use its miles on partner awards.
Note that some carriers pass on fuel surcharges and that the transfer time from AmEx to ANA is not instantaneous. If you're flexible and can use carriers that don't pass on surcharges, you can extract above average value from ANA miles.
---
How to maximize your rewards
Get more smart money moves – straight to your inbox
Sign up and we'll send you Nerdy articles about the money topics that matter most to you along with other ways to help you get more from your money.