Advertiser Disclosure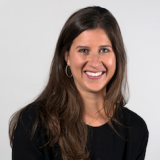 Kirsten VerHaar
Kirsten VerHaar is an editor for personal finance, with an English literature degree from the University of Colorado Boulder. In her previous roles, she was a lead editor with eBay, where she managed a team of writers who produced coverage for the site's global content team. She has also written for Yahoo. Since joining NerdWallet in 2015, she has covered topics as wide-ranging as vacuums (yes, really), budgeting and Black Friday.
Posts by Kirsten VerHaar:
It seems we can't find what you're looking for. Perhaps searching can help.