UPDATE: Lucky Winner of $1000 in SmarterBucks credits is Jose Zamora!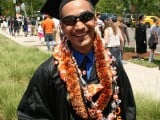 Want to do the math on your existing student loans? Check out NerdWallet's Student Loan Calculator.
SmarterBucks is a revolutionary rewards program that allows you to earn extra student loan payments on everyday spending.
Click here to learn more about SmarterBucks. You can sign up for free and start earning rewards even if you didn't win the contest!