Editor's Note: E-Trade has acquired OptionsHouse. Current OptionsHouse customer accounts, assets and positions were moved to E-Trade on August 4th.
E-Trade is one of the best-known online brokers, and not just because of its full-court-press advertising and marketing practices. Notable features include its cleanly designed and easy-to-navigate trading platforms — browser, desktop and mobile — its library of educational resources and its tools to help investors assemble a risk-appropriate, balanced portfolio.
Although E-Trade's commissions aren't particularly noteworthy compared with those at other discount brokerage firms, frequent traders will appreciate the tiered commission structure, and buy-and-hold investors shouldn't be too turned off by it.
---
Quick facts
Commission: $6.95; volume discounts available
Account minimum: $500
Promotion: 60 days of commission-free trades with deposit of $10,000 or more
E-Trade is best for:
Frequent traders.
Beginner investors.
Commission-free exchange-traded funds.
Research and data.
Retirement planning assistance.
E-Trade at a glance
Overall

Stock trading costs

$6.95 for fewer than 30 trades/quarter.
$4.95 for 30 or more trades/quarter.

Options trades
$6.95 + 75 cents per contract. Base is tiered with stock commission to discount for active traders. Investors who place 30 or more trades per quarter pay 50 cents per contract.
Account minimum

$500 for brokerage accounts.
$0 for IRAs.

Account fees (annual, transfer, closing, inactivity)

No annual or inactivity fee.
$75 full transfer out fee; $25 partial.

Trading platform

E-Trade Web for browser.
Desktop platform E-Trade Pro for customers who maintain at least a $250,000 account balance or execute at least 30 stock or options trades per quarter.

Mobile app
Advanced features mimic a desktop trading platform.
Mutual funds
2,500 no-transaction-fee mutual funds; $19.99 commission for transaction-fee funds
Commission-free ETFs
Over 100 commission-free ETFs
Research and data
Free and extensive
Tradable securities
• Stocks
• Bonds
• Mutual funds
• ETFs
• Options
• Futures
Customer support/branches

Phone support 24/7.
Email support and live chat.
30 local branches.

Promotion
60 days of commission-free trades with deposit of $10,000 or more
Where E-Trade shines
Trading platforms: E-Trade has two main trading platforms, E-trade Web and E-Trade Pro, plus a mobile app. E-Trade's web platform offers free streaming market data, free real-time quotes, live market commentary, analyst research stock screeners and more. From the dashboard, you can track your accounts, create watch lists, view streaming market data and make trades, even complex option strategies.
E-Trade Pro is where the company kicks it up a notch for more active traders. But there's a pretty high barrier to entry: To gain access, you must maintain at least a $250,000 account balance or execute at least 30 stock or options trades per quarter.
If you can clear that bar, the desktop platform is impressive, with idea-generating tools like the company's Strategy Scanner, back-testing capabilities, a professional-level options screener and customizable charting.
You can customize both platforms to create a workspace that meets your needs. There are plenty of educational materials and demos on the E-Trade website that give you a peek at what each platform can do.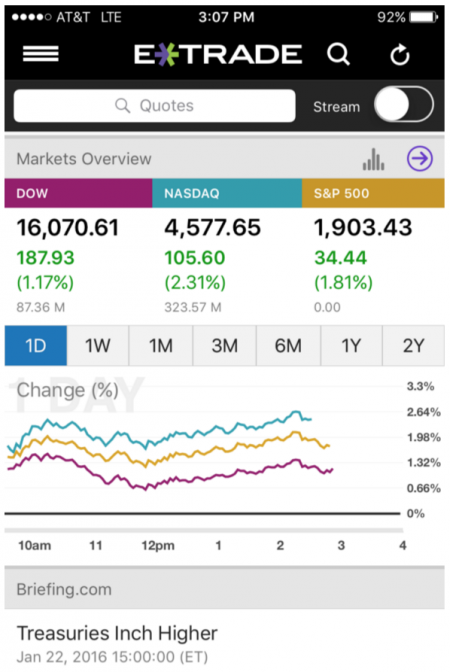 Mobile app: E-Trade's free mobile app is a standout, perhaps the best available from any online broker. The app allows you to easily manage your account, place trades and get real-time quotes, charts and CNBC Video on Demand. It's available for iOS — including Apple Watch — Android, Amazon and Windows Phone. The iPhone and Android versions also have advanced mobile features like stock and ETF screeners, options chain filters and access to educational videos.
No-transaction-fee mutual funds: E-Trade offers 2,500 transaction-fee-free mutual funds. Its robust lineup rivals those at Merrill Edge (over 2,000), Fidelity (3,600) and Schwab (over 3,000). E-Trade's analysts produce a quarterly All-Star List to highlight the top no-load funds and ETFs offered. Like most brokers, E-Trade charges an early redemption fee on no-load, no-transaction-fee funds held less than 90 days ($49.99, which is pretty standard) and a short-term trading fee ($15.99 to $19.99) on sales of certain ETFs if held for less than 30 days.
Customer support: E-Trade is a great start for beginner investors in part because of the educational resources it offers, including live online seminars on topics like retirement planning, stock market basics and analyzing trade ideas. You can learn how to build and monitor your portfolio, how to analyze risk, and whether certain products like variable annuities may be worth considering. E-Trade also has strong in-person customer service, with more than 30 branches staffed by financial consultants.
Investors seeking even more guidance on constructing a portfolio should check out E-Trade's My Virtual Advisor tool, which offers free asset allocation recommendations for self-directed fund, ETF and stock investors.
For more hands-on management E-Trade's robo-advisor service, E-Trade Adaptive Portfolio, which earned four out of five stars in our review, will execute the trades for you and adjust the portfolio's holdings for an annual advisory fee. The minimum investment requirement for the robo-advisor is $10,000.
Where E-Trade falls short
Commissions: E-Trade's commissions are on the higher side at $6.95 per trade. High-volume traders will benefit from tiered pricing that drops to $4.95 a trade for 30 or more trades per quarter. Still, competitors like Charles Schwab and Fidelity edge E-Trade out with flat $4.95 trade commissions.
Access to E-Trade Pro: It's common to require a certain number of trades or a minimum account balance to access a premium trading platform. But customers who want a robust trading platform and can't reach these minimums may prefer TD Ameritrade, which offers some of the best trade platforms in the business — Trade Architect and thinkorswim — free to all customers.
The bottom line
E-Trade's investing tools, retirement planning resources, large selection of commission-free ETFs and no-transaction-fee mutual funds, and innovative trading technology are ideal for all kinds of investors. The biggest drawback is its commissions. Frequent traders, particularly those who execute 30 or more trades per quarter, won't mind as much since they'll benefit from tiered pricing. And more casual investors may decide that everything else the broker offers makes up for paying a few dollars more per trade.
Arielle O'Shea is a staff writer at NerdWallet, a personal finance website. Email: aoshea@nerdwallet.com. Twitter: @arioshea.
Updated June 30 2017.