E-Trade has long been one of the most popular online brokers, largely because of its easy-to-navigate online experience on both its website and mobile app. The company offers a tiered commission structure that favors frequent traders but can add up to high costs for casual investors.
---
Quick facts
Commission: $9.99; volume discounts available
Account minimum: $500
Promotion: 60 days of commission-free trades with deposit of $10,000 or more
E-Trade is best for:
Frequent traders
Beginner investors
Commission-free ETFs
Research and data
Retirement planning assistance
E-Trade at a glance
Overall



Stock trading costs
$9.99 for fewer than 150 trades/quarter
$7.99 for 150 to 1,499 trades/quarter
$6.99 for 1,500+ trades/quarter
Options trades
$9.99 + 75 cents per contract. Base is tiered with stock commission to discount for active traders.
Account minimum
$500 for brokerage accounts; $0 for IRAs
Account fees (annual, transfer, closing, inactivity)
No annual or inactivity fee; $60 full transfer out fee
Trading platform
E-Trade 360 for browser; desktop platform E-Trade Pro for customers who maintain at least a $250,000 account balance or execute at least 30 stock or options trades per quarter
Mobile app
Advanced features mimic a desktop trading platform
Mutual funds
Over 1,300 no-transaction-fee mutual funds
Commission-free ETFs
Over 100 commission-free ETFs
Research and data
Free and extensive
Tradable securities
• Stocks
• Bonds
• Mutual funds
• ETFs
• Options
• Futures
Customer support/branches
Phone support 24/7; email support and live chat; 30 local branches
Promotion
60 days of commission-free trades with deposit of $10,000 or more
Where E-Trade shines
Trading platforms: E-Trade has two trading platforms, E-Trade 360 and E-Trade Pro. E-Trade 360 is a Web dashboard for retail investors who want to track their accounts, create watch lists for stocks, view free streaming market data and make trades. It's a fine platform for those getting their footing in the trading world, but advanced traders will want more.
E-Trade Pro is where the company kicks it up a notch for more-active traders, and there's a barrier to entry: To gain access, customers must maintain at least a $250,000 account balance or execute at least 30 stock or options trades per quarter.
If you can clear that bar, the desktop platform is pretty impressive, with idea-generating tools like the company's Strategy Scanner, backtesting capabilities, a professional-level options screener and customizable charting.
Both platforms are customizable, so users can create a workspace that meets their needs. There are plenty of educational materials and demos on the E-Trade website that give customers a peek at each platform's functionality.
Google Chrome plugin: E-Trade offers a free Google Chrome plugin that allows users to research and trade from within their browser. The extension scans Web pages — news stories, for example — for stock symbols, then displays their current price and other data to E-Trade customers in real time. Users can also search other symbols and quickly place trades without navigating away from the page.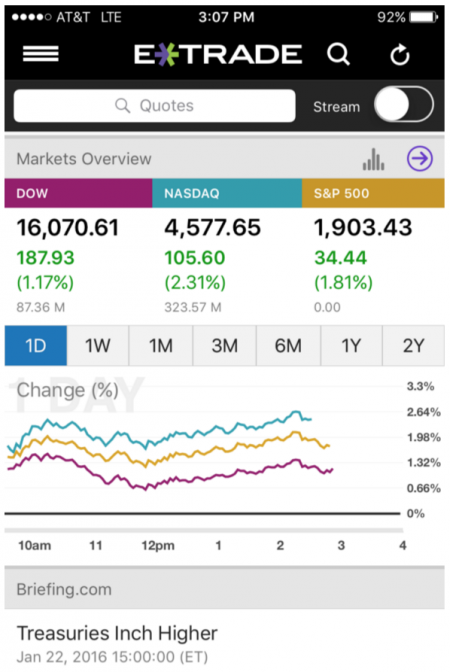 Mobile app: E-Trade's free mobile app is a standout, perhaps the best available from any online broker. Available for iOS (including Apple Watch), Android, Amazon and Windows Phone, the app allows users to easily manage their accounts, place trades (including options trades), and get real-time quotes, charts and CNBC Video on Demand. The iPhone and Android versions also have advanced mobile features like stock and ETF screeners, options chain filters and access to educational videos.
Customer support: E-Trade is a great start for beginner investors in part because of the educational resources offered by the company, including live online seminars on topics like retirement planning, stock market basics and analyzing trade ideas. The website also offers a large selection of online courses — set up like a college course catalogue — that includes classes such as Stocks 101 and ETF Best Practices. Investors can learn how to construct and monitor their portfolio, how to analyze risk, and whether certain products like variable annuities may be worth considering. E-Trade also has strong in-person customer service, with more than 30 branches staffed by financial consultants.
Additionally, the company recently redesigned its retirement pages, so they're organized intuitively and feature interactive widgets that are populated with the user's actual financial information. There's an easy-to-use retirement calculator that shows projected nest egg growth; it allows users to estimate retirement expenses so they can create a personalized retirement action plan.
Where E-Trade falls short
Commissions: E-Trade's commissions are high, at $9.99 per trade for customers who execute less than 150 trades per quarter. High-volume traders will benefit from tiered pricing that drops to $7.99 a trade for 150 to 1,499 trades a quarter and $6.99 a trade for 1,500 or more. Still, competitors like OptionsHouse and TradeKing edge E-Trade out with flat $4.95 trade commissions. Worth noting for investors who frequently use mutual funds or ETFs, however, is that E-Trade offers access to a wide selection of no-transaction-fee mutual funds and commission-free ETFs.
Access to E-Trade Pro: It's not uncommon to require a certain number of trades or a minimum account balance in order to access a premium trading platform. But customers who want a robust trading platform and aren't able to reach these minimums may prefer TD Ameritrade, which offers some of the best trade platforms in the business — Trade Architect and thinkorswim — completely free to all customers.
The bottom line
Like competitor TD Ameritrade, E-Trade's biggest drawback is its commissions. But the company excels in innovative trading technology, and frequent traders will benefit from the company's tiered pricing and E-Trade Pro platform access. E-Trade also appeals to retirement savers, who will be helped toward their goals by the company's wealth of retirement planning resources and large selection of commission-free ETFs and no-transaction fee mutual funds.
Arielle O'Shea is a staff writer at NerdWallet, a personal finance website. Email: aoshea@nerdwallet.com. Twitter: @arioshea.