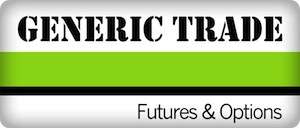 Generic Trade charges the same low fee of $0.59 for all trades, but users are restricted to only trading futures and options on futures.
By sticking to the basics, Generic Trade manages to offer futures and options traders great commissions without sacrificing on platforms or imposing a lengthy list of fees. The firm provides a variety investment vehicles – from individual and joint brokerage accounts to trusts and IRAs – and is open to applicants from most international countries. Prospective users should note that the firm only offers options on futures, not on securities.
On both futures and options commissions, Generic Trade is extremely competitive with other specialty brokerages. The firm also charges few additional fees – including none for account maintenance – but does pass on exchange fees. These vary, but most run between a dollar and two dollars per contract. The only potential drawback for the brokerage's most-active traders is that Generic doesn't negotiate commissions, however, very few traders could broker a better deal than the firm routinely offers all customers.
To cater to both less-experienced and more-experienced traders, Generic Trade offers two platforms: Generic Trade, which is web-based, and Firetip, which users download and run from their desktop. While beginner platforms at some firms are nearly useless, Generic Trade isn't a throwaway. While not offering all of the functionality of Firetip, the platform is clean-looking and user-friendly and boasts real-time market data, in addition to third-party research and education. Firetip assesses a $59 per month platform fee, but users might find it worthwhile for its direct-market access and advanced charting capabilities.
One way Generic Trade finances its low commissions is by cutting broker access – customers can't talk with one to complete trades. They can, however, call a 24-hour help line with technical or trading issues. They may also email or use the live chat service.
Generic Trade knows its audience, and serves them well. While less-experienced futures or options traders may appreciate broker access, most in these already-advanced fields will appreciate the firm's low fees and powerful platforms.
Minimum initial deposit: $0
Stock Trades: N/A
Options Trades: $0.59 per contract, per side
Company Research: Free
Data: Free
Trading Platforms: $59/mo
Account minimum is below average
Does not provide broker-assisted market orders
Mobile Access
24/7 customer service
Futures
Options on futures
Do you use Generic Trade? Please share your opinions in the comments section to help others make informed decisions.
Does Generic Trade sound like the right brokerage for you? If so, visit their website to learn more or to sign up for an account.