Don't miss out on all of NerdWallet's highly anticipated 2016 Black Friday ad leaks this season. Check back regularly for updates on the best holiday deals from your favorite retailers. Black Friday is Nov. 25.
Whether it's a state-of-the-art model, a modestly priced Amazon Kindle Fire or any model in between, the tablet has been one of the most sought-after gifts since Apple released the first iPad in 2010.
Though there were tablet computers before the iPad, Apple was the first company to really get it right. Naturally, other brands, such as Samsung, Sony, Microsoft, Google and Amazon quickly followed. This year, the rumor mill is whispering that Google might be introducing a new 7-inch Android tablet before the end of the year (translation: just in time for holiday sales).
But with so many options, how do you know which one to buy? Here are factors to weigh when choosing a tablet:
What will your recipient be using it for? The sister who intends to use it as a laptop replacement has much different needs than the uncle who wants to use it as just a reader.
Does it need to be compatible with a cellular network or is Wi-Fi enough? If it's the former, will the recipient be happy about paying for a data plan?
Finally, what's your budget? Regardless of how much you plan on spending, Black Friday will probably get you the best pricing of the year.
Best Black Friday tablet deals 2016
Still waiting for the best 2016 tablet Black Friday deals? So are we. Keep checking back, because we'll post them here as soon as we get the details. In the meantime, take a look at what happened in 2015 for an idea of what you can expect this year.
Best Black Friday tablet deals 2015
Here is what some of the best sources for well-priced tablets offered last year:
Best Buy
The 2015 Best Buy Black Friday sale definitely did not disappoint, listing a tremendous assortment of tablets with substantial markdowns. Shoppers could pick up a 7-inch Amazon Fire for $34.99 (regularly $49.99); an iPad Air 2 marked down $100 to $125 (depending on size); iPad mini 4s discounted by $100; Samsung Galaxy tablets marked down $50 to $100; or a 10-inch DigiLand tablet with $40 knocked off its list price of $99.99. HP 2-in-1 tablet-laptop lovers were looking at prices slashed by $200, while Lenovo 2-in-1 tablet-laptops had savings of up to $250. Accessories such as keyboards, headphones, speakers and cases were also listed at significant savings, so keep an eye out for this year's sale.
Sam's Club
Sam's Club, open only to members ($45 fee), brought the bargains with its 2015 Black Friday sale. Though the stores were closed for Thanksgiving, online sales started at 12:01 a.m. Central time, and brick-and-mortars opened at 7 a.m. Friday. Apple iPad Air 2s had $150 lopped off the price of both sizes, while 8-inch and 9.7-inch Samsung Galaxy tablets were marked down to $179 and $229, respectively.
---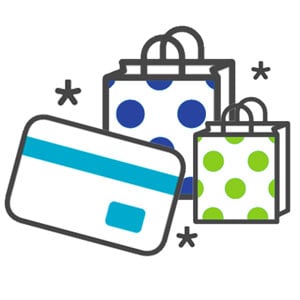 Don't pay interest on your holiday credit card balance. Find the best 0% card for you.
44% of shoppers carry credit card debt after the holidays
If you need to carry a balance make sure to put it on a low interest card
---
Amazon
The online retailer is also a manufacturer of the popular Kindle and Kindle Fire readers and tablets, and its 2015 Black Friday deals reflected this: Amazon marked down the Kindle Paperwhite to $99.99, the regular Kindle to $49.99 (normally $79.99) and the popular Fire tablet to $34.99; the Kindle Fire kids' tablet was cut to $84.99 — $15 off the list price. Last year, the sale started the Sunday before the holiday, and Amazon started rolling out deals at a fast pace, from then through Cyber Monday. Amazon Prime members could access sales 30 minutes before the rest of the world.
Target
Though the tablets weren't listed at sale prices, customers who purchased Apple iPads or iPad minis during last year's Target Black Friday sale were given Target gift cards worth $50 to $150 as a bonus. The store also offered shoppers a preview sale Nov. 9, which featured a 9-inch Polaroid tablet marked down from $79.99 to $49.99 and an 8-inch RCA Android tablet chopped from $99.99 to $39.99.
Wal-Mart
Wal-Mart is the big daddy of discount shopping, and its 2015 Black Friday sale offered significant savings on models from RCA, Samsung and even Nickelodeon. The iPad mini was selling for $199 — $69 off. Popular accessories like power packs and headphones were deeply discounted — one of the more impressive being the Beats Pill speaker, down $50 from the usual $199.95 sticker price.
» NERDY TIP: Protect your purchase by paying with the right credit card. Some credit cards will pay you the difference if you find a lower price later, extend the product warranty, or protect against loss or damage.
Fry's Electronics
One of the most enticing qualities of this electronics superstore is its price-match guarantee: If you can find a cheaper price within 30 days, Fry's will refund 110% of the difference. But if the store's 2015 Black Friday sale was any indication, finding lower prices won't be easy. The deals ranged from 7-inch and 9-inch Android tablets for $28 and $39, respectively, to a Dell Intel convertible laptop/tablet for $499, with brands like Acer and LG falling somewhere in the middle.
Staples
Last year's Staples Black Friday sale saw significant discounts on iPads, with discounts ranging from $80 up to $150 off the iPad Air 2. Significant price cuts could also be found on the Samsung Galaxy Tab 3 Lite (marked down to $79.99), and Microsoft Surface Pro 4 ($999). Accessories such as Medge tablet cases were reduced up to $30, and Zagg screen shields were marked down 40%.
Check out our full list of 2016 ad leaks for up-to-date deal news from a wide range of retailers.
Shopping Dealfinder Newsletter
Get the best deals on Black Friday and beyond!