TaxAct underwent a significant visual revamp this year, ditching stock images and adding a new color palette and font, as well as a simplified picker, more in-process tips and more obvious flags when you've got missing information.
A few people might say the interface is still a little plainer than what some other providers offer, but the data-entry process in general is similar to most and there are tools to help you along. Plus, the cost is lower than many competitors — and TaxAct throws in free e-mail-based tax help for paid users, as well as unlimited phone support from tax specialists for the three high-end packages.
---

Quick facts
New design has a more modern look and feel
Generally cheaper than similar offerings elsewhere
Support options aren't as robust as those from more expensive competitors
↓ Compare TaxAct with other software
TaxAct's prices
TaxAct's products are in most cases less expensive than competing packages from bigger names like TurboTax and H&R Block. That's no small thing, especially for people who need advanced tax software, which can run $100 or more elsewhere when you factor in the price of preparing a state return. TaxAct also has a price-lock guarantee, which means you pay the listed price when you start your return rather than when you finish. This might be helpful because, in our experience, tax software prices tend to go up about a month before the filing deadline.
TaxAct's free version lets you file the new Form 1040 (the IRS killed off the 1040EZ and the 1040A in 2018) and allows you to take the child tax credit, the earned income tax credit and the credit for the elderly or disabled, as well as education credits and the credit for child and dependent care expenses. If you want to do much else, you'll probably need to get one of the paid versions. Translation: if you plan to itemize, were a landlord, had capital gains, freelanced or ran a small business, you'll need to pay.
The paid versions import last year's TaxAct return.
Available packages and list prices
Free
• Federal: $0
• State: $19.95

This option allows you to file a 1040 and a state return for free, but you can't itemize or file any of the new Schedules 1-6. It works for people who don't plan to claim any deductions or credits other than the standard deduction, the earned income tax credit or the child tax credit.
Basic+
• Federal: $14.95
• State: $19.95

This option is basically the Free version but with support from tax specialists via in-app email. It also adds importing of last year's return.
Deluxe+
• Federal: $47.95
• State: $39.95

This is the package for itemizers (it supports Schedule A). It also comes with unlimited phone support from tax specialists and has a built-in donation assistant to help you calculate the deductions for charitable donations.
Premier+
• Federal: $57.95
• State: $39.95

If you own rental properties or are an investor with capital gains to report, this is the package for you (it supports schedules E and D). You'll also get priority support with a dedicated phone line, screen-share capabilities and some in-app chat support.
Self-employed+
• Federal: $77.95
• State: $39.95

TaxAct's highest-end version for online filers is for freelancers and the self-employed.
One note about prices: Providers frequently change them. We'll keep updating this review, but you can verify the latest price by clicking through to TaxAct's site.
TaxAct also offers desktop software, but it's not part of our review. Desktop means your return doesn't reside in the cloud; it stays on your computer while you work on it. People who have used the desktop version before will see a cosmetic difference compared with the cloud, but the steps are similar — and, of course, the math is the same.
TaxAct's features and ease of use
TaxAct underwent a significant visual revamp this year, ditching stock images and adding a new color palette and font, as well as a simplified picker, more in-process tips and more obvious flags when you've got missing information. It has all the basics, such as importing last year's returns, a W-2 import and a donation assistant (for some of the paid packages), as well as some planning tools and calculators. And because the software is online, you can log in from other devices if you're working on your return here and there.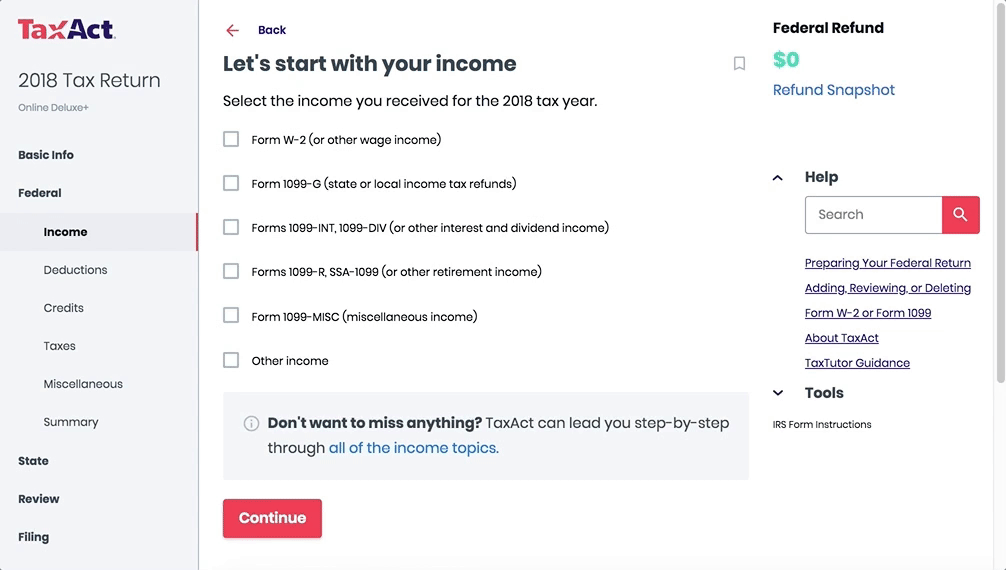 The mobile app, which supports all of the company's online products, has smart camera functionality so you can capture your W-2 instantly.
Like many other tax packages, help is available throughout the preparation process, but higher-priced competitors seem to have more robust in-line help. As with most software packages, a banner running down the side keeps track of where you are in the process.
Support options with TaxAct
Ways to get help
Searchable knowledge base
Free tech support by email, chat or phone for all
Unlimited tax support via in-app email with paid versions
Unlimited tax support via phone for Deluxe+, Premier + and Self-Employed+
Dedicated phone line, screen-sharing and limited in-app chat for Premier + and Self-Employed+
TaxAct offers tech support via the typical channels and tax support via in-app email for paid users. It also offers an interesting screen-share option for its Premier+ and Self-Employed+ users. It's not a face-to-face video connection like you might find in TurboTax Live; rather, it simply lets the user and the support agent see each other's screens, including cursor moves and clicks. The company says the support agent can't see entry fields containing password or payment information.
The qualifications of the tax support staff varies among tax providers. Some providers require CPAs or enrolled agents, some don't. TaxAct says its tax specialists are people who have prepared taxes before, have taken and completed tax classes, have taken a company tax certification course and have received 80 to 100 hours of in-house training, according to the company. They are supervised by an Enrolled Agent.
Note: TaxAct's tax specialists don't provide tax advice (they won't tell you whether you should take a particular deduction or how you can cut your bill, for example), but they do provide "tax support" by helping your understand what forms you may need and where to put information on forms.
During tax season, human support is generally available Monday to Friday, 9 a.m. to 9 p.m. Eastern; Saturdays, 10 a.m. to 6 p.m.; and Sundays, 11 a.m. to 6 p.m.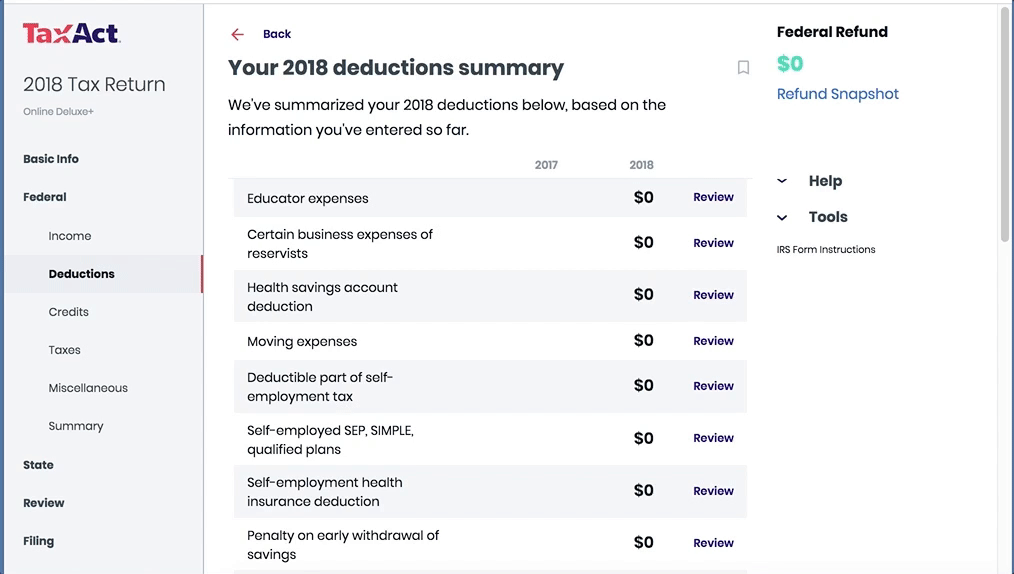 If you're audited
Getting audited is scary, so it's important to know what kind of support you're getting from your tax software. First, be sure you know the difference between "support" and "defense." With most providers, audit support (or "assistance") typically means guidance about what to expect and how to prepare — that's it. Audit defense, on the other hand, gets you full representation before the IRS from a tax professional.
TaxAct's audit assistance consists of a FAQ page on its website. But customers can buy audit defense from a partner company called Protection Plus for $49. Coverage includes three years of audit services for this year's return, and TaxAct says the product will guide you through the audit process, handle IRS and state correspondence on your behalf, help with denied tax credits, as well as provide tax fraud assistance. You have to buy the coverage at the time of filing — you can't but it after the fact.
Refund options
No matter how you file, you can choose to receive your refund via direct deposit to a bank account (the fastest option) or in the form of a paper check. Other options include applying the refund to next year's taxes or directing the IRS to buy U.S. Savings Bonds with your refund.
TaxAct can also put your refund on an American Express Serve prepaid debit card. If you'd rather shop with your refund, TaxAct's new Refund Marketplace gives you up to $100 for applying portions of your tax refund to gift cards from a broad selection of popular retailers. And if you're using a paid version, you have the option of paying for the software out of your refund — but there's a $39 charge to do that.
How TaxAct compares


Read full review






Read full review






Read full review



Pricing

On the higher end




---




Ease of use

Q&A user flow is the best we tested




---




Support

Live video help from a tax pro available, plus online FAQs





Pricing

On the higher end




---




Ease of use

Less flashy, but still a solid, clear experience




---




Support

Live on-screen help from a tax pro available, plus online FAQs and 12,000 locations





Pricing

Good budget pick




---




Ease of use

Simpler, but upgraded design is a plus




---




Support

Online FAQs plus phone and chat





Compare more software
The bottom line
Across the board, TaxAct's offerings are less expensive than similar products from competing providers. That's a nice score — especially for filers who don't care about frills and aren't worried about getting audited but want a little human help if necessary.