EquityMultiple Review 2023: Pros, Cons and How It Compares
EquityMultiple is a real estate crowdfunding platform that gives investors access to professionally managed commercial real estate. The lowest investment minimum is $5,000, but investors must be accredited.
Many or all of the products featured here are from our partners who compensate us. This influences which products we write about and where and how the product appears on a page. However, this does not influence our evaluations. Our opinions are our own. Here is a list of our partners and here's how we make money.
---
The investing information provided on this page is for educational purposes only. NerdWallet, Inc. does not offer advisory or brokerage services, nor does it recommend or advise investors to buy or sell particular stocks, securities or other investments.
Our Take
The bottom line:
EquityMultiple blends crowdfunding with a more traditional real estate investing approach that can lead to high returns. Unfortunately, it's available only to accredited investors.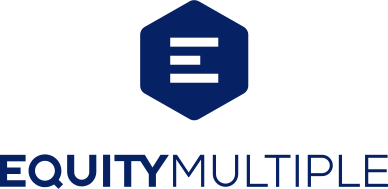 Earn a Special 1% Return Boost
Pros & Cons
Pros
Access to commercial real estate investments.

Possible high rates of return.
Cons
Only open to accredited investors.

Complex fee structure that varies by investment.
Compare to Similar Brokers
Fees 

0.5% - 1.5%

other fees apply

Fees 

0% - 2.5%

management fees; other fees apply.

Fees 

1% to 1.25%

management fees; other fees may apply

Promotion 

Earn a Special 1% Return Boost

on Your First Investment

Promotion 

None

no promotion available at this time

Promotion 

None

no promotion available at this time
Get more smart money moves — straight to your inbox
Become a NerdWallet member, and we'll send you tailored articles we think you'll love.
Full Review
EquityMultiple is an online real estate company that allows accredited investors to invest in professionally managed commercial real estate. Accredited investors can use EquityMultiple's online platform to access real estate investments in different markets. EquityMultiple says it has returned $240.3 million to investors, and that it stands out from other real estate investing platforms by offering equity, preferred equity and senior debt investments.
EquityMultiple is best for:
Accredited investors looking to diversify through real estate.

Those who can comfortably invest $5,000 or more.

Individuals who want access to commercial real estate.
EquityMultiple at a glance
Accredited investors only.

As low as $5,000, but minimums may be higher for some offerings.

Investors may be able to sell shares in private transactions, but this is not guaranteed.

Varies by investment but ranges from 0.5% to 1.5% and is most typically 1%.

Preferred equity and common equity.

1031 exchanges (through affiliate partner).

This is our judgment of how easy it is to find critical information on the EquityMultiple website, including platform fees, account minimum and redemption options (if offered).

This is our judgement of how easy it is to find critical information about investment offerings, including investment fees, risks, risk mitigation efforts, the process for vetting investments and how investment returns are distributed to investors.

Phone and email Monday through Friday, 9 a.m. to 6 p.m. Eastern. Chat 9 a.m.-6 p.m. Eastern.
EquityMultiple features you should know
Accredited investors only: EquityMultiple may open up commercial real estate investments to individual investors, but those individuals need to be accredited. Accredited investors are defined as individuals with a net worth, or joint net worth with a spouse, of more than $1 million (excluding their home's value), or an annual income of more than $200,000 ($300,000 with a spouse) in each of the past two years, with the expectation of maintaining that income going forward. Those with certain professional certificates or credentials may also qualify as accredited investors.
High investment minimum: The minimum varies by project but starts at $5,000. A $10,000 minimum is more common, and additional shares are typically offered in increments of $5,000 above the minimum. If you make investments through a self-directed IRA and use one of EquityMultiple's preferred IRA partners, the minimum investment is typically $10,000.
Specialized investments: EquityMultiple offers preferred equity, common equity, funds, 1031 exchanges, and debt. Currently, the company also offers an evergreen fund and a yield-focused short-term note product.
EquityMultiple says four of those investments are part of the "capital stack," or the various ways a real estate investment gets funded. The biggest differences between them mostly have to do with risk level and payment priority order. Senior debt has the lowest level of risk and is paid out first, then mezzanine debt, then preferred equity and finally common equity — which offers no recourse if a borrower defaults, but has uncapped potential returns if the investment performs well.
Opportunity zones are tracts of land selected by the state and federal government that are designated for economic development. You can invest in opportunity zones through a tax-advantaged investment called an opportunity fund.
1031 exchanges allow real estate investors to use proceeds from the sale of a real estate investment to defer paying a capital gains tax when they buy an investment property "of like kind."
Note: Many of these types of investments are complicated and should not be entered into lightly. It's always a good idea to talk with a financial advisor before adding a new asset to your portfolio.
High returns: The targeted rates of return are fairly high, and depend on the type of investment. EquityMultiple publishes these target rates.
Debt: 7-12% annual rate of return.

Preferred equity: 6-12% current preferred return, 10-18% total preferred return.

Common equity: IRRs (internal rate of return) of 10% – 24%+.

Funds: Depends on the fund strategy (core, core-plus, value-add, optimistic, distressed).
Of course, actual returns will vary and there is no guarantee that your investment will earn a return at all.
Typically debt and preferred equity investments give investors distributions either monthly or quarterly, though EquityMultiple stresses that each investment will differ, and it says to refer to specific investment documents to know each investment's distribution timeline.
Investment time frames: The investment time frame varies by asset. EquityMultiple offers a range of investment structures. Here are the typical hold periods for each:
Alternatives to Savings (short-term notes): Three-, six- or nine-month hold periods.

Senior Debt (flat rate of return): Nine to 24 months.

Preferred Equity (flat rate of return): Twelve to 26 months.

Common Equity: Three to seven years.

Opportunity Zones: Ten years or more (in order to reap maximum possible tax benefits).
Keep in mind that these assets are illiquid, so if you think you may need your money before the timeframe is up, it may be best to consider other investment options.
Easy-to-use platform: Accredited investors start by creating an account. After receiving an email confirmation, you can register (which includes self-certifying that you are, in fact, accredited — though you won't need to provide documentary evidence of this) and immediately start reviewing the investment offerings. Signing up for an account doesn't require making a deposit, but if you decide to invest, you can link the funding source online.
Complex (and high) fees: Most investments on EquityMultiple charge an annual management fee between 0.5% and 1.5% with most landing at 1%. EquityMultiple says it doesn't usually take profit from investors' common equity deals, but may in some circumstances.
Because each investment listed on EquityMultiple's platform is unique, each investment has its own fee structure. Some may include additional fees, but placement or origination fees are assessed to the sponsor, not the investor. To know exactly how much you would pay in fees for each investment, read the specific disclosure and registration statements. If you don't understand the fee information, contact one of EquityMultiple's representatives.
Newer investment platform: Like many of its real estate crowdfunding competitors, EquityMultiple is a newer company. Since the company was founded in 2015, it has had little time to establish a track record. The company is careful to remind investors that every investment carries risk, and that investors should read each specific investment's documents carefully before making an investment.
Is EquityMultiple right for you?
EquityMultiple's unique set of investment opportunities gives accredited investors an easy way to diversify the real estate within their portfolio.
If you're interested in allocating a small portion of your overall portfolio to real estate, and can do so while meeting EquityMultiple's investment minimums, you might find a good fit in the platform.
However, it is important to note that EquityMultiple's investments are illiquid — meaning you won't be able to get your investment back immediately, or in some cases for several years. Investing in real estate this way is a long-term game, and if you're not prepared to wait it out, you may want to consider more liquid assets, such as publicly traded REITs.
How do we review real estate platforms?
NerdWallet's comprehensive review process evaluates and ranks companies that allow U.S. customers to invest in real estate, primarily through non-traded REITs or private equity. Our aim is to provide an independent assessment of providers to help arm you with information to make sound, informed judgements on which ones will best meet your needs. We adhere to strict guidelines for editorial integrity.
We collect data directly from providers through detailed questionnaires, and conduct first-hand testing and observation through provider demonstrations. The questionnaire answers, combined with demonstrations, interviews of personnel at the providers and our specialists' hands-on research, fuel our proprietary assessment process that scores each provider's performance across eight factors. The final output produces star ratings from poor (one star) to excellent (five stars).