3 Ways Minority-Owned Banks Make a Difference in America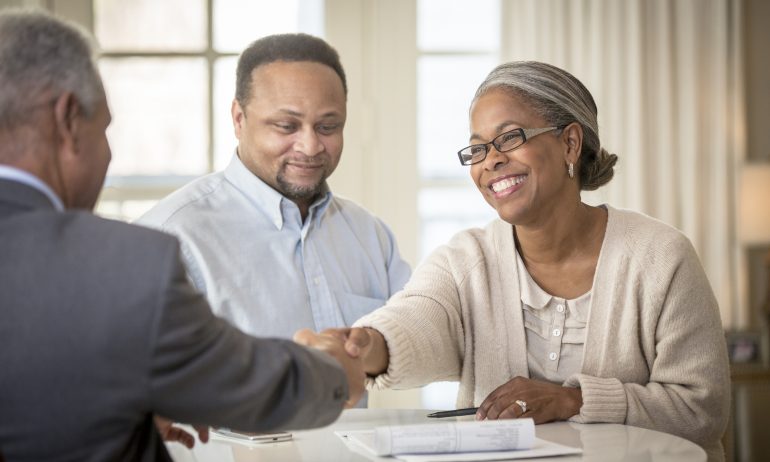 Many or all of the products featured here are from our partners who compensate us. This influences which products we write about and where and how the product appears on a page. However, this does not influence our evaluations. Our opinions are our own. Here is a list of our partners and here's how we make money.
Discover the bank accounts that fit your financial goals
Just answer a few questions to compare bank accounts that meet your needs.
One type of bank plays an outsized role in creating more economic opportunity for people of color.
From a Black leadership perspective, a bank is more than "a place where someone can drop off a deposit or get a loan," says Kevin Cohee, CEO and chairman of OneUnited Bank, one of the biggest Black-owned banks in the U.S. "That's just the beginning."
OneUnited Bank's first loan in the Paycheck Protection Program, part of the federal response to the COVID-19 pandemic, "was to a single mother of seven who drove for Uber," Cohee says.
Minority-owned banks, or what government agencies term minority depository institutions, must have either most stockholders or members of their board of directors be people of color. This differs from the predominantly white boards of directors among the biggest U.S. banks.
Minority-owned banks open doors to economic opportunity. Here's a look at three ways they make a difference, and what you can do to help.
1. Closing the gap for the unbanked
Checking and savings accounts are two common entry points for building a relationship with a bank, but about 7 million Americans lack them, and there's a trend across racial and ethnic lines.
About 16% of Native American households, 14% of Black households and 12% of non-white Hispanic households don't have bank accounts, compared to 2.5% of white households, according to a 2019 Federal Deposit Insurance Corp. survey on the unbanked.
Minority banks help bridge this gap by serving more low- and moderate-income areas compared to other banks, according to a 2019 FDIC report on minority depository institutions, or MDIs. For example, most of the population that the typical Black-owned bank serves, 62%, is African American, compared to 6% for metro-area banks that are not MDIs, according to the report.
SoFi Checking and Savings

APY
4.60%SoFi members with Direct Deposit or $5,000 or more in Qualifying Deposits during the 30-Day Evaluation Period can earn 4.60% annual percentage yield (APY) on savings balances (including Vaults) and 0.50% APY on checking balances. There is no minimum Direct Deposit amount required to qualify for the stated interest rate. Members without either Direct Deposit or Qualifying Deposits, during the 30-Day Evaluation Period will earn 1.20% APY on savings balances (including Vaults) and 0.50% APY on checking balances. Interest rates are variable and subject to change at any time. These rates are current as of 10/24/2023. There is no minimum balance requirement. Additional information can be found at http://www.sofi.com/legal/banking-rate-sheet.
In addition, banking deserts, or areas of the country where one must go miles to find a bank, have historically been an issue for some racial and ethnic groups, including Native Americans living on reservations.
"We work with people who are often out [of the banking system], and they become loyal customers," says T.W. Shannon, CEO of Chickasaw Community Bank, one of 17 Native American-owned banks.
2. Boosting wealth with home loans
Homeownership is one of the biggest contributors to wealth for many, but it primarily benefits white Americans. Asian and Black borrowers made about 6% and 7% of U.S. home purchases, respectively, compared to the 60% by non-Hispanic white borrowers, according to a 2019 mortgage market report from the Consumer Finance Protection Bureau. Native Americans accounted for less than 0.8% of home purchases.
Minority-owned banks give more home mortgages and small business loans to borrowers of color than other banks do, according to the FDIC report.
For Chickasaw Community Bank, that means tailoring home loans for Native Americans. The bank offers lease-to-own programs, for example, in which a tribe acts as the lender, using money from the bank, while a tribal member follows an affordable payment plan and improves their credit. Eventually, the member owns their home.
"For our own tribe, the Chickasaw Nation, these are homes for people who have had some credit issues in the past but now have a good stable income [yet still] might not qualify for other loan programs," Shannon says. "That's a niche market that the too-big-to-fail [national] banks don't spend much time on."
3. Responding to business community needs in a crisis
Small-business loans are another focus for minority banks, and funding has gotten more dire during the COVID-19 pandemic. Minority banks have made over 123,000 Paycheck Protection Program loans for a total of $10.3 billion through August 2020, according to data from the Small Business Administration.
"We did the small difficult loans, not the easy loans [to major corporations], and we did it not for the money but to help the people," Cohee says.
Most minority banks are also community banks, which the FDIC defines as banks that focus on traditional loans and core bank accounts and have limited geographic scope based on location. Community banks more than pulled their weight this year. Despite accounting for just 15% of all bank loans, community banks outpaced other banks in providing 30% of PPP loans, based on a 2020 FDIC quarterly report ending in June. And these loans help protect jobs.
"We saved over a thousand Oklahoma jobs through that program," Shannon says of Chickasaw Community Bank. "One thousand jobs doesn't sound like a lot, but in Oklahoma, that's a big deal."
He adds, "We were oftentimes calling the borrower to make sure that they knew these programs and deferment assistance options were available. We were there for them, even though they didn't know we could be."
What you can do to help minority banks
Minority-owned banks impact the lives of many in underserved communities, but they make up less than 150, or about 3%, of the 5,100 banks in the U.S. Plus, they alone can't address systemic issues in the U.S. such as the racial wealth gap, in which the typical white family has eight times the wealth of the typical Black family, according to a 2019 Federal Reserve survey.
To support minority banks, you can put some of your savings in one. (Here's a list of black-owned banks.) Part of banks' business model is to use money that sits in checking and savings accounts to make loans to small businesses and home buyers. Some companies, such as Netflix, for example, have begun supporting Black banks.
Paraphrasing Eleanor Roosevelt, Cohee says, "We're all better off when we're all better off."
Get more smart money moves – straight to your inbox
Sign up and we'll send you Nerdy articles about the money topics that matter most to you along with other ways to help you get more from your money.