Fewer Black-Owned Banks Survive to Fill Vital Financial Needs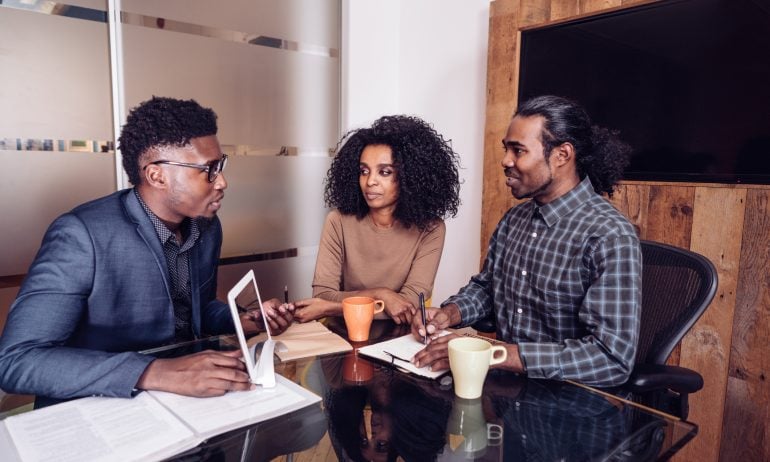 Many or all of the products featured here are from our partners who compensate us. This influences which products we write about and where and how the product appears on a page. However, this does not influence our evaluations. Our opinions are our own. Here is a list of our partners and here's how we make money.
Discover the bank accounts that fit your financial goals
Just answer a few questions to compare bank accounts that meet your needs.
#BankBlack drove a deluge of interest in black-owned banks when it went viral in mid-2016 — but two and a half years later, many of those institutions' balance sheets are trending in the wrong direction.
The hashtag was inspired by a video of Killer Mike calling on individuals to open accounts at black-owned banks. And the rapper's bank of choice — Atlanta-based Citizens Trust Bank — is among those that have grown since #BankBlack began. But for many black-owned banks, the picture is less rosy, with decreased assets and even closures.
"The operating costs [and] the regulatory costs make it very difficult to operate a highly profitable community bank," says Kim Saunders, president of the National Bankers Association. The problem isn't unique to black-owned banks, she adds — it's something all smaller banks face. "Scale matters."
Nevertheless, on Twitter people are still hashtagging their support and plans to move their money. Here's why advocates say black-owned banks are worth saving.
SoFi Checking and Savings

APY
4.60%SoFi members with Direct Deposit or $5,000 or more in Qualifying Deposits during the 30-Day Evaluation Period can earn 4.60% annual percentage yield (APY) on savings balances (including Vaults) and 0.50% APY on checking balances. There is no minimum Direct Deposit amount required to qualify for the stated interest rate. Members without either Direct Deposit or Qualifying Deposits, during the 30-Day Evaluation Period will earn 1.20% APY on savings balances (including Vaults) and 0.50% APY on checking balances. Interest rates are variable and subject to change at any time. These rates are current as of 10/24/2023. There is no minimum balance requirement. Additional information can be found at http://www.sofi.com/legal/banking-rate-sheet.
Black-owned banks offer needed access
African-Americans as a group are underserved by financial institutions. Almost half are either unbanked or underbanked, meaning they supplement their bank account with often-costly alternatives such as check cashers and payday lenders. That's nearly double the percentage of the population as a whole, according to a 2018 Federal Deposit Insurance Corp. report.
Black-owned banks have an important part to play in improving those statistics.
For example, 67% of their mortgage loans go to African-Americans, according to 2013 remarks by Martin Gruenberg, former chair of the FDIC. Among banks that aren't black-owned, fewer than 1% of mortgages go to African-Americans. And residents of neighborhoods the banks serve are likely to have low to moderate incomes.
Saunders calls the approach "compassionate lending." "We're going to be with [our customers] through the good times and the bad times," she says.
OneUnited, the country's largest black-owned bank by assets, offers second-chance checking for customers who've been denied an account in the past, secured credit cards for those rebuilding damaged credit, and education for first-time home buyers.
"The cities we serve are black and brown," said Teri Williams, OneUnited's president and chief operating officer in a 2018 interview, "and on the income side, many are people who are struggling. We have people in their 50s and 60s who tell us they've never set foot in a bank. They didn't feel welcome. They didn't feel banking was for them."
After being the victim of check-cashing fraud, Travion Jackson couldn't open an account at his family's bank. He finally tried OneUnited, hoping to open a second-chance account. "But they said that I was OK. I just opened a regular account," Jackson said in 2018. "That made it better."
Jacqueline Boles, director of retail banking at Industrial Bank, says expanded access, especially to small business lending, means more stable communities. "Small businesses within our communities are going to hire people who look like them. Now, these individuals have an opportunity to make a decent living," she says.
Black-owned banks are a political force
Jackson's adoptive mother, Amy McCabe Heibel, and her partner switched to OneUnited after seeing increasing news and social media coverage of black-owned banks. "For us, as a biracial family, it was important for us to put our money where our values are," she said in 2018.
That includes "having money in a place that invests in black communities," but those aren't the only perks, McCabe Heibel said. "The images are of people who look like people we know," she added, and "communication is transparent. It's not full of financial industry doublespeak."
McCabe Heibel isn't the only one choosing a black-owned bank for ethical reasons. "A very diverse group of people are coming to us," Williams said. "They like the fact that their money is supporting community development."
Many black-owned banks, including Industrial, are designated Community Development Financial Institutions. This means that they invest 60% of their assets back into low- to moderate-income neighborhoods, according to Boles.
Those who do switch can expect services similar to the ones they find at other banks. In OneUnited's case, that includes online and mobile banking, bill pay and remote deposit for checks.
Saunders urges everyone to consider a black-owned bank. "Not only are we seeking to do well when possible, but we're seeking to do good, and I believe that should resonate with everybody," she says.
Where Black-owned banks stand
Black-owned banks originated during segregation, when many African Americans didn't have access to capital, according to Saunders.
There were 44 banks with majority African-American ownership in 2007, before the recession. But as the communities these banks served suffered higher-than-average job losses and home foreclosure rates, the banks suffered, too. The most recent FDIC data show 23 black-owned and black-managed institutions, down from 24 at the end of 2016, just after #BankBlack went viral.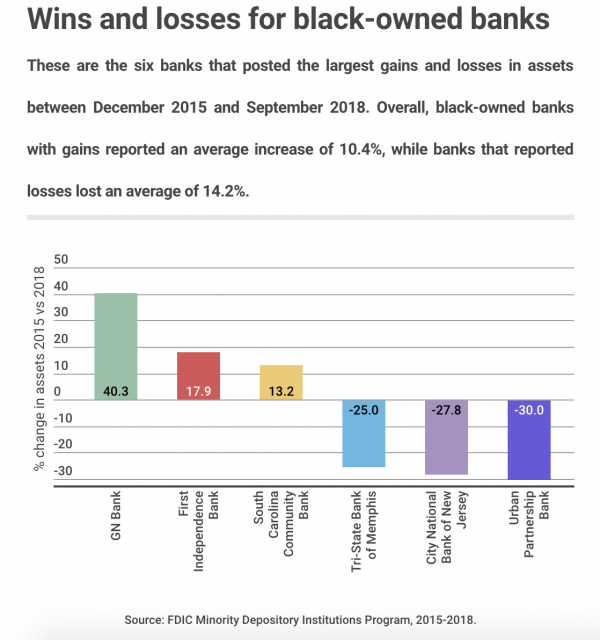 Of the banks that remain, about half report fewer assets than they did at the end of 2015, before #BankBlack. Banks with more than $100 million in assets were more likely to report gains than smaller ones, but larger banks weren't immune from financial troubles. New York-based Carver Federal Savings Bank falls just behind OneUnited in terms of assets, but it reported more than $135 million less in assets in September 2018 than it did in December 2015.
For some banks, #BankBlack may have actually been a money-losing proposition, according to Industrial Banks' Boles. "We make money from comprehensive relationships with customers," she says, including loans and credit cards. Checking and savings accounts, especially unused ones, are financial liabilities, because they require banks to pay for online banking and other services without much of a return — meaning #BankBlack supporters should move their larger finances, too.
Other banks — including OneUnited and Industrial — have flourished in the wake of #BankBlack. OneUnited now has total assets of about $649 million, according to the latest FDIC data.
Industrial, too, has seen rapid growth. On an average week, Boles said, they have about 150 new online account applications pending. After #BankBlack, she says, "We had up to 2,000 [applications] in the queue." The bank had to pull in extra help to handle the influx, and it still sees spikes in interest now and again.
"The community is starting to recognize the power of its dollars," Williams said, "and the need to be more purposeful in how it uses those dollars."
If you want to #BankBlack, check out these options
Jeanne Lee contributed to this report.
APY
4.60%
With $0 min. balance for APY
Bonus
$300
Earn up to $300 with direct deposit. Terms apply.
Get more smart money moves – straight to your inbox
Sign up and we'll send you Nerdy articles about the money topics that matter most to you along with other ways to help you get more from your money.