Smart Money Podcast: Air Travel and Collections Accounts on Credit Reports
Many or all of the products featured here are from our partners who compensate us. This influences which products we write about and where and how the product appears on a page. However, this does not influence our evaluations. Our opinions are our own. Here is a list of our partners and here's how we make money.
Welcome to NerdWallet's Smart Money podcast, where we answer your real-world money questions.
This week's episode starts with a discussion about air travel, including how you should think about purchasing flights and why you might want to temper your expectations for international travel.
Then we pivot to this week's question from a listener who left us a voicemail about debt and credit reports: "My question is I have paid off a lot of my debt. I run my credit report every month, I have seen those paid-off collections but still it's showing negative impact on my credit score. How long will that stay on my credit report even though those collections are being paid? Thank you."
Check out this episode on any of these platforms:
See what powers your credit
Check your free credit score, get personalized insights. Weekly updates let you track your progress.
First, more travelers are taking to the skies, which is expected to result in an increase in flight prices. Travel Nerds recommend buying tickets early while prices are low and then taking advantage of flexibility in airlines' cancellation and change policies if your plans change. Also, consider using reward points if you have them.
On the topic of collections accounts, those generally remain on your credit reports for 7½ years from the date the account was first reported late. The amount of damage a collections account will do to your credit depends on where your credit stood before. High credit scores generally get hurt the most, though serious damage will have already occurred when the account was reported more than 30 days late. But paying off the account will look better on your credit report and help you avoid other types of trouble, such as being sued for the debt. Also, newer credit scoring models ignore paid collections accounts.
Don't ignore a collections account on your credit report. If you believe the information is inaccurate or too old to be included, dispute it.
You can dilute the damage of a negative mark on your credit report, like a collections account, by adding positive information, such as on-time payments and using a small portion of your credit card limits. And the more time that passes after a credit misstep, the less influence it has.
Other ways to restore credit include becoming an authorized user, getting and lightly using an additional credit card, and keeping your existing credit cards open.
See your free credit report
Know what's happening with your free credit report and know when and why your score changes.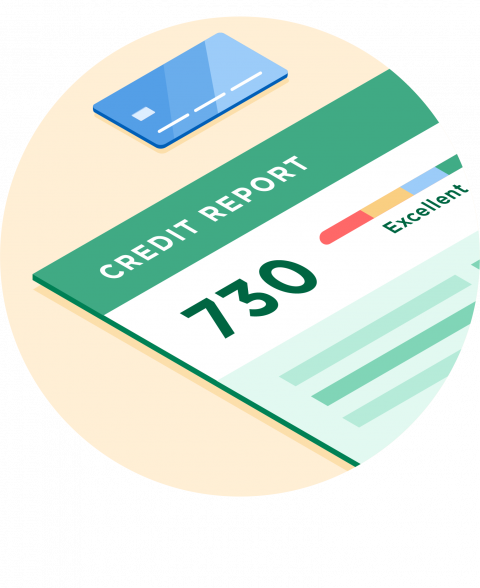 A collections account could follow you for a while. They generally remain on your credit report for 7½ years from the date the account was first reported late.

But you may be able to lessen the damage. Paying the debt can stave off other problems, and resolved collections accounts are ignored by newer scoring models — though those are not yet used by all lenders.

Work to offset the damage of a collections account. On time payments and keeping balances low can help, as can the passage of time.
More about air travel and negative marks on your credit reports on NerdWallet: