Average Car Insurance Rates by Age and Gender
Your age and gender will often factor into your car insurance rate. Shopping around can still get you a good price.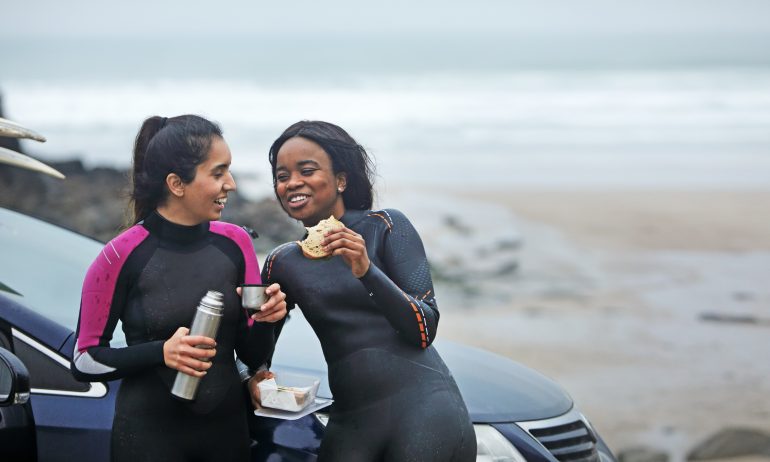 Many or all of the products featured here are from our partners who compensate us. This influences which products we write about and where and how the product appears on a page. However, this does not influence our evaluations. Our opinions are our own. Here is a list of our partners and here's how we make money.
Car insurance premiums can be mysterious at the best of times. If you move, buy a new car or simply get older, prices can go up or down without a lot of explanation.
While those premium changes may feel arbitrary, the price you pay ultimately ties back to a handful of facts about you. Age and gender are two of the most common factors that affect your auto insurance rate. And while not all states let insurers use these factors the same way, most allow them to be part of the equation.
Charts: Average car insurance rates by age and gender
Auto insurance rates across the country vary based on where you live, but national averages can give you an idea of what you might pay.
To find how insurance pricing differs on average by age and gender, NerdWallet looked at rates from the five largest auto insurance companies in the U.S. — State Farm, Geico, Progressive, Allstate and USAA – across all 50 states and the District of Columbia.
Full coverage car insurance rates by age and gender
Full coverage car insurance is a style of car insurance, not a specific product. Full coverage policies add extra coverage on top of state minimum requirements. The rates below reflect a policy with comprehensive and collision insurance along with liability, uninsured motorist coverage and other state-required coverage where needed.
Minimum coverage car insurance rates by age and gender
Minimum coverage car insurance is exactly what it sounds like — the least possible coverage that fulfills a state's requirements. That means policies will differ in coverage based on where you live. The rates below reflect national averages for minimum coverage, so actual rates can vary widely by state.
Why age affects your car insurance rates
As many new drivers have discovered, being young is an easy way to pay more for auto insurance. There are at least two reasons for that higher price. First, young drivers have less experience — something auto insurance companies often use to determine premiums. Second, studies have shown younger drivers are much more likely to be in accidents.
This results in the high average auto insurance rates for young drivers in the graph below.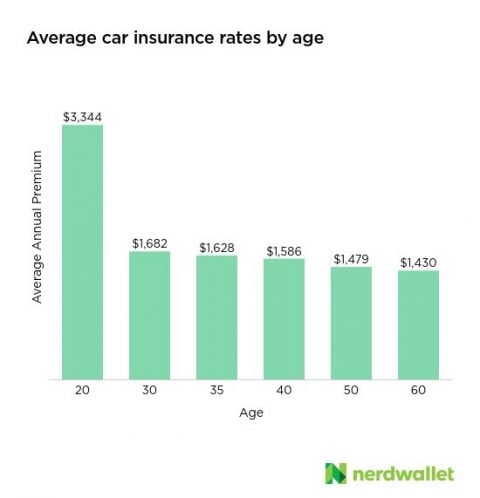 These rates are for individual insurance policies, which are typically higher than rates for family policies with new drivers. However, the accident rate for young drivers helps explain why car insurance for 20-somethings can put such a dent in your wallet.
Some states, like Massachusetts, have rules against age-based rates. Still, even if your state doesn't allow companies to base rates on age, you might pay more when you're young. Most states do allow insurers to use driving experience as a factor in determining rates, so car insurance for new drivers can be costly, regardless of age. If you've been driving for only a year or two, you're likely to pay more than someone who has been behind the wheel for a decade.
How gender affects your car insurance rates
On top of your age, many companies consider your gender in setting your car insurance price. Our analysis found that starting at age 20, men pay higher average insurance rates. By age 30, women and men pay almost equal rates, but the price gap never truly closes. Across all age groups, men pay more than women on average.
In this case, there's some data to back up charging young men more. A study from the Insurance Institute for Highway Safety, or IIHS, found male drivers of all ages are 63% more likely than female drivers to be involved in a fatal crash. Younger men are even more prone to fatal accidents, with rates for male drivers ages 16 to 19 almost twice those for female drivers of the same age.
Fatal crash rate per 100 million miles driven
Figures from the IIHS based on analysis of the U.S. Department of Transportation's Fatality Analysis Reporting System 2017 data.
States that don't allow auto insurance rates based on gender
Not all states allow insurers to set rates based on gender. California, Hawaii, Massachusetts, Michigan, Montana, North Carolina and Pennsylvania all have statewide bans on using gender as a factor in auto insurance rates.
Typical car insurance rates by age and gender
When you stack age and gender together, you end up with even more disparity in auto insurance rates. For instance, in our study, we found that average rates for a 20-year-old male driver are 14% higher than for a 20-year-old female driver. By age 30, this difference goes down to just 2%.
Again, this data is based on a national average of the five biggest auto insurers, so car insurance rates in your state may be much lower. It's one of the reasons we always recommend shopping around to compare car insurance rates.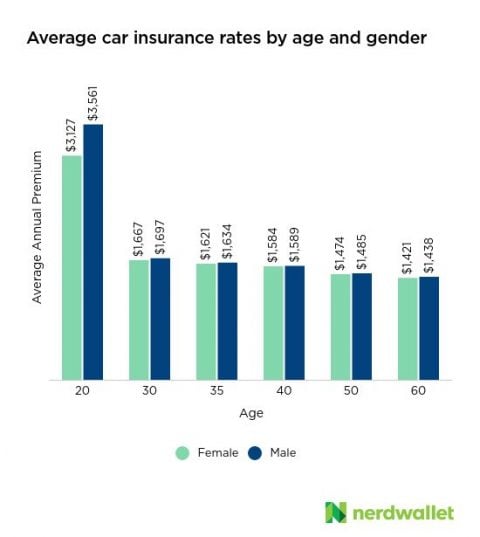 How insurance companies set your rates
You're likely to see different rates from almost every insurance company because each of them uses the information they have about you a little differently. Some care more about your driving history, while some care more about the car you drive.
Auto insurance companies are also limited by rules for setting auto insurance rates that differ in each state. States right next to each other can have big swings in average costs due to local laws. For instance, a 35-year-old driver in Florida is looking at an average annual rate of $2,775 for full coverage. Cross the line into Georgia, and that same driver gets an average rate drop of over $1,000, down to $1,698.
As a result, where you live is one of the biggest factors in the price you ultimately pay. To get an idea of what to expect, check out average car insurance rates in your state.
Note: In this article, NerdWallet uses the term "gender." We recognize that this is different than sex. Gender is how you identify within society, while sex refers to certain biological attributes.
Some insurers don't recognize this distinction and use the terms interchangeably. This means when applying for car insurance, they may ask for your gender, when they really mean sex.
They may also ask for identification that doesn't reflect your gender accurately. For instance, a company may want the "gender" you list on your insurance application to match the sex listed on your driver's license.
NerdWallet averaged insurance estimates from the largest insurers in all 50 states and Washington, D.C., for single male and female drivers with good credit and no tickets or violations.
For full coverage insurance, we used the following coverage limits:
$100,000 bodily injury liability per person.

$300,000 bodily injury liability per accident.

$50,000 property damage liability per accident.

$100,000 uninsured motorist coverage per person.

$300,000 uninsured motorist coverage per accident.

Collision coverage with a $1,000 deductible.

Comprehensive coverage with a $1,000 deductible.
In states where required, minimum additional coverages were added. Some policies include additional coverages at the insurer's discretion. For drivers with minimum coverage, we adjusted the numbers above to reflect minimum required coverage by law in the state.
We used a 2019 Toyota Camry L for all drivers and assumed 12,000 annual miles driven.
We analyzed rates for drivers of the following ages: 20, 30, 35, 40, 50 and 60.
These are rates generated through Quadrant Information Services. Your own rates will be different.
Get more smart money moves – straight to your inbox
Sign up and we'll send you Nerdy articles about the money topics that matter most to you along with other ways to help you get more from your money.