The Difference Between Comprehensive and Collision Coverage
Comprehensive and collision insurance aren't legally required, but they offer useful coverage for many drivers.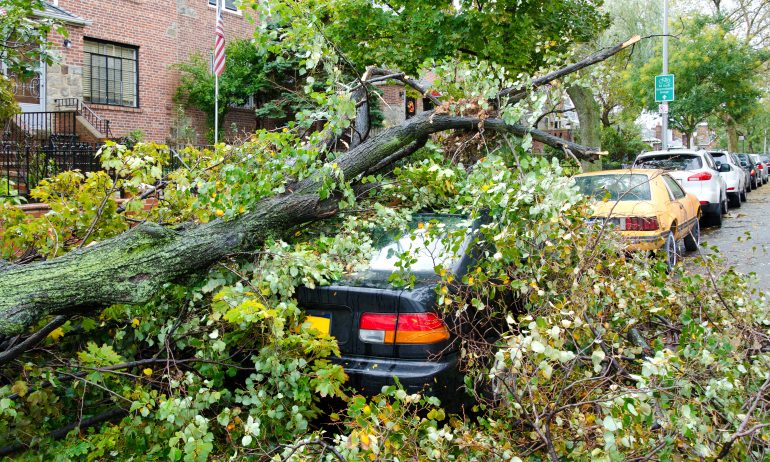 Many or all of the products featured here are from our partners who compensate us. This may influence which products we write about and where and how the product appears on a page. However, this does not influence our evaluations. Our opinions are our own. Here is a list of our partners and here's how we make money.
Comprehensive and collision insurance are two of the most important types of car insurance to understand. They're not legally required by any state, but they can come to the rescue in a variety of situations.
Collision and comprehensive coverage are often sold as a package. Both pay to fix damage to your own car or replace it entirely — but they don't cover injuries or damage to anyone else's property.
The main difference between comprehensive and collision insurance is the scenarios they cover. Collision insurance pays for damage to your car if you hit an object or another vehicle, while comprehensive coverage pays for theft or damage from causes such as bad weather, fire or fallen trees.
For more in-depth information, see our guides to and .
To get realistic comparisons, we analyzed rates for minimum-coverage policies and compared them to policies with comprehensive, collision and higher liability limits that together are commonly considered . Here are the rates for the seven largest insurance companies in the U.S.
For a quick view of which companies are cheapest on average for full coverage, see this chart.
Car insurance rates vary widely by state for similar policies, and adding comprehensive and collision coverage costs more in some places than others. Below are the average cost differences between minimum and full coverage policies in every state for a driver with no recent tickets or accidents. Keep in mind that your own rate will depend on the value of your car, your location, your driving history and the deductible amount that you choose.
As you can see, average annual rates can vary by hundreds of dollars, so it's worth shopping around for from several companies to make sure you're getting the best deal.
Another way to save money is by raising your comprehensive and collision deductibles. Many policies offer options as high as $2,000. But do this only if you're prepared to spend more of your own money to fix or replace your car.
About 78% of all U.S. drivers buy comprehensive coverage, and 74% buy collision, according to an Insurance Information Institute analysis from 2017, the most recent data listed.
You should consider buying comprehensive and collision insurance if:
You probably don't need comprehensive and collision insurance if your car is older and not worth a lot. Remember the maximum payout will be the value of your car if it's totaled or stolen, minus the deductible.
If your car's value is low, consider whether the potential payout would be worth the premiums you'll pay. Remember, too, that the deductible amount will reduce any claims check. Check out for your car's current value.
NerdWallet averaged rates for 40-year-old men and women for all ZIP codes in any of the 50 states and Washington, D.C., in which the insurer was one of the largest insurance companies (by premiums written). "Good drivers" had no moving violations on record and an insurance credit score considered "good" by each insurer; a "good driving" discount was included for this profile. Sample drivers had the following coverage limits:
In states where required, minimum additional coverages were added.
For drivers with minimum coverage, we adjusted the numbers above to reflect only the minimum coverage required by law in the state.
We used a 2016 Toyota Camry LE in all cases and assumed 12,000 annual miles driven. In all cases, a paperless discount, e-signature discount and electronic funds transfer discount were automatically applied. These are sample rates generated through Quadrant Information Services. Your own rates will be different.