What Is Loss of Use Coverage for Home Insurance?
If you can't live in your home after a disaster, loss of use coverage helps pay for you to live elsewhere.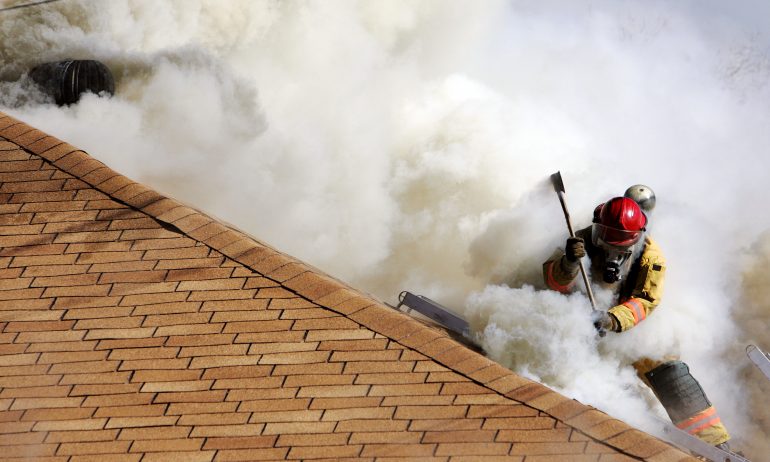 Many or all of the products featured here are from our partners who compensate us. This influences which products we write about and where and how the product appears on a page. However, this does not influence our evaluations. Our opinions are our own. Here is a list of our partners and here's how we make money.
Loss of use coverage helps pay for you to live elsewhere while your home is being repaired after a disaster.

Sometimes called additional living expenses or Coverage D, it's a standard part of most homeowners and renters policies.

Loss of use can cover living expenses such as hotel stays, home rentals and meals.
Imagine a tornado tears through your neighborhood, ripping off part of your roof and leaving your home uninhabitable. Not only will your insurance likely reimburse you for the damage, but it will also pay for you to live somewhere else during repairs. This part of your home insurance policy is known as loss of use coverage.
What is loss of use coverage?
Loss of use coverage offers financial support if you're unable to live in your home for a covered reason. It's a standard part of most homeowners, renters, condo and mobile home policies. It generally includes three parts:
Additional living expenses
Additional living expenses coverage pays for hotel stays and other costs if your home becomes uninhabitable for a covered reason, such as a fire. Depending on your policy limits, this coverage can pay out until your home is fully repaired or you permanently relocate.
Because additional living expenses coverage is the best-known part of loss of use coverage, the terms are sometimes used interchangeably.
You and your family might not be the only ones affected by damage to your home. If you rent out part of your space, your tenant might also have to move out during repairs, which could mean less rental income for you. Loss of use coverage can help you recoup that amount.
Loss of use coverage can help if your home isn't accessible, even if it's not actually damaged. For instance, it could pay for a hotel if police have blocked off your street due to downed power lines, or if your city won't let evacuees return after a hurricane until the worst local damage has been addressed.
What does loss of use cover?
Loss of use insurance typically covers:
Apartment or house rentals.

Transportation or parking costs.

Moving and storage costs.
Keep in mind that loss of use insurance pays expenses that are above and beyond your normal cost of living. Say you normally spend $100 a week on groceries, but you end up eating out more often while staying in a hotel. If your total food costs go up to $300 a week, your insurer would cover the extra $200.
Be sure to keep all your receipts, as insurance companies often reimburse you after the fact rather than paying upfront.
Loss of use coverage pays out only when the reason you're living elsewhere is covered by your policy.
For example, homeowners and renters insurance generally don't cover flood damage. So if your first floor is under 3 inches of water but you don't have flood insurance, your carrier won't pay for you to stay somewhere else.
Similarly, if you're renting an apartment while remodeling your kitchen, your insurance company won't pay additional living expenses because your policy doesn't cover home improvements.
Loss of use insurance is designed to help you maintain your normal standard of living, not give you an upgrade. So if you live in a one-bedroom apartment, your insurance company will likely pay for another rental of similar size, or for a hotel room.
Loss of use won't cover ongoing expenses that you were already paying, such as your mortgage, nor will it pay for things covered by other parts of your policy, such as damage to your stuff or a lawsuit against you.
Loss of use coverage limits
How much additional living expenses coverage you have is often based on limits in other parts of your policy. The loss of use coverage amount on a homeowners policy usually defaults to a percentage of your dwelling coverage limit, such as 20%. So if the structure of your house is insured for $300,000, your loss of use limit would be $60,000.
For renters and condo owners, the loss of use limit may be tied to their personal property limit instead.
Some insurers also restrict how much time you can rely on loss of use coverage. For example, your additional living expenses may be covered only for up to 12 or 24 months, depending on your policy.
How to file a loss of use claim
File promptly. The sooner you submit your claim, the sooner it can be settled and you can start moving on with recovery. Keep in mind that if your claim is due to a widespread disaster such as a hurricane or wildfire, your insurance company may be flooded with claim submissions. In these cases, your claim may be settled more quickly if you're able to get it in ahead of the crowd.
Many companies allow you to start your claim online or through their app, while in other cases you'll have to call.
Although loss of use claims typically don't require a deductible, you may need to pay one if you're also making claims against your dwelling or personal property coverage.
Keep all receipts. Some companies may offer you a partial advance on your additional living expenses in the aftermath of a disaster. Others will reimburse you after the fact. Either way, you'll need to document what you spend while you're living away from home.
Include receipts even for smaller expenses such as gas or public transportation. If you're spending more on commuting because your hotel is farther away from work than your home was, you could get reimbursed.
Record your normal living expenses. Because loss of use insurance is designed to cover additional living expenses, your insurer may request a list of your standard living costs to use as a baseline. Be prepared to estimate what you typically spend on things like food, utilities, transportation and housing (such as your rent or mortgage).
Frequently asked questions
How much loss of use coverage do I need?
What is Coverage D on a homeowners policy?
Is loss of use the same as additional living expenses?
Get more smart money moves – straight to your inbox
Sign up and we'll send you Nerdy articles about the money topics that matter most to you along with other ways to help you get more from your money.