How Much Does an Oil Change Cost?
An oil change costs from $20 to $100 at quick lube shops. Check your owners manual to ensure you don't pay for unnecessary add-ons.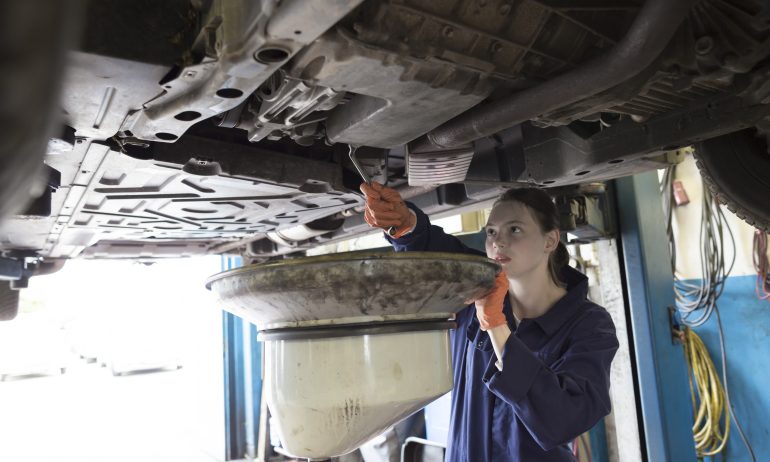 Many or all of the products featured here are from our partners who compensate us. This influences which products we write about and where and how the product appears on a page. However, this does not influence our evaluations. Our opinions are our own. Here is a list of our partners and here's how we make money.
Following your car's maintenance schedule keeps it running like a well-oiled machine — literally, in the case of an oil change. Regularly getting the oil changed is one of the most important maintenance tasks you can do for your car, and fortunately, it's one of the cheapest.
How much is an oil change?
The cost of an oil change can range from $20 to $100 at a lube shop (and around $30 to $45 if you do it yourself). The large difference in prices can be attributed to a number of factors, including:
Your car's year, make and model: Manufacturers may recommend using a specific (and more expensive) type of oil for a luxury car, for example, while larger vehicles will require more than the typical four to five quarts of oil used in an oil change.

The type of oil used: At the higher end, full synthetic oil has more additives to protect a car's engine. Conventional oil is the cheapest, and in the middle are synthetic blends: mixtures intended to provide some benefits of synthetic oil at a lower price.

Your location: Where you live can impact the cost of an oil change, which includes a labor charge. If you're in an area with a higher cost of living, expect to pay more for the service. Prices can even vary at different locations of the same chain shop in the same city.
Oil change prices at chain shops
Most chains offer coupons to help cut prices, which can result in significant savings. Before heading to a lube shop, look for discounts online or call ahead to inquire about any deals. Here's a quick look at major oil-change chains' prices, before special offers. (Remember: Prices will likely vary depending on where you are.)
*Prices are based on online listings and Chicago-area provider quotes via phone. The bottom of each range is the cost of a conventional oil change; the top is the cost using full synthetic oil. These prices may vary by location.
Conventional vs. synthetic
The cost of an oil change typically includes four to five quarts of oil and an oil filter, plus the shop's labor charge. The biggest factor in the final price of what you would pay for an oil change is the kind and quality of oil used. The trick is knowing the kind to get and how often to change your oil — which you can find in your owners manual, rather than following the outdated 3,000-mile rule.
Some newer cars require synthetic oil, and if your owners manual specifies that, don't try to cut corners with conventional. (Using a lower-quality oil could void your warranty, and many shops will refuse to perform the oil change.) Any money you save now will likely be lost in the long run when your engine needs repairs.
If your car doesn't require synthetic oil, you have a judgment call to make. Synthetic oil can be better for your car, resulting in "less engine wear over the life of the vehicle," according to a 2017 report by AAA. The price difference between synthetic and conventional oil changes is about $32, on average, at AAA-approved facilities.
Lube shops vs. dealerships
You can also go to a dealership to get your oil changed, a particularly appealing option for owners of more specialized vehicles.
A dealer for your car's brand is more likely to know the ins and outs of your vehicle — such as what kind of oil it needs and any quirks about your model during the oil-change process — which can help prevent mishaps down the road.
In exchange, you give up the convenience factor associated with going to quick lube shops, which are typically easier to find than a brand-specific dealership. You also might pay a premium because the dealer has higher labor costs or uses a special brand of oil. However, dealerships can offer competitive pricing, so it's worth inquiring to see if going to a dealership makes sense for you.
Dealerships also make sense if you purchased a warranty that includes maintenance (note that most don't) or a service plan, like Honda's Service Pass, which covers certain factory-covered maintenance for two years or up to 24,000 miles.
For a mechanic, an oil change is both a good opportunity to find real problems with your car and a chance to sell you something you don't need, or don't need yet.
So is it a scam when the oil change technician says you need a new air filter or a transmission flush? Consulting the owners manual and knowing when your car last had the suggested maintenance are the best ways to determine if you're being upsold.
Want to refinance your auto loan? See if you pre-qualify.
Just answer a few questions to get personalized results from our lending partners.
Want to refinance your auto loan? See if you pre-qualify.
Just answer a few questions to get personalized results from our lending partners.
Get more smart money moves – straight to your inbox
Sign up and we'll send you Nerdy articles about the money topics that matter most to you along with other ways to help you get more from your money.