Mortgage Interest Rates Forecast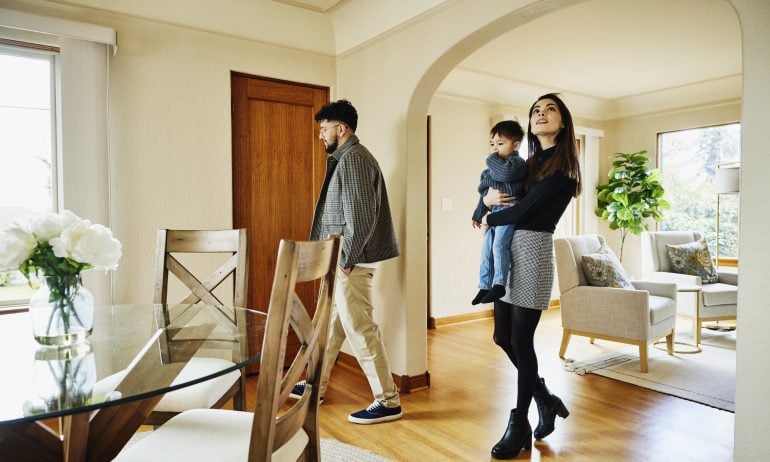 Many or all of the products featured here are from our partners who compensate us. This may influence which products we write about and where and how the product appears on a page. However, this does not influence our evaluations. Our opinions are our own. Here is a list of our partners and here's how we make money.
Mortgage rates today: Friday, September 30, 2022
On Friday, Sept. 30, 2022, the average interest rate on a 30-year fixed-rate mortgage dropped one basis point to 6.571% APR. The average rate on a 15-year fixed-rate mortgage rose one basis point to 5.813% APR, and the average rate on a 5-year adjustable-rate mortgage dropped three basis points to 5.605% APR, according to rates provided to NerdWallet by Zillow. The 30-year fixed-rate mortgage is 10 basis points higher than one week ago and 353 basis points higher than one year ago. A basis point is one one-hundredth of one percent. Rates are expressed as an annual percentage rate, or APR.
Mortgage rates rose across loan types in the week ending Sept. 29, reaching their highest levels since NerdWallet began tracking rates in 2016.
The 30-year fixed-rate mortgage averaged 6.64% APR, up 37 basis points from the previous week's average.

The 15-year fixed-rate mortgage averaged 5.87% APR, up 48 basis points from the previous week's average.

The five-year adjustable-rate mortgage averaged 5.54% APR, up 18 basis points from the previous week's average.
Fixed rates have more than doubled since the first week of this year, up almost 3.5 percentage points, and the 5-year ARM rate is up by more than 2.5 percentage points.
This week's bump followed the latest rate hike by the Federal Reserve to control inflation. The Fed raised the federal funds rate 0.75% on Sept. 21, bringing the total of rate increases to 3 percentage points since March. The federal funds rate — the short-term rate banks pay to borrow money from one another — indirectly affects the rates consumers pay for mortgages and directly affects the adjustable rate on home equity lines of credit.
Higher rates make borrowing money to finance a home more expensive. Not surprisingly, fewer people are bothering to apply. Mortgage applications to purchase homes were down 29% year over year in the week ending Sept. 23, according to the Mortgage Bankers Association.
Refinance applications, meanwhile, were down 84%.
"With rates now more than double what they were a year ago, the pace of refinancing is running at a 22-year low," Joel Kan, MBA's associate vice president of economic and industry forecasting, said in a Sept. 28 press release.
If you're in the market for a home, shop multiple lenders for the best rate possible and get preapproved for a mortgage before you start seriously looking at properties. Real estate agents will want to know how much you're qualified to borrow before working with you.
September mortgage rates forecast
Interest rates on fixed-rate mortgages are likely to remain fairly stable in the first three weeks of September. The forecast gets murkier at the end of the month.
That's because the Federal Reserve will update its interest rate policy Sept. 21. Rates often stabilize in the two or three weeks prior to Fed meetings. If that pattern holds in September, the rate on the 30-year mortgage will hang out in a range between about 5.75% and 6% until the Fed announcement.
The aftermath of the announcement could be another matter, with up-and-down swings in mortgage rates. But borrowers should brace themselves: Mortgage rates could ratchet upward, like someone climbing a ladder two rungs up and one rung down. Such a path would be consistent with this year's upward trend for mortgage rates.
Fed fixes messaging problem
The Fed strives to be understood, but investors don't always catch the central bank's meaning. When investors hear what they want to hear, the chairman may have to set them straight, as he did in August.
The latest misunderstanding began when the central bank increased the federal funds rate by an aggressive 0.75 percentage point in its July 27 meeting. In the opening statement at his news conference immediately after that meeting, Chair Jerome Powell noted that growth in consumer spending had softened, and that the housing market had weakened. Mortgage rates dropped in the following days, apparently because investors and pundits believed that the Fed was preparing to slow the pace of its rate increases.
But the central bank expects to keep raising short-term interest rates in bigger-than-usual increments. Powell reiterated this point in an Aug. 26 speech, in which he said "another unusually large increase could be appropriate at our next meeting."
Affordability declined and sales slowed
The rate on the 30-year fixed went up almost three-quarters of a percentage point from the end of July to the end of August. The increase eroded borrowers' buying capacity.
Take the hypothetical example of a borrower who can afford to pay $2,000 a month in principal and interest (excluding taxes and insurance). On a 30-year loan with a 5.125% interest rate, the buyer could afford to borrow $367,300. But with a 5.875% interest rate, the buyer could afford to borrow $338,100. That's $29,200 less that the buyer could pay for a house.
As interest rates and home prices have risen this year, home sales have slowed. In turn, sellers are more accommodating. According to a Realtor.com survey of recent home sellers, almost all sellers nowadays are making upgrades and repairs before they list their homes. And 69% of sellers in August sold their homes at or above the asking price, compared to 82% in February through April.
What happened to rates in August
After dipping in the first week of August, the 30-year fixed-rate mortgage climbed each week thereafter. It rose above 5.8% at the end of August, up from below 5.2% at the end of July.
In my August forecast, I predicted that mortgage rates would rise "as the Federal Reserve continues to yank interest rates higher." That's what happened in the run-up to Powell's Aug. 26 speech, when investors speculated (correctly) that he would reinforce a message that the Fed will continue to confront inflation.
Get more smart money moves – straight to your inbox
Sign up and we'll send you Nerdy articles about the money topics that matter most to you along with other ways to help you get more from your money.