Justworks vs. Namely 2022 Comparison: Which Is Right for Your Business?
Compare Justworks vs. Namely, features, pros and cons, pricing and more about these two HR management solutions.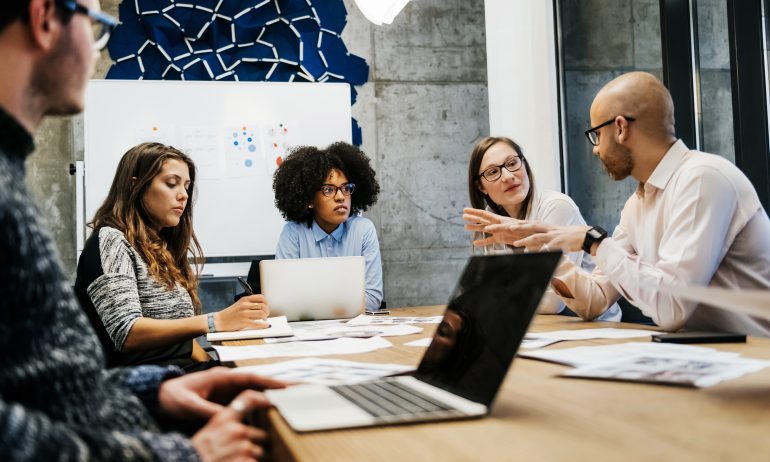 Many or all of the products featured here are from our partners who compensate us. This influences which products we write about and where and how the product appears on a page. However, this does not influence our evaluations. Our opinions are our own. Here is a list of our partners and here's how we make money.
Which cloud-based HR software is best for your business is going to depend on the features you have prioritized for business and what your budget is. If you're deciding between Namely and Justworks, they may seem similar on the surface.
A big benefit of Justworks, beyond its transparent pricing, is that it's a PEO, which makes them a great solution for businesses looking for an all-in-one platform that can also offer their employees competitively-priced benefits plans. This is also a system that can scale with your business as it grows.
On the other hand, businesses only looking for a few features and that want to pick and choose exactly what it needs without paying for anything it doesn't, may turn to Namely. But, you'll have to contact Namely directly for pricing information so you can better compare these two solutions.
Before getting into the more granular details of each of these software providers, it can be best to take a look at them on a high level.
Justworks is a PEO, or a professional employer organization, meaning it acts as a co-employer to your employees in order to offer more competitive benefits plans and rates.
Namely, on the other hand, is not a PEO; however, it still offers an array of HR management tools, including payroll, benefits management, onboarding and more.
Justworks plans and pricing
Justworks is a PEO, so it can be a true full-service HR solution. However, if you're only looking for the basics, you can also opt for a lower-tier plan. This makes Justworks a great solution for businesses that are planning to grow, as it can scale with your business. Not to mention, it's a great option for smaller businesses that want to offer their employees cost-effective health benefits plans.
Justworks' pricing is determined by whether you opt for its Basic or Plus plan and how many employees you have.
Now that you know how pricing works, you're likely wondering what the difference between the Basic and Plus plans is.
The Basic plan from Justworks comes with an array of payroll, benefits, HR tools and compliance features. As an overview, here's what Justworks' Basic plan includes:
Payroll for salaried and hourly employees.

Vendor and contractor payments.

Employer payroll tax filings.

Unemployment insurance filings.

Employment practices liability insurance.

Harassment prevention and inclusion training.

Online employee onboarding.

Calendar, doc center, directory.

Accounting software integrations.
You'll also get access to several add-ons, including workers compensation management, life and disability insurance, health and wellness perks, fitness memberships and 401(k) administration. These will come at an additional cost per employee.
The Plus plan comes with everything listed above, but you'll also get COBRA administration, health advocacy services and One Medical.
You'll have access to the same add-ons as the Basic plan, as well as medical insurance, dental and vision insurance and HSA/FSA accounts.
Namely differs from Justworks in some major ways when it comes to plans and pricing. While not a PEO, cloud-based Namely does offer a comprehensive feature set that allows businesses to manage employee payroll, benefits, onboarding and more.
While Justworks offers upfront plans and pricing, Namely operates on a quote-based system. As such, you will have to work with Namely directly to create a plan for your company based on the features you need and the size of your business.
If you want a highly specialized experience when choosing an HR software system, then this might be a great option, since you can build something unique. However, there's also no way of knowing that the price you're quoted is more or less than a similarly sized business looking for the same features. For this reason, upfront pricing is typically preferred.
The payroll feature from Justworks can be used for paying all your employees — whether they're full-time, part-time, salaried, hourly, contractors or vendors. In addition to basic automated payroll on a weekly or bi-weekly schedule, you can also pay employees bonuses, commissions, reimbursements and one-time payments.
The payroll option can accommodate you no matter what kind of payroll you need to run. It can also help you stay compliant with the various state tax requirements and allows you to split deposits across several accounts, set payment reminders and integrates with various accounting software such as Xero and QuickBooks.
With Justworks, your W-2s and your 1099s will be filed for you along with your quarterly and annual payroll taxes. You can also run reports on payroll data so you have an idea of the money you're spending on hours, withholdings, benefits deductions and more.
The fringe benefits you offer employees can go a long way in attracting and retaining top talent. With Justworks, you can offer your employees health benefits through Aetna, Kaiser Permanente, MetLife and UnitedHealthcare. Besides health benefits, you can also offer commuter benefits, life insurance, vision and dental insurance and 401(k) plans.
Not only can you easily manage these options online, but your employees will also be able to use their own portal to view, select and manage their benefits.
Streamline the hiring and onboarding process, as well as manage your employee's paid time off, approve time-off requests, create a company holiday calendar, employee directory and more. Again, you can manage all this from the Justworks dashboard, while your employees can do the same.
From taxes to industry laws to harassment prevention training, Justworks will ensure your company and employees are in compliance.
You can expect a lot of the same features with Namely; however, unlike Justworks, you'll be able to pick and choose which features you want to create your custom plan.
There are a number of tools offered by Namely that can be used to manage your employees. It offers tools to help you recruit new employees, onboard them, get them up to speed and more. The recruiting tool allows you to post jobs, track applicants, conduct background checks and write offer letters.
Once you choose an applicant, there are options to help you onboard that employee. This includes a paperless process for entering them into your system. You can also set up a living handbook for your employees so they always have access to the most up-to-date policies and procedures.
Your employees will be able to enroll online for the plans they choose, which may include health benefits, 401(k) and any other benefits you decide to offer them.
Administrators can also sign off on employee elections and automatically integrate them into the payroll system, so you don't have to worry about manually calculating any deductions. Employees will also be able to see their benefits easily online or on their phones.
Namely offers a complete payroll suite that can be used to manage employee time and attendance, paid time off and of course, their pay — including pay stubs and paycheck history. It'll also handle your local, state and federal taxes and year-end reporting. If you have hourly employees, time integration is included as well.
Namely offers access to live HR advisors who can give you advice whenever you need it. You can also use the learning management system to upload training for your employees and check in on their progress to make sure they've completed any requirements. There is also the option to manage your Occupational Safety and Health Administration (OSHA) requirements online.
When it comes to customer reviews, Justworks receives high marks from major review sites, and most customer feedback is positive. Among these good reviews, customers call out how easy Justworks is to set up and use, both from an employer and employee perspective. Employee onboarding, in particular, is a cinch, according to reviews. The ability to compare different benefits plans side by side when making a selection is especially helpful, and users also find the support through Slack to be a unique feature.
On the flip side, negative reviews often circle back to customer service, which users have found to be slow or unhelpful, often directing them to articles they don't find helpful or giving them conflicting advice.
Namely comes in slightly behind Justworks on major review sites, although it still had high marks. Positive reviews tend to focus on how simple it is to compare and select benefits plans, view payroll history and find employee information through the directory.
Less positive reviews, on the other hand, also call out Namely's customer service. Customers report long response times and unhelpful advice.
A version of this article was first published on Fundera, a subsidiary of NerdWallet.