How to Get a Small Business Loan in Iowa: 7 Top Local Funding Options
Looking into all the options for how to get a small business loan in Iowa? Consider these 7 grants & other loans.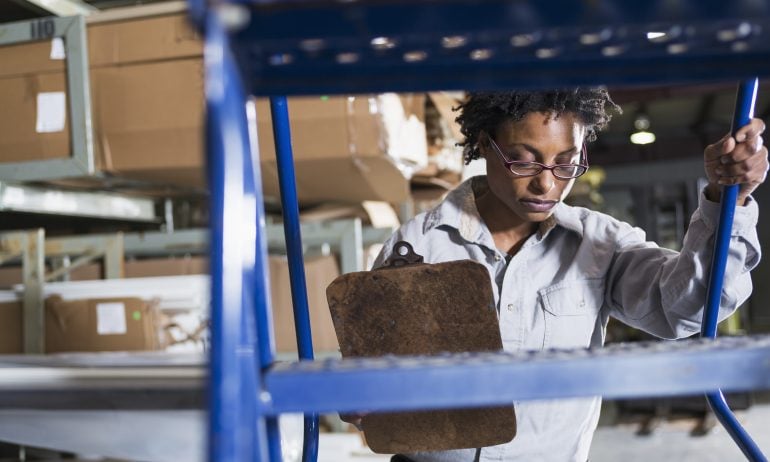 Many or all of the products featured here are from our partners who compensate us. This influences which products we write about and where and how the product appears on a page. However, this does not influence our evaluations. Our opinions are our own. Here is a list of our partners and here's how we make money.
The state of Iowa offers several financial resources for entrepreneurs who want to start or grow a business in the Hawkeye State. If you're wondering how to get a small business loan in Iowa, know that eligibility for these small business loans and grants varies depending on the stage of your business, your company's impact on the local economy and the industry you're in. Iowa reserves some financial assistance programs for women business owners, minority business owners and entrepreneurs from other underserved demographics.
Over 260,000 small businesses operate in Iowa, active in a variety of industries ranging from agriculture and food production to renewable energy and information technology. The state government actively tries to encourage business owners to set up shop in and expand in Iowa. And the average Iowa entrepreneur receives $47,480 from lenders, a healthy amount of capital to launch your company or take it to the next level.
with Fundera by NerdWallet
Top 7 Iowa business loan and grant options
The top 7 ways to get a small business loan in Iowa include:
Iowa Self-Employment Program.

Iowa Targeted Small Business Program.

Iowa Linked Investments for Tomorrow Program.

Iowa Innovation Acceleration Fund.

Iowa Proof of Commercial Relevance Program.

Iowa High Quality Jobs Program.
In this guide, we'll explain each of these seven ways to get a small business loan in Iowa that can help you reach your business goals.
Your local funding guide to Iowa small business loans
If you're looking for a local funding solution for your Iowa small business, there are several opportunities that you might be eligible for. Small business loans for Iowa businesses primarily come from nonprofit lenders or from government small business loan programs administered by the Iowa state government. The state and private organizations also operate grant programs. The difference between business loans and business grants is that you don't have to pay back a grant. You do have to pay back a business loan with interest.
1. Iowa Self-Employment Program
The Iowa Self-Employment (ISE) program is a grant program run by the Iowa Department of Vocational Rehabilitation Services (IVRS). This program is designed to help business owners with disabilities achieve financial independence and fulfillment by starting, expanding, or purchasing a small business.
Small businesses eligible for the ISE program must be:
At least partially owned by a business owner with a disability.

A for-profit business located in Iowa.
The more money you've personally invested in your Iowa business, the bigger the grant you can receive through ISE. IVRS will match your investment dollar-for-dollar up to $10,000. This money can be divided between the business owner's general financial needs (e.g. buying business equipment, buying inventory and covering advertising costs) and technical needs (e.g. accounting, web design and legal costs). To get started or to see if you qualify, you'll need to contact an IVRS counselor near you.
2. Iowa Targeted Small Business Program
Iowa Targeted Small Business (TSB) Program provides small business loans for minorities, women, disabled veterans and entrepreneurs with disabilities. The loans are provided through a nonprofit called Iowa Center for Economic Success.
Your business must meet the following requirements to be eligible for an Iowa TSB loan:
Annual gross income is less than $4 million.

Business is majority-owned (51% or more), operated and managed by a woman, minority, service-disabled veteran, or person with a disability.
TSB loans go up to $50,000 ($30,000 for new businesses) and can be used for a variety of business startup and expansion purchases, including equipment purchases, inventory, rent and more. The loan terms are very favorable to small businesses as well, with below-market interest rates of 3% to 5%, fixed monthly payments, no-prepayment penalties and up to five-year repayment terms. You can apply for a loan on the Center for Economic Success's website.
3. Iowa Linked Investments for Tomorrow Program
The Iowa state treasurer runs the Linked Investments for Tomorrow (LIFT) program to provide loans to Iowa-owned and operated businesses. One-half of the program's funds are set aside for business owners from underserved populations, such as women and minorities. The other half is open to other Iowa entrepreneurs.
Eligible businesses for LIFT loans must meet the following requirements:
The combined personal net worth of the borrowers cannot exceed $975,000.

Existing small businesses must have annual gross sales of $2 million or less.

Borrowers cannot be delinquent in making child support payments or any other payments due to the state.
Iowa business owners can use loan funds from the LIFT program for a variety of business needs, but not for refinancing existing debt or for real estate investments. The state treasurer administers LIFT through local banks and direct lenders. If you're interested in this program, the first step is to contact the state treasurer, who can help you find a participating lender. Loans go up to $200,000 with a maximum repayment term of five years. Interest rates cannot exceed 4% above the bank's certificate of deposit yield rate.
4. Iowa Innovation Acceleration Fund
A good option for high-growth, technology businesses located in Iowa is the Innovation Acceleration Fund. The Iowa Economic Development Authority (IEDA) runs this program to make the state more attractive to tech companies.
In order to be eligible for an Innovation Acceleration financing, you'll need to meet the following requirements:
Located in Iowa with fewer than 500 employees.

In the advanced manufacturing, bioscience, or information technology (IT) industries.

The product or technology must be protectable with a patent or trademark.

The management team is fully in place.

Proven business model, as described in a comprehensive business plan.

Established customer base.

Already generating significant revenue.

Demonstrated financial and operational stability.
As you can see, it's definitely more challenging to qualify for this Iowa small business program, compared to the others we've described so far. However, businesses that do qualify can access up to $500,000 in funding. The funds can be structured as a loan or as a royalty that you pay back with a small portion of your previous year's revenue.
To get started, email VentureNet Iowa to verify your eligibility and get the current application form. The application process can be pretty time-consuming. You'll need to prepare a demo of your product or technology and present your business idea to the IEDA Technology and Commercialization Committee, which scores each applicant.
5. Iowa Demonstration Fund
The Iowa Demonstration Fund is very similar to the Innovation Acceleration Fund, helping businesses develop and bring their technologies to market. Another purpose of this fund is to make businesses more viable for venture capital funding down the line.
Eligibility criteria for the Iowa Demonstration Fund are as follows:
Located in Iowa with fewer than 500 employees.

In the advanced manufacturing, bioscience, or IT industries.

A competitive and protectable product, technology, or process.

The product must be market-ready (except for bioscience and medical devices requiring regulatory approval).

Business development, financial operations and technology management team members are in place.
These loans go up to $125,000, offered as loans or royalty arrangements. IEDA reviews applications on an ongoing basis and selects companies to receive funding every two months. To apply, first email VentureNet Iowa to verify eligibility and get the current application form.
6. Iowa Proof of Commercial Relevance Program
The Iowa Proof of Commercial Relevance (POCR) program helps companies reach market readiness. Like the Innovation Acceleration Fund and Demonstration Fund, IEDA runs this small business loan program for Iowa businesses. POCR is well suited for early-stage technology companies that need funds for beta testing or market validation.
You must meet the following eligibility factors to get funding through POCR:
Iowa-based company with fewer than 500 employees.

In the advanced manufacturing, bioscience, or IT industries.

You must have a functional prototype of your technology.

You must be seeking market validation of your products, services, or business model prior to commercial launch.

A minimum of two co-founders must be actively engaged in the business.
The POCR program offers small, low-interest business loans of up to $25,000. Keep in mind that the funds can only be used for market validation activities, such as product testing, focus groups, or competitor analysis. You can email VentureNet Iowa to verify your eligibility for POCR and get the current application form.
7. Iowa High Quality Jobs Program
The Iowa High-Quality Jobs Program also offered through IEDA, lets eligible small businesses offset some of the costs to build, expand, or improve a business facility in Iowa. Successful businesses can receive a financial assistance package, including loans, forgivable loans (essentially like a grant), tax credits, tax exemptions and tax refunds.
Here are the eligibility criteria for the High-Quality Jobs Program:
Apply to the program before beginning your construction, expansion, or improvement project.

Payments to employees must meet wage threshold requirements that are set by law.

You must provide an employee benefits package to all full-time employees, which includes at least one of the following:

Business pays 70% of medical premiums for single coverage plans with a qualifying deductible;

Business pays 60% of medical premiums for family coverage plans with a qualifying deductible; or

Business pays for some level of medical and dental coverage and provides the equivalent financial value through other employee benefits.
Award amounts under this program vary based on the level of the business owner's need, availability of funding from other sources, the number of high-paying jobs created by the project and the project's local economic impact.
National small business loan options for Iowa businesses
Qualifying for local and state financial assistance programs is one way to get a small business loan in Iowa, but there are also several nationwide lenders who can help. These include traditional banks and online alternative lenders.
With the growth of alternative lending, seeking financing for your business requires a few clicks on your computer. Online lenders typically don't set very stringent eligibility requirements and they can approve and fund a loan application very quickly. Within a few days, you can have the funding you need in your bank account.
If you're wondering how to get a small business loan in Iowa outside of state financial assistance programs, here are some nationwide lenders that you should consider:
Wells Fargo made it on our list of best small business lenders in Iowa because they are one of the top SBA lenders in the state. In 2017, Wells Fargo issued the largest number of SBA loans in Iowa. With some of the lowest interest rates, largest funding amounts and longest repayment terms on the market, SBA loans should be on any entrepreneur's list of potential funding options.
Wells Fargo has 25 branches across Iowa and is a good place to begin your SBA loan search. The bankers can help you determine if your company is eligible—as qualifying for an SBA loan can be challenging—and they can prepare you for what can be a long application process. They'll tell you what documents you need to submit with your SBA loan application. You can qualify for up to $5 million or more in SBA funding and can put the money toward almost any business use.
Fundbox is at nearly the opposite spectrum from SBA loans. Fundbox is an online financial company that provides lines of credit for small business owners. It's pretty easy to qualify for Fundbox. You only need to have two months of operating history under your belt and average about $50,000 in annual revenue. Fundbox doesn't have a minimum credit score, so this is a good option for startup companies or Iowa business owners with less-than-perfect credit.
If it sounds like you qualify, Fundbox has one of the fastest application processes around. All you need to do is connect your business bank account or accounting software to Fundbox's application and they'll evaluate you for credit approval. You can qualify for between $1,000 to $100,000 in financing and you repay the funds in 12 to 24 weeks.
For a middle ground between a short-term lender like Fundbox and long-term SBA loans, there's Funding Circle. Funding Circle is an online lender that offers financing between $25,000 and $500,000 that must be repaid in seven or fewer years. Their loans are much more affordable than short-term loans, with interest rates starting at just 15.22% per year. However, you also need a good credit score — at least 660 — to qualify and your business must be established for two years.
If you fulfill these requirements and are searching for long-term funding that you can get quickly, Funding Circle should be on your list of Iowa business lenders. They can often fund small businesses in as few as five business days.
How to get a small business loan in Iowa: Preparing your application
Once you narrow down which Iowa business loans you want to apply to, you'll need to prepare a strong loan application to convince lenders they should give you a loan. Documentation requirements will vary significantly based on which financial assistance program you apply for, but in general, you'll want to focus on the following three things:
Your business plan is one of the most important documents you'll prepare when applying for an Iowa small business loan or grant program. The business plan contains a detailed summary of your business's product or service, along with an overview of your target customer base, local and national competitors and financial projections. Lenders and grant organizations use the business plan to determine how realistically you've plotted out your business's future growth and they might use financial projections to evaluate how much funding your business is eligible for.
Depending on the loan program you apply for, your credit score could be an important factor. The better your credit score, the more loan programs you'll be eligible for. The best ways to keep on top of your credit are to regularly monitor your credit score, fix errors in your credit report and pay all your existing loans and credit cards on time. Improving your credit fast as possible, but it doesn't happen overnight, so you should keep tabs on your credit history well before you begin your search for financing.
The final piece of the puzzle is business revenue. Even if you have a brand-new company, you should focus on building a market-viable product as soon as possible, so you can start generating sales. This puts your business on the map for lenders and shows them that you're a serious business. While startup business loans do exist, it's much easier to get a loan for an established revenue-generating business.
How to get a small business loan in Iowa: The bottom line
Fortunately for Iowans, the state offers multiple options for small business financial assistance. At the state level, the biggest opportunities are for underserved populations, such as minority and disabled entrepreneurs as well as for high-growth technology companies. Alternatively, you can obtain funding through national banks and online lenders. No matter what business you're running, if you're looking for a small business loan in Iowa, make sure you review what your options are from national, state and local sources, and then choose the best fit for your business.
This article originally appeared on Fundera, a subsidiary of NerdWallet.