How to Get a Full Refund From Airbnb
Your rental is technically contracted with the host, not Airbnb, so cancellation and refund policies may vary.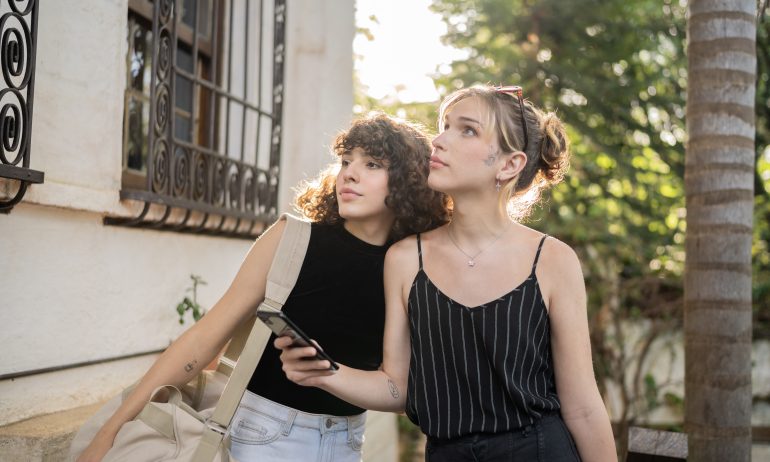 Many or all of the products featured here are from our partners who compensate us. This may influence which products we write about and where and how the product appears on a page. However, this does not influence our evaluations. Our opinions are our own. Here is a list of our partners and here's how we make money.
Airbnb is a homeshare giant that has revolutionized the way people travel, offering low-cost alternatives and more unique options than hotels can usually provide. However, changing travel plans can impact your Airbnb bookings, as can unforeseen issues with your lodging.
In these cases, you may be wondering if it's possible to recoup the money that you've paid. Can you get a full refund from Airbnb? The good news is yes, you can get a refund. Let's take a look at how to get an Airbnb refund.
What to consider before booking
Although you're booking through Airbnb, what you're actually doing is paying for an accommodation that is owned by a separate party. This can be the actual homeowner, a management company or even a subletter. What this means is that your contract is with the listing's owner, not Airbnb, and it is the owner that sets the terms for cancellations.
There are multiple variations of Airbnb refund policies. Here are some of the most common:
Flexible: Can cancel anytime prior to 24 hours before your stay for a full refund.

Moderate: Cancellable until five days before your stay for a full refund.

Firm: Cancel 30 days before the stay and receive a full refund; cancel between 7 and 30 days before your stay and receive a 50% refund; no refund if canceled fewer than 7 days before the stay.

Strict: Must cancel within 48 hours of booking; if a stay is more than 14 days away, you'll receive a full refund. If you cancel within seven to 14 days of your stay, you'll get a 50% refund.
Keep in mind that these policies only apply to the nightly rate you're paying the host. Airbnb refunds its service fees according to its own schedule, and cleaning fees are always refunded if you cancel prior to check-in.
Airbnb purchases code as travel with both Chase and Citi, allowing you to earn extra bonus points on your stays. Learn the best travel credit cards right now.
If you're worried about your travel plans, you may want to search for properties advertising flexible cancellation policies. You can do so by hitting the "Filters" button once you've completed a search.

From there, you'll scroll down to "More Options" and toggle on Airbnb's "Free Cancellation" button.

Once you've turned on this feature, you'll only be shown refundable Airbnb properties that allow for full and complete cancellation.
How to cancel an Airbnb booking
Getting a full refund from Airbnb prior to your stay is going to depend on the cancellation policy of the property that you've booked. If you've booked a refundable Airbnb and need to cancel, you'll need to log in to your Airbnb account.
From there, you'll hit "Trips" on the dropdown in the upper-right hand corner:

This will take you to your trip page. You'll select your trip and scroll down to the "Reservation details," where you'll find the option to cancel your reservation: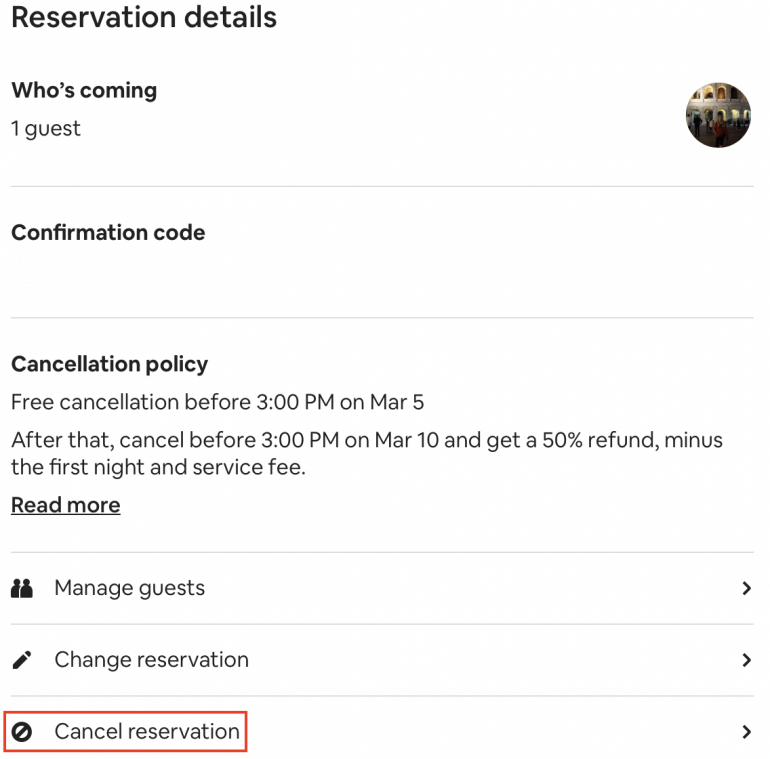 You'll be taken through a few screens, where you'll need to select a reason for cancellation and send a message to your host. Afterward, you'll be taken to a page stating the refund that you'll receive: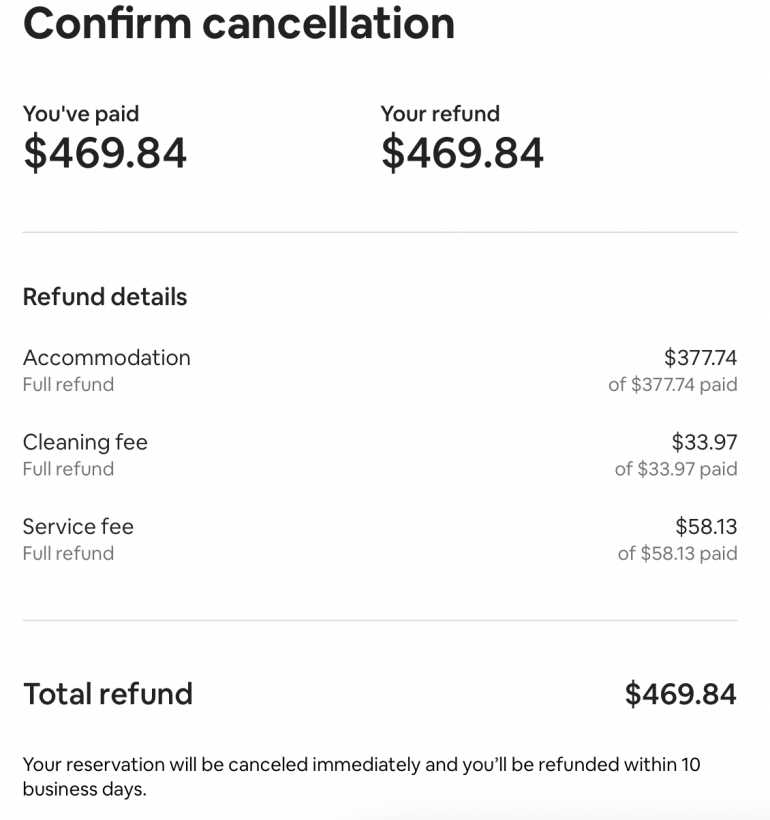 From here, you'll simply need to confirm your cancellation. Keep in mind that it may take some time to see the refund show back up on your credit card.
If you booked a stay with a property that had a less flexible cancellation policy or is nonrefundable, you might be out of luck. To prevent these financial straits, consider purchasing a travel insurance policy to help protect prepaid travel expenses.
Travel insurance coverage varies significantly across policies, and even with a Cancel For Any Reason policy, you're not always guaranteed a full refund of upfront payments.
How to get a refund for a sub-par Airbnb stay
What happens if you show up to your Airbnb and it's not like the photos? Although you're dealing with a separate host, Airbnb also has its own guest refund policy that can override the property's existing policy.
Here are some common situations in which you may be entitled to a refund because of Airbnb's coverage:
If the host cancels the booking shortly before your stay or does not give you access to the lodging, you can expect an Airbnb refund.

If, at the start of the booking, the property is not generally clean and sanitary, contains safety or health hazards, or has vermin or undisclosed pets.

If you arrive and the property is not accurate to the listing.
The listing being inaccurate covers a lot of ground. For example, listings could be inaccurate with regard to:
The size of the accommodation.

Whether the booking for the property is for an entire home, private room or shared room.

Whether another party is staying at the accommodation during the booking.

Whether special amenities or features as listed are not provided or do not function or the location of the property.
If any of these situations apply to you, you'll want to report them immediately to Airbnb in writing. Airbnb has two different policies that depend on whether you make your report within 24 hours of the beginning of your stay or more than 24 hours after it's started.
Airbnb will work with both you and the host to reach a resolution. If one can't be found, Airbnb can — at its discretion — refund you up to the total amount of your stay.
Document everything. If the unit is dirty, take plenty of photos. The same goes for any broken or misrepresented items. Evidence will go a long way toward resolving what would otherwise be a he-said-she-said conversation.
Be aware that Airbnb's refund policy can choose to either refund you completely or give you an alternate accommodation that is comparable or better than what you currently have booked. As a guest, you don't have the ability to choose which option you'd like. This is up to Airbnb. Also, once Airbnb has made its decision, the verdict is final.
Getting a refund after your Airbnb stay
Although Airbnb's refund policy technically allows for refunds on complaints filed more than 24 hours after check-in, you'll be hard-pressed to get a refund on a unit after a stay. This is especially true if you stayed in the Airbnb during the entirety of your booking.
For the best chances of a full refund, you'll want to report any issues as soon as they occur. You'll also need to agree to vacate the premises for alternate accommodation. You may still be eligible to receive a partial refund even if you continue to stay, though this is at Airbnb's discretion.
How long does an Airbnb refund take?
If you're eligible for a refund, you'll get it automatically within 10 days of your refund request.
Certain payment methods can get a refund considerably sooner. For instance, refunds will be remitted within 24 hours if you paid for your stay with an Airbnb for Work credit, an Airbnb gift credit, a Hongbao credit or via PayPal.
See more details on how long it takes for Airbnb to refund on their website.
There's no doubt that Airbnb has helped people travel around the world, but the booking platform is not without its issues.
If you're looking for peace of mind for your stay, consider opting for a property that offers free cancellation.

If you've arrived to the property and found it to be unclean or inaccurate to the listing, you may be covered under Airbnb's guest refund policy, which can grant you either a full refund or alternative accommodation.

Post-stay refund seekers will have a harder time getting a full refund for their trip, but by documenting issues comprehensively, it is not impossible.
Understanding the Airbnb refund policy can be a smart money move and better protect your vacation investments.
---
How to maximize your rewards
Get more smart money moves – straight to your inbox
Sign up and we'll send you Nerdy articles about the money topics that matter most to you along with other ways to help you get more from your money.