How to Take Your Cat on a Plane
Yes, it's possible to fly with your cat. Depending on its size, it can either fly in the cabin with you or as cargo, but you may pay fees.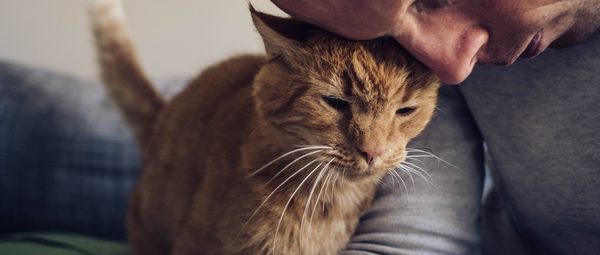 Many or all of the products featured here are from our partners who compensate us. This influences which products we write about and where and how the product appears on a page. However, this does not influence our evaluations. Our opinions are our own. Here is a list of our partners and here's how we make money.
Taking a cat or kitten along on a commercial flight can seem like a straightforward idea, but the logistics can mount. You'll likely face additional costs, not to mention documentation requirements and other rules, which can vary depending on the airline.
With some research and preparation, both you and your kitty can fly safely and in comfort. The rules are much the same as when flying with a dog, but as with canines, you should still talk with your vet and your airline ahead of time.
Know your cat's travel options
If a pet in its carrier can fit under the seat in front of you, it typically can travel in the cabin. Generally, that means a pet weighing up to about 20 pounds — an easier hurdle to clear for cat owners than dog owners.
Under-seat space differs among airplanes, which often limit how many total pets are allowed on a flight. That's why you should check with the airline. Buying an extra seat for your cat isn't allowed. Traveling with a cat this way, essentially as carry-on luggage, usually costs less than if it travels in the belly of the plane. Note: A cat in its carrier counts as your allowed carry-on bag.
The other choice is flying your cat as cargo in a pressurized, temperature-controlled compartment. Cats can fly this way either as checked bags on the same aircraft as you, or unaccompanied as shipping cargo. There may be shipping timelines to consider if the cat travels as unaccompanied cargo, so check with your airline for details.
Some animal rights groups, including the Humane Society of the United States, recommend against traveling with your cat anywhere but the cabin if it can be avoided — and not all airlines allow cats to be transported as cargo.
Understand the costs of each
Even though you can't buy an extra seat for your cat, you'll still have to make a reservation for it.
Several of the biggest airlines in the U.S. charge $125 each way for an in-cabin cat. However, fees are somewhat less on other airlines, like Southwest Airlines ($95) and JetBlue ($100). Prices are from February 2018. Often, you pay the fee when you get to the airport on the day of flying.
Because your in-cabin cat counts as a carry-on, you might have to pay to check your roll-aboard bag.
Pets that fly as cargo often cost more — for example, $200 each way on American Airlines when cats are checked as luggage.
Other costs can include a pre-flight veterinary visit and buying a pet carrier.
Research health requirements, other rules
Have your veterinarian examine your cat to make sure it is healthy enough to fly by plane. If you're checking your cat as cargo, note that some breeds are restricted by some airlines. For example, American Airlines doesn't allow snub-nosed brachycephalic cats of any mix, such as Burmese, Persian and Himalayan, for fear of respiratory distress at high altitudes.
You might need to obtain a health certificate from a veterinarian several days before you fly, according to airline industry group Airlines for America.
There are various other rules and regulations to be aware of, depending on your airline. For instance, airlines may apply further restrictions no matter how the cat flies, whether cabin or cargo. United Airlines, for example, requires kittens to be at least 2 pounds or 10 weeks old. Check your airline's website to learn more.
Most airlines require that the carrier your cat rides in (sometimes called a crate or kennel) be large enough for your contained cat to stand up and turn around. But some airlines also have maximum size and occupancy limits, which they list on their websites.
Regardless, let your cat get used to its carrier before the flight. Airlines for America also suggests that you line the floor with bedding or absorbent material, that you add your contact information to the kennel, and that you indicate with arrows or writing which side should face up.
Flying internationally with your cat can be more complex and require more planning. Some airlines, like Southwest, don't let pets fly on international flights.
If your cat is allowed, you might need an international health certificate, and you must comply with the requirements of your destination country. The U.S. Department of Agriculture's Animal and Plant Health Inspection Service lists regulations by country.
If your cat is an emotional support animal
If your cat is an emotional support animal, you likely won't get any special treatment, and you'll likely still have to pay applicable pet fees. A 2021 policy update from the U.S. Department of Transportation, or DOT, says that emotional support animals are no longer considered service animals, and airlines aren't required to treat them as such.
That means if your cat is an emotional support animal and was previously allowed on airplanes, there's no guarantee it will still fly for free (and it likely won't fly for free). All the major U.S. airlines no longer recognize emotional support animals as service animals and now charge pet fees, which can range from $95-$125 or more one-way.
Arrive at the airport early on the day of your flight and check in at the ticket counter with your cat if it's flying in the cabin. If it's flying as cargo, check with your airline about where to drop it off, since the cargo location could be at a different airport terminal.
When going through airport security screening, the cat's carrier goes through the X-ray machine, while you leash your cat and carry or lead it through the metal detector. Consider membership in TSA PreCheck, which allows you to use quicker lines where you don't have to remove your shoes and light jacket.
Again, keep in mind that details of pet policies vary among airlines. It's best to check directly with your airline when planning a trip to ensure you and your cat arrive at your destination safely.
Get more smart money moves – straight to your inbox
Sign up and we'll send you Nerdy articles about the money topics that matter most to you along with other ways to help you get more from your money.