What is the SENTRI Pass and How Does it Work?
The SENTRI pass is a smart choice for those who cross the U.S.-Mexico land border frequently by car.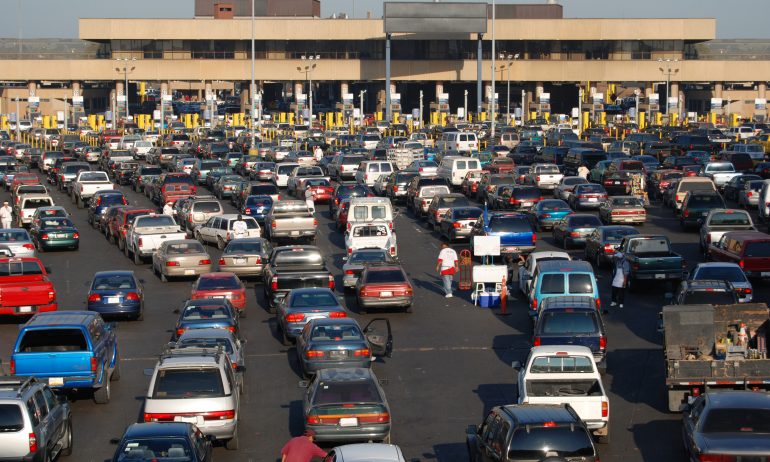 Many or all of the products featured here are from our partners who compensate us. This influences which products we write about and where and how the product appears on a page. However, this does not influence our evaluations. Our opinions are our own. Here is a list of our partners and here's how we make money.
Travelers can encounter massive lines to cross the borders by car. Travelers who are on a tight schedule may wonder: Are there faster ways to reenter the U.S. by land from our North American neighbors? The short answer is yes — NEXUS for travel in and out of Canada and SENTRI for travel back into the U.S. from Canada or Mexico.
Here, we take a look at the SENTRI Pass — what it is, how it works, how to get it and who should apply for it.
SENTRI is one of five Trusted Traveler Programs from U.S. Customs and Border Protection that allow expedited entry into the U.S. when crossing international borders. Where a program like TSA PreCheck seeks to expedite screenings for air travel, SENTRI, along with NEXUS and FAST, have similar intentions for U.S. land border crossings.
SENTRI is the only program that allows preapproved, low-risk travelers to reenter the U.S. from Mexico on foot or by vehicle using special SENTRI lanes at the land border ports. In addition, it also grants expedited access into the U.S. from Canada through dedicated NEXUS lanes. That said, SENTRI doesn't expedite entry into Mexico or Canada from the U.S.
How does the SENTRI Pass work?
After completing an application process and screening, SENTRI users are issued a Radio Frequency Identification card identifying valid membership. When crossing the U.S.-Mexico border, the SENTRI card automatically populates information for U.S. Customs and Border Protection officers who can choose to let the vehicle and its passengers continue into the U.S. without further inspection.
It's a similar process when reentering the U.S. through a land border with Canada.
How much is a SENTRI Pass?
At $122.25, SENTRI membership is the most expensive of the Trusted Traveler Programs. But more than expedited land crossings, U.S. citizens and U.S. lawful permanent residents approved for SENTRI can automatically get TSA PreCheck and use Global Entry kiosks with their passport or resident card. These benefits come at no extra cost.
It's important to note that the fee, which is paid with your application, is nonrefundable. Even if you're not approved after applying and paying, it won't be refunded.
Once accepted for SENTRI, membership is valid for five years. Note that each passenger traveling through a SENTRI lane must be approved individually for membership. It's not enough to travel in a member's car without your own SENTRI membership.
How do I get a SENTRI Pass?
You can apply for SENTRI in five steps.
Create a TTP account. Note that each applicant must have a separate TTP account, regardless of age, even if all applicants plan to drive in the same registered vehicle.

Log in to your TTP account and complete the online application.

Pay the $122.25 membership fee, which is good for five years.

Attend your interview and bring your passport, one other official form of identification, vehicle registration and a copy of your U.S. auto insurance policy. Bring your permanent resident card if you are a lawful permanent resident. If you are at least 14 years old, you must also have your fingerprints taken.
Why should I get the SENTRI Pass?
The SENTRI Pass makes a lot of sense for particular travelers and circumstances.
You live near a U.S.-Mexico border and cross frequently
Hours-long lines are common at international land borders between the U.S. and Mexico. Getting SENTRI for yourself and your travel companions could translate to hours of time saved. Multiply these hours by the number of times you cross, and the value in a SENTRI membership increases greatly.
Given that SENTRI is primarily intended for those who cross the border frequently, enrollment centers are found exclusively in cities close to the U.S.-Mexico border. There are 11 centers currently:
Arizona: Phoenix, Tucson, Douglas, Nogales and San Luis.

Texas: El Paso, Hidalgo, Brownsville and Laredo.

California: Calexico and San Diego.
An in-person visit at an enrollment center is required for membership approval.
You live near a U.S.-Mexico border and travel internationally frequently
Since U.S. citizens and lawful permanent residents approved for SENTRI get the added benefits of Global Entry, TSA PreCheck, and NEXUS lanes for entry into the U.S. from Canada, those who travel internationally frequently could benefit from this program.
You plan to do some road-tripping in Mexico
If you plan on doing a lot of road trips between Mexico and the U.S., it may be worth your while to get a SENTRI card. However, consider the costs or hassle involved in visiting an enrollment center in Texas, Arizona or California before applying.
Who should skip the SENTRI Pass
SENTRI Pass membership isn't ideal for people who plan to travel by car extensively in Canada. Other travelers who would be wise to forego membership include:
Those who live near Canada or want to visit Canada by car. It's true that SENTRI members can access dedicated lanes to reenter the U.S. from Canada by land, but that's simply an added benefit of membership. The main program targeted for those crossing U.S.-Canada land borders is NEXUS, which allows preapproved travelers to travel between the countries in expedited lanes. Since NEXUS is a joint program between the U.S. and Canadian immigration authorities, these lanes are found on both sides of the border.

Those who don't live near a SENTRI enrollment center. Though it may come with Global Entry and TSA PreCheck, SENTRI is geared toward land crossings at the U.S.-Mexico border. A better option for those who travel internationally by plane and don't live near a SENTRI Enrollment Center may be applying for Global Entry. This program allows you to use Global Entry kiosks at U.S. Customs when returning from international travel from over 75 international airports. Global Entry also comes with TSA PreCheck.
Is the SENTRI Pass worth it?
If you live within a few hours of a SENTRI Enrollment Center and cross the U.S.-Mexico border even a few times a year, the SENTRI Pass is well worth getting. Though the application fee of $122.25 per member is higher than other Trusted Traveler Programs, saving hours at the border every single time can feel priceless. Plus, the bonus benefits of Global Entry, TSA PreCheck and the use of NEXUS lanes make it even more worthwhile for frequent travelers.
If you want to obtain a SENTRI Pass
The SENTRI Pass can make sense for U.S.-based travelers who frequently cross the country's land borders by car, especially for those who live near the southern border and visit Mexico often. Canada-bound U.S. travelers will likely get better value out of the NEXUS card. For a little over $100, travelers will automatically get TSA PreCheck and Global Entry benefits.
---
How to maximize your rewards
Get more smart money moves – straight to your inbox
Sign up and we'll send you Nerdy articles about the money topics that matter most to you along with other ways to help you get more from your money.