4 Times When You Should Renew Your Passport
Consider starting the renewal process if your passport is full, damaged or within six months of expiration.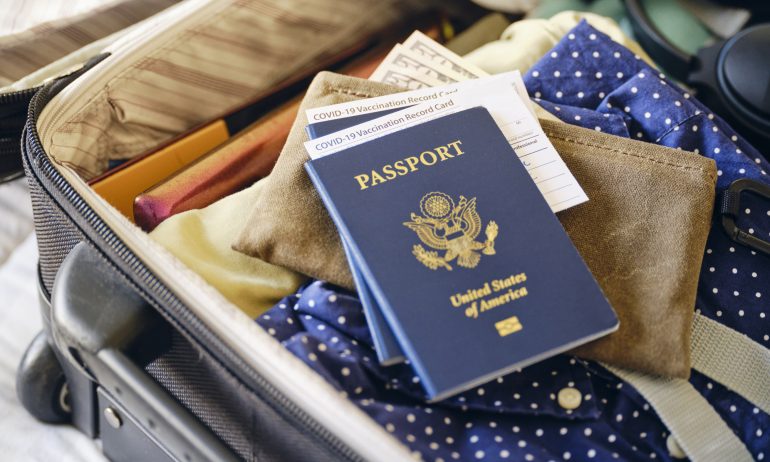 Many or all of the products featured here are from our partners who compensate us. This influences which products we write about and where and how the product appears on a page. However, this does not influence our evaluations. Our opinions are our own. Here is a list of our partners and here's how we make money.
Do you have any upcoming international travel? Has it been a few years since you last left the country? If so, it's time to break out your passport and check when it expires. If it's past due — or close to expiring — now's the time to renew.
Here's a look at how long passports last, when you need to update your passport and how to do so. 
How long do passports last?
How long ago did you get your U.S. passport? Its validity will differ depending on your age when you applied.
If you were under 16 when your passport was issued, it's valid for five years.

If you were 16 or older when your passport was issued, it's valid for 10 years.
Although it can be annoying to renew a passport every five years, it makes sense. After all, a 1-year-old child is going to look much different when they're 6.
When to renew your passport
There are a few different occasions when you may need to update your passport. 
The first and most obvious reason you'll want to renew your passport is that it has expired. If you're younger, this may be just a few years after it's been issued. If you're older, it may have been quite a long time since you've needed to renew. 
If you're traveling, you'll want to research the regulations to see if your destination has any validity requirements. For example, to travel in Europe, your passport needs to have at least six months of validity left before you depart. This is true whether you're traveling for two days or two months.
Not researching this beforehand could result in denied boarding. 
Travel resources like USA.gov and the U.S. Department of State recommend that travelers with a passport expiring soon should consider renewing it early, especially if they have upcoming international travel.
This is because certain countries, including Vietnam, Thailand, China and Brazil, among others, require six months of validity on a passport before allowing entry.
Have you ever accidentally left your passport in the pocket of your jacket, then washed and dried it? No? Just us? 
Although passports do experience normal wear and tear, if your passport becomes significantly damaged, it'll need to be replaced. 
This is especially true if the book cover is damaged; since 2007 all U.S. passports have included an integrated chip that details your information. This allows you to go through electronic passport gates and skip the long lines at immigration. 
This is a good problem to have, but if your passport is completely full, it's time to replace it. After all, how are you supposed to get new stamps if there's nowhere to place them? 
Again, do your research on your destination before attempting to use a passport that's nearly full. Some countries use visas that'll take up an entire page, and others will require that you have two to four blank pages in order to enter. 
If you do end up filling up your passport before it's meant to expire, you may want to apply for an extended passport. The standard passport book is 28 pages. An extended passport will give you 52 pages. 
The best time to renew a passport
You might be wondering, "Should I renew my passport before it expires?" According to the U.S. government, the best time to renew a passport is nine months before it expires. This gives you time to complete all your paperwork, mail it in and receive your new passport before the old one expires. 
And you should move fast, because processing times are especially long lately. In March 2023, the U.S. Department of State issued a noticed that routine processing times for passport renewals have increased to eight to 11 weeks, up from the previous estimate of six to nine weeks.
Even if you pay the additional $60 per application for expedited processing, expect it to take five to seven weeks.
That's all due to record demand for passport renewals. During some weeks during the winter of 2022 and 2023, the State Department said it received more than 500,000 applications. Not only did that exceed projections, but that marks the highest number ever for that time of year. The State Department also says it is on track for 2023 to set the record for the highest demand year ever.
What if my passport already expired?
It's also possible to renew a passport after it's expired, without necessarily starting from scratch in getting a brand new passport (in most cases).
If the passport was issued less than 15 years ago, you can still use your expired passport to apply for a renewal. To do so, you'll need to fill out the DS-82 form.
Though, this policy does not apply if your passport was issued before your 16th birthday, if your passport was damaged, lost or stolen, or if your passport was issued in a different name and you don't have a legal document proving your name change. 
In these cases, you'll instead need to apply for a new passport using the DS-11 form. 
There are a few different ways to renew a passport. The U.S. government has been trying a new method for online applications that is significantly easier than applying by mail.
In order to do so, you'll want to navigate to the online renewal website. From there, you can register for an account and begin your application. 
Renewing online isn't available to everybody. In order to be eligible, you must meet a specific set of requirements. This includes:
Having a passport that is at least nine years old but no older than 15 years.

You're applying for a tourist passport.

You aren't changing your information. 
Your current passport is immediately canceled as soon as you submit your online renewal application. 
If you don't fall within these categories, you may have to go about renewing the old-school way. This includes mailing in your paperwork, a new passport photo and a completed renewal application. 
Finally, if you have imminent travel and have just realized that your passport won't cut the mustard, it's possible to obtain a new passport quickly. Standard processing times take from eight to 11 weeks, but if you're traveling within the next 14 days you can make an appointment at a passport agency instead. 
If you're wondering when to renew your passport
International travel is an exciting adventure, but it can also be a little nerve-wracking.
Before you book your trip, be sure to double-check both your passport and your destination's regulations to ensure that you'll get in. Otherwise, it's time to take a new photo and send in that passport renewal.
And don't delay. With record passport renewal applications logged in 2023, processing times are especially long.
---
How to maximize your rewards
Get more smart money moves – straight to your inbox
Sign up and we'll send you Nerdy articles about the money topics that matter most to you along with other ways to help you get more from your money.