Advertiser Disclosure
How to Get Your Free Credit Reports
You can trust that we maintain strict
editorial integrity
in our writing and assessments; however, we receive compensation when you click on links to products from our partners and get approved. Here's
how we make money
.
Your credit report is your credit data footprint.
It's a just-the-facts record of your past use of credit — not an evaluation of creditworthiness like your credit score is.
» MORE: Get your free credit score with NerdWallet and track your credit report
Credit scores are based on information in your credit reports, so an error on your credit report could result in a nasty surprise — like being turned down for a mortgage. And if your identity has been stolen, fraudulent accounts and negative marks may be piling up.
Here's how to get a free credit report so you can watch for signs of trouble.
How to get free credit report info online
You can get free credit report information through several personal finance websites that offer a free credit score, such as NerdWallet. To get the most out of an online service, look for:
A free score and free credit report summary that really are free — that means no requirement to purchase an ongoing service such as credit monitoring.
Information on the site's security practices and assurances your personal information will not be shared or sold.
Which credit bureau provides the data. Not all creditors report your activity to all three credit bureaus, so your report and score may vary slightly depending on the data source.
How often the information is updated. Weekly updates are more helpful than monthly when you're tracking your effort to build or restore credit, for instance.
When you have picked an online service you like, check it regularly. Navigate to the credit report information and make sure you recognize all the accounts listed. Check that details are right, such as balance, date of last payment and whether any payments have been reported late.
If you see an error or an account you don't recognize, it's time to get your once-a-year free credit reports from all three credit bureaus. That lets you check whether negative or mistaken info is showing on all three, and may provide additional details.
How to get a free credit report from the credit bureaus
The Fair Credit Reporting Act entitles you to one free credit report every 12 months from each of the three credit reporting agencies, Equifax, Experian and TransUnion. There are three ways to get them:
Request them online at AnnualCreditReport.com.
Request them by phone at 877-322-8228.
Request them by filling out a form from the Federal Trade Commission and sending it to: Annual Credit Report Request Service, P.O. Box 105281, Atlanta, GA 30348-5281.
The quickest route is via AnnualCreditReport.com. You'll have to provide your name, Social Security number and other personal information likely to be known only to you (such as when you refinanced your home, or the amount of your car payment) to verify your identity.
Once you've done that, you can choose to see one credit report, two or all three.
It is crucial to type in the correct URL or click on the correct website. Similar sites abound, with many impostor sites based on an easily made typo. The government-sanctioned site does not ask for credit card information. This is what the correct site looks like: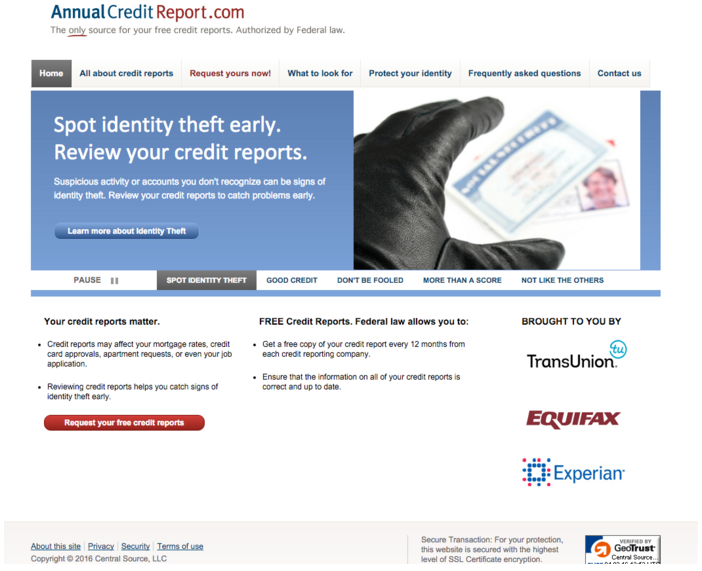 The URL at the top of the page should look like this, with a lock symbol on the left:

If you prefer to make your request in writing or by phone, you'll wait longer to see your reports; they can be sent up to 15 days after your request is received. The Consumer Financial Protection Bureau says you should allow two to three weeks if you used the mail-in form.
No matter how you request your reports, it takes additional time if the credit reporting agency needs more information to verify your identity.
A credit report isn't a credit score (and checking it doesn't hurt your score)
A credit report is not a credit score, but credit scores are derived from the information in your credit reports. Mistakes in your credit reports can cost you money.
The information in your credit reports has a lot to do with whether you can get a mortgage or credit card and what terms you'll get. The reports will show how long you've had credit, any late payments, any charge-offs and how much of your available credit you are using. Because employers, landlords and insurance companies also check the information on your credit reports, incorrect information could result in your being denied a job or an apartment or paying more for car insurance.
Checking your credit reports does not affect your credit score.
What to look for on your credit report
Here's a guide to reading a credit report.
You're looking for inaccuracies or information you don't recognize. The Federal Trade Commission in 2013 said about 1 in 5 Americans had erroneous information on at least one of the three credit reports.
Among the surprises people have found on credit reports:
Collections accounts or judgments they didn't know about.
Paid accounts showing as still open.
Incorrect name or Social Security number.
Open accounts they knew nothing about.
Incorrect debt amounts.
It's important to dispute any errors you find.
Most experts say you should pull your reports from the credit bureaus at least once a year, staggering the requests so you get one report every four months. But there are times when it's better to pull all three reports at once:
If you have lost a wallet, your mail has been stolen or you suspect your information has been compromised.
If you pull one credit report and see signs of potential fraud or identity theft.
If you see a large, unexplained drop in your credit scores.
If you are planning to apply for a mortgage.
More free credit reports? Maybe
You may be eligible for additional free credit reports from the bureaus. Federal law entitles you to a second one within the 12-month period if you are:
Unemployed and planning to look for a job in the next 60 days.
Receiving public assistance.
Turned down for employment, insurance or credit because of information in your credit report. (This is called "adverse action," and you'll receive a letter with instructions on getting your credit report.)
A victim of fraud, including identity theft.
In addition, seven states — Colorado, Georgia, Maine, Maryland, Massachusetts, New Jersey and Vermont — and Puerto Rico make free credit reports available to residents. To request those additional reports, contact the credit reporting agencies directly. Here's how:
Equifax, P.O. Box 740241 Atlanta, GA 30374-0241, 800-685-1111
Experian, P.O. Box 2104, Allen, TX 75013-0949, 888-397-3742
TransUnion, P.O. Box 1000, Chester, PA 19022, 800-916-8800
Bev O'Shea is a staff writer at NerdWallet, a personal finance website. Email: boshea@nerdwallet.com. Twitter: @BeverlyOShea.
Updated Sept. 12, 2016.