How to Manage Your Credit With NerdWallet
Track your credit score, monitor your credit report, get personalized tips for building credit and more — all for free.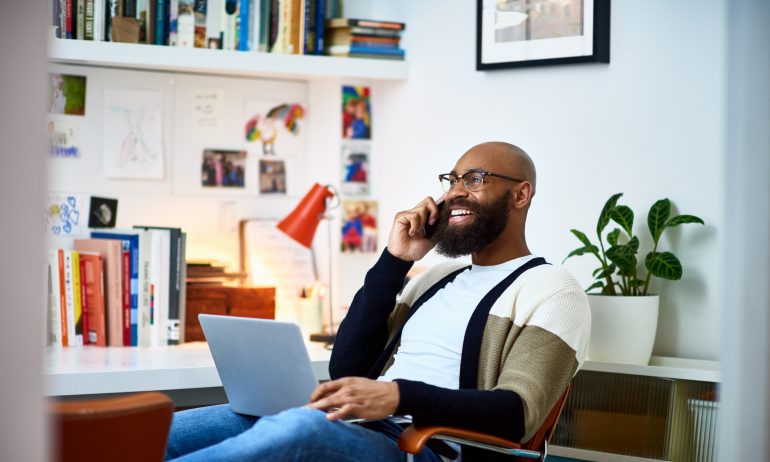 Many or all of the products featured here are from our partners who compensate us. This influences which products we write about and where and how the product appears on a page. However, this does not influence our evaluations. Our opinions are our own. Here is a list of our partners and here's how we make money.
NerdWallet offers more than just a free credit score — you also get explanations of what's influencing your score, ideas for how you can build credit and personalized insights to inspire your next actions.
Not only that, your free NerdWallet account also unlocks a way to track your cash flow, see your net worth, stay on top of bills, find savings and get rewards.
Know how your credit is scored
See your free score and the factors that influence it, plus insights into ways to keep building.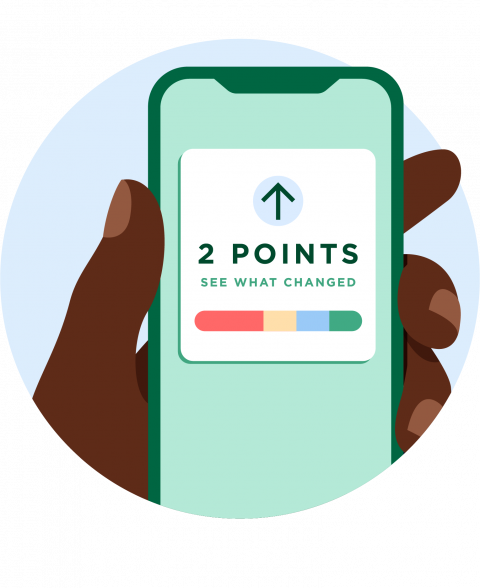 What credit information do I get with NerdWallet?
Your NerdWallet account gives you a free credit score and credit report information that's updated every week. We partner with credit bureau TransUnion to provide your VantageScore 3.0 credit score.
You get more than just a number, though — your credit score dashboard breaks down the separate elements that make up your score and explains how influential each one is.
Scores naturally fluctuate from week to week, and your dashboard will point out what has changed in each update so you can better understand what's affecting your credit.
You'll also find tips for managing each credit factor and answers to common questions — knowledge that helps put you in control.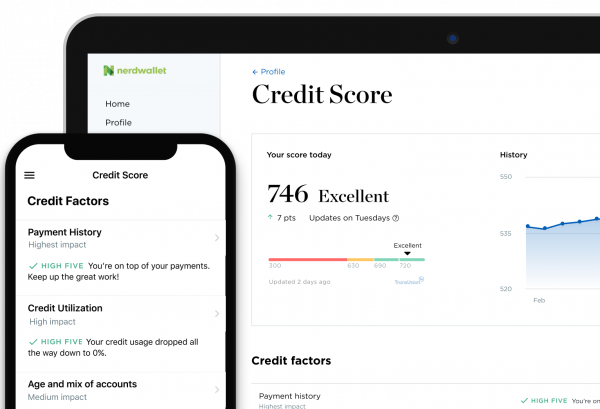 How do I sign up and activate my NerdWallet credit dashboard?
Once you click on a green "Sign up" button, you'll enter your name and email in order to create an account. NerdWallet accounts are free of charge, so you will not be asked for a credit card number or have to pay anything.
Next, you'll be asked to verify your Social Security number. This allows us to link to your TransUnion credit report information and display your VantageScore 3.0 credit score, which is based on the information in that credit report.
How can I monitor my credit with NerdWallet?
As your free credit score updates each week, you'll be able to see changes to your score and the underlying factors. NerdWallet also sends you alerts that highlight new information.
If there are unexpected changes to your score or report, you can investigate further by going to the breakdown of each credit factor or looking at your TransUnion credit report details.
Keep an eye on your credit by:
Tracking changes to your score and reading about why they happened.

Checking for signs of suspicious activity, like unexpected credit checks or new accounts you didn't authorize.

Reviewing your TransUnion credit report information any time you like. It's updated weekly to pull in new information as it becomes available.
Plus, NerdWallet's extensive library of articles helps you understand things like:
How can I build my score with NerdWallet?
Simply tracking your weekly score updates is a great start.
Your dashboard shows how you're doing on the credit factors that make up your score and explains how each influences your credit. You can click on any factor to see more detail, learn ways to improve and get answers to common questions. Your dashboard explains:
A credit score is an estimate of how likely a consumer is to repay borrowed money, so any failure to pay as agreed will damage your score. NerdWallet helps you manage this credit factor by:
Showing your payment status on each open account.

Alerting you to upcoming bill due dates if you've linked those accounts.

Helping you understand how to repair previous damage and explaining how to spot and dispute erroneous information on your credit report.
"Credit utilization ratio" is a long name that simply means how much of your credit card limits you're using. NerdWallet does the math for you and makes it easy to:
See your overall and per-card utilization, and understand the effect on your score.

Find ways to lower your utilization and track your progress.
Age and mix of accounts, balances, inquiries
These other factors also influence your score but to a lesser degree. They're still important to understand, and NerdWallet can help you:
Monitor hard inquiries (which are credit checks) so you can manage applications.

Understand how the age and mix of your accounts influence your score.

Track balances on your debt accounts.
What else can I do with my NerdWallet account?
You have access to several other views of your financial life, so you can make decisions with clarity:
Cash flow shows what you've spent so far this month, upcoming bills and what's left. You can also compare against past months.

Your net worth dashboard provides an overview of what you have and what you owe. Connect all your accounts for a comprehensive understanding of your progress toward goals such as reducing debt, building savings and more.

You can even transfer money between linked accounts without having to sign into another site.