There are a lot of things to worry about in life, but the gift tax probably isn't one of them.
What is the gift tax?
The gift tax is a tax on the transfer of money or property to another person while getting nothing (or less than full value) in return.
Many people don't get hit with the gift tax, because the IRS generally doesn't care about what you give away to other people unless that giving exceeds some lofty amounts. And even if it does, it might mean you just have to fill out some paperwork.
How much can you gift?
Two things keep the IRS' hands out of most people's candy dish: the $15,000 annual exclusion in 2019 and 2020, and the $11.4 million lifetime exclusion in 2019. In 2020, the lifetime exclusion rises to $11.58 million. Stay below those and you can be generous under the radar. Go above, and you'll have to fill out a gift tax form when filing returns — but you still might avoid having to pay any gift tax.
How the annual gift tax exclusion works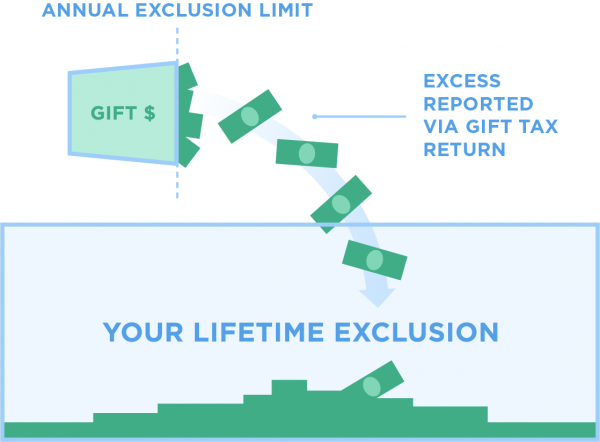 How the lifetime gift tax exclusion works
» MORE: See how a wealth tax works
What is the gift tax rate?
If you're lucky enough and generous enough to use up your exclusions, you may indeed have to pay the gift tax. The rates range from 18% to 40%, and the giver generally pays the tax. There are, of course, exceptions and special rules for calculating the tax, so see the instructions to IRS Form 709 for all the details.
What can trigger a gift tax return
Caring is sharing, but some situations often inadvertently trigger the need to file a gift tax return, pros say.
Spoiling the grandkids with college money
Springing for vacations, cars or other stuff
Laid-back loans
Lending money to friends and family is usually a bad idea, and the IRS can make it even worse. It considers interest-free loans as gifts, Malekhedayat says. "Or if you give them a loan and later decide they don't need to repay the loan to you, that's also making gifts," she warns.
Elbowing in on a non-spouse bank account
"Let's say you live by Grandma, so for convenience, we're going to put you on Grandma's bank account. Guess what just happened?" Picciurro says. "If you're put as a joint [owner] on a bank account with somebody and you have the right to take the money out at any time, essentially Grandma is giving you a gift."