705 Credit Score: Is It Good or Bad?
A 705 credit score is in the heart of the "good" range (690-719).
Many or all of the products featured here are from our partners who compensate us. This influences which products we write about and where and how the product appears on a page. However, this does not influence our evaluations. Our opinions are our own. Here is a list of our partners and here's how we make money.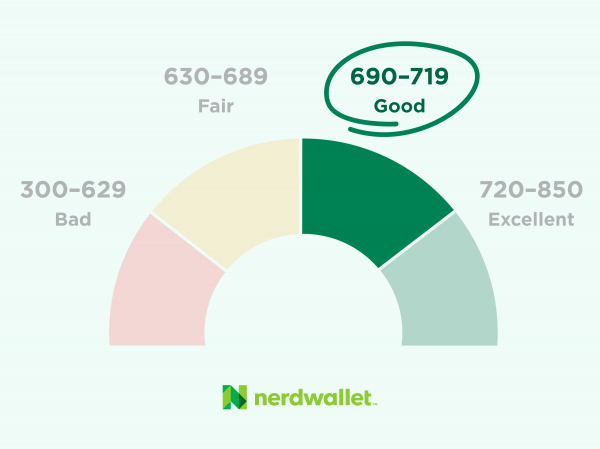 A 705 credit score is within the "good" band on the common credit score range of 300 to 850.
How does your score compare with others?
Strategies to build your 705 credit score
The higher your credit score, the more financial products and services will be available to you and the better terms you'll get, ultimately saving you money in the long run. Here are some proven strategies to help build your credit score, opening up financial opportunities and saving you money over the long term.
The first step is knowing the factors that make up your credit score. Your credit score takes into account your payment history, credit utilization, length of credit history, credit mix and recent applications.
Your payment history is your record of paying bills. The more on-time payments you make, the stronger your payment history looks to potential lenders. Conversely, being late on your payments by 30 days or more can be detrimental to your score. Setting up automatic payments or calendar reminders can help you pay your bills on time.
Credit utilization is a term used to describe the portion of your credit limits that you're using. Credit limits are set by your lender and can go up or down at its discretion, so it's smart to pay close attention to your statements. Credit experts suggest keeping your credit utilization at less than 30%, and people with the highest scores keep theirs at 10% or less. You can calculate your credit utilization ratio per credit card or overall.
Lenders look at how old your credit history is as one way of determining how you handle credit. Keeping your oldest credit account open is vital for establishing a long credit history. If you find that you don't use your oldest account that much, resist the urge to close it. Instead, try automating a small but regular expense to keep the account active.
Having a mix of credit accounts can make your credit stronger. For example, the variety could include a few credit cards along with some installment loans, such as car, student and home loans.
Spacing out credit applications by six months can help keep your score steady. Applying for too many lines of credit or loans in a short time can harm your score.
What a 705 credit score can get you
With a 705 score, you're solidly in the good range and will likely qualify for a wide variety of credit cards, loans and other financial products but might not get the best interest rates, which are often reserved for people with excellent credit (720-850).
The average credit score for new-car financing was 741 in the second quarter of 2023, credit bureau Experian's State of the Automotive Finance Market report found. The average used-car score was 682.
Borrowers with a 705 credit score can generally expect to get an annual percentage rate of 6.44% for a new-car loan and 9.06% on a used-car loan, according to Experian. So while a 705 score won't be a barrier to getting a car loan, you likely won't get the lowest rates.
Your credit score might be only one piece of your home mortgage application, but it's among the most critical. With a 705 credit score, you're well above the 620 baseline score needed to qualify for most home loans, but borrowers with a 740 score or higher will typically get a better interest rate.
With a 705 score, you'll likely qualify for a conventional loan, which is a great option for buyers who can afford a minimum 3% down payment. A 705 score could also qualify you for an FHA, VA or other government-backed mortgage.
You should have no problem finding a credit card that works for you with a 705 score. However, applying for a credit card will temporarily cause a dip in your score, so do your research before applying to make sure you're a strong applicant who will likely be approved. If you're unsure, look for a credit card that offers a pre-qualification; issuers of these cards run a "soft inquiry" on your credit that doesn't impact your score like a "hard inquiry" does.
Generally, the minimum credit score needed to be approved for a personal loan is 610 to 640. However, borrowers with a 705 credit score are well above the minimum threshold and, along with others in the good range, get an estimated average APR of 15.5%, according to NerdWallet data.
What happens to a 705 score with a late payment?
A single late payment can be very harmful to your credit score. For example, a missed payment of 30 days or more could drop your score by 100 points. While missing a payment by a few days isn't a cause for panic, you should try to pay your bill immediately and consider setting up automatic payments so the mistake doesn't happen again.
Learn more about the good credit range
Get score change notifications
See your free score anytime, get notified when it changes, and build it with personalized insights.