695 Credit Score: Is It Good or Bad?
A 695 credit score is at the low end of the "good" band (690-719) on a credit score range of 300 to 850.
Many or all of the products featured here are from our partners who compensate us. This influences which products we write about and where and how the product appears on a page. However, this does not influence our evaluations. Our opinions are our own. Here is a list of our partners and here's how we make money.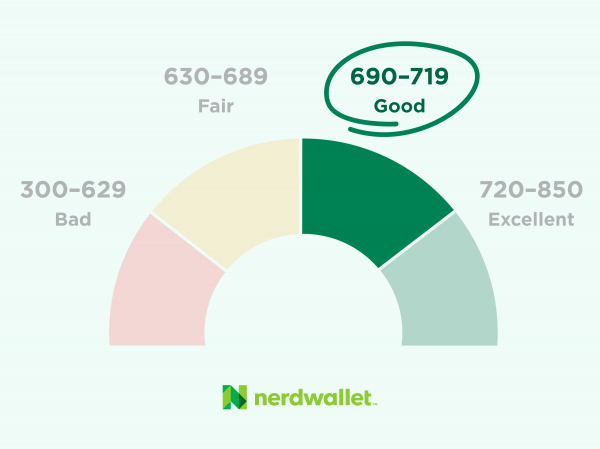 A 695 credit score is at the low end of the "good" band (690-719) on a
credit score range
of 300 to 850. A misstep could easily send your score into the "fair" range.
What a 695 credit score can get you
The average credit score for used-car financing was 677, but the average for a new car was 742, according to Experian's State of the Automotive Finance Market report for the first quarter of 2023. Building your credit is likely to save you money on interest rates.
Theoretically, you could qualify for a mortgage, but lenders set their own minimum score requirements. If you were able to get a mortgage, a 695 credit score could result in higher interest and private mortgage insurance rates than for applicants with better scores. Working to boost your credit before you apply could be a smart option.
A 695 credit score is good enough for many credit cards. Most card issuers are clear about the credit scores they're marketing to, and many allow a "soft pull" of your credit to see if you're likely to qualify. A 0% intro annual percentage rate balance transfer card could be more difficult — many use 690 or higher as the minimum score, and scores fluctuate.
Many lenders set minimum credit scores from 610 to 640; a 695 credit score will likely not stand in the way of approval.
Strategies to build your 695 credit score
On-time payments have a huge impact on credit scores. A long history of paying on time, every time, seems dull but its absence can be hard to overcome.
Balances on lots of credit cards can help hold a credit score down. Paying debts using the snowball method, tackling the smallest ones first, can help your credit profile by reducing the number of credit cards with a balance.
Credit utilization, or the percentage of your credit card limits that are in use, has a powerful effect on credit. Most credit experts advise keeping it under 30% of your credit limits, and people with the highest scores keep it lower than that.
Pro tip: One quick way to reduce credit utilization is to get a higher credit limit, either by applying for an additional credit card or by getting a friend or relative with a large, unused credit limit to add you as an authorized user. Or, if you're able to rapidly pay down a lingering balance, that can bring down credit utilization.
How long you've had credit is a relatively minor factor, but all points count. Avoid losing them needlessly by not closing credit accounts unless there's a compelling reason to do so. Keeping them open preserves length of credit history and keeps your overall credit limit higher.
Credit scores reward consumers for having more than one type of credit. Having both an installment loan (with level payments for a defined period, like a car loan) and revolving credit (credit you can use again, once you pay part or all of it, like a credit card) is another small factor.
Applying for new credit can shave a few points off your credit score when the lender or card issuer checks your credit. The impact is gone within a year, sometimes sooner. Try to space out credit applications by at least six months if you can.
What happens to a 695 score with a late payment?
Late payments damage credit scores, and they remain on credit reports for up to seven years. If you already have some in the recent past, it won't knock as many points off your 695 score as it would if your score were closer to perfect. You can check a credit simulator to get an idea of what the damage might be.
Frequently asked questions
How much can I borrow with a 695 credit score?
How do I get my score above 695?
Learn more about the good credit range