710 Credit Score: Is It Good or Bad?
A 710 credit score falls solidly into the "good" band (690-719) of a typical 300-850 range.
Many or all of the products featured here are from our partners who compensate us. This influences which products we write about and where and how the product appears on a page. However, this does not influence our evaluations. Our opinions are our own. Here is a list of our partners and here's how we make money.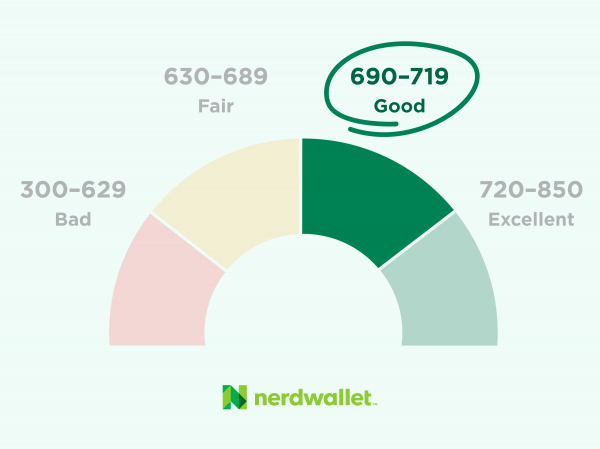 A 710 credit score falls solidly into the "good" band (690-719) of a typical
300-850 range
. It falls a little below the average FICO 8 score of 716, a score that held steady between August 2021 and 2022 according to FICO
. However, a 710 score is higher than the average VantageScore 3.0 score of 695.
You're likely to qualify for some credit cards and loans, provided you meet other requirements.

You may not qualify for the lowest interest rates.

You're just 10 points away from the "excellent" band (720-850).
What a 710 credit score can get you
When you apply for credit, your credit score is not all that matters. Things like payment history, job security and debt-to-income ratio are also considered. The good news is a 710 credit score won't stand in the way of approval for many financial products. The bad news is it might stand between you and the lowest rates.
A 710 credit score should look acceptable at the car lot. If you're financing a used car, though, you might pay 7.83% in interest while your neighbor with a score north of 780 pays 5.99%, according to Experian's State of the Automotive Finance Market report for the fourth quarter of 2022. You can get better rates as your score climbs.
Technically, a 710 credit score is high enough to qualify for a home loan. In the tight real estate market, some lenders choose more restrictive qualifications to further reduce the risk that the loan won't be repaid. You're unlikely to get the lowest interest rates available with a 710 credit score; that said, know that the "lowest interest rates available" changes with the overall financial economic picture.
Many credit cards are marketed to people in the good and excellent bands that start at 690. However, some 0% APR cards and premium travel cards have minimum credit scores that are higher than 710.
Provided an applicant meets other qualifications, a 710 is a solid score for getting a personal loan.
Strategies to keep building your 710 credit score
Credit scores fluctuate, so you may be closer to — or further from — the excellent band than you think. To know what to do to build credit, it helps to understand which factors matter most in calculating a credit score.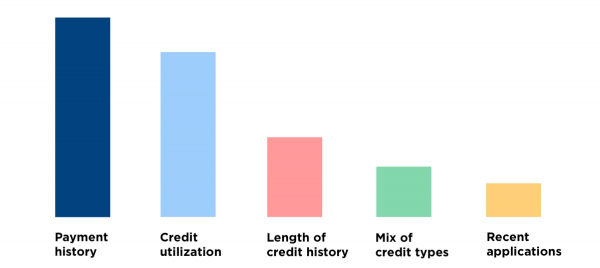 There's no good substitute for paying on time, but there are some strategies that could help you gain some points quickly.
If you can't pay on time, keep in mind that the later a payment is, the more it can hurt your credit. Under 30 days won't get reported to the bureaus but might cost you a late fee. But 90 days late is worse than 60, and 60 days is worse than 30. It's probably impossible to meaningfully improve your credit profile without taking care of this factor.
If you've already paid late, give yourself some grace. Nothing is going to change that. But other accounts, paid on time, can help dilute the damage. If you have a single credit card, and it has a late payment, that can do a lot of damage. But if you have five credit cards, and four were paid on time and one was late, the impact is not quite as great.
Watch how much credit you use
The less of your credit limits you use, the better it is for your score. It helps to think of your spendable credit as a lot less than your actual credit card limit. Most credit experts recommend keeping your balances at less than 30% of your credit limits — and lower is better. The highest scorers keep theirs at less than 10%.
Keep credit cards open if you can
When you close a credit card, it can increase your overall credit utilization because your overall credit limit shrinks, and, particularly if it's an old card, it can reduce your average age of credit. If you've had the card for a long time and it has a generous credit limit, it's wise to think twice about closing it. A possible solution is to ask the card issuer if there's a different card that might be a better fit for you.
Space out credit applications
Multiple credit applications — unless you're rate-shopping for a home, vehicle or college loan — can do damage. When your credit is checked because of an application, that can shave a few points off a score. And multiple credit applications in a short time can make a bigger difference. The good news is that damage undoes itself; credit checks won't affect your credit score at all after a year, and they fall off your credit report after two years.
If you can, space out applications by about six months.
What happens to a 710 credit score with a late payment?
A single late payment can do serious damage to a 710 credit score. And the higher the score, the worse the damage tends to be. A high score resulting from a history without late payments could fall about 100 points.
If you can pay within 30 days of the due date, it won't be reported as late. You may face late fees and penalty interest rates, but your credit score won't be affected. You probably can't get an accurate, timely late payment off of your credit report easily, but you can look at other credit score factors and work to optimize the ones you can control.
Learn more about the good credit range
Get score change notifications
See your free score anytime, get notified when it changes, and build it with personalized insights.