Are We in a Recession?
The most recent recession ended in April 2020.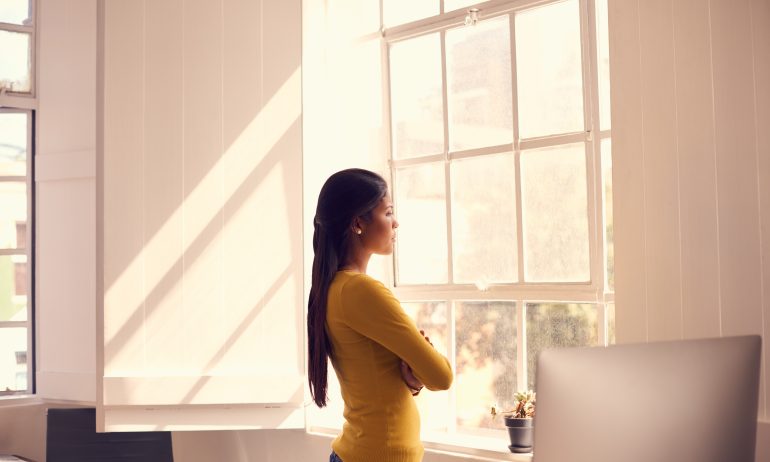 Many or all of the products featured here are from our partners who compensate us. This may influence which products we write about and where and how the product appears on a page. However, this does not influence our evaluations. Our opinions are our own. Here is a list of our partners and here's how we make money.
The United States ended a brief recession in April 2020. Since then, the economy has endured ongoing supply chain disruptions, inflation and rising interest rates.
These and other factors are leading many to wonder, are we in another recession? Or if not, are we headed for one?
No, we are not currently in a recession. We look to a committee with the National Bureau of Economic Research, a nonprofit research organization, for the declaration of a recession. The last recession on record in the U.S. took place from February 2020 through April 2020. The NBER has not announced the beginning of another one since. However, it typically requires gathering several months of data to make such an announcement.
Are we headed for a recession in 2022?
Whether there's a recession coming this year remains a matter of debate. Many experts believe it's unlikely, but not impossible.
"I've got a recession probability of 25% this year and 35% over the next two years," says Joe Brusuelas, chief economist for RSM US, an audit, tax and consulting service. "There's some very good things happening right now in the economy apart from the significant inflation challenge that's at the doorstep of the Federal Reserve."
What are some recession risk factors?
The NBER looks for declines in employment, industrial production and other economic activities when assessing whether a recession is taking place. Here are a few areas experts are paying close attention to right now:
A rising unemployment rate often signals a recession. We're not currently experiencing growing joblessness.
"The economy is doing pretty well overall in the sense that jobs are plentiful," says John Leahy, professor of macroeconomics and public policy at the University of Michigan.
The unemployment rate hovered at 3.6% in April 2022, the lowest it's been during the pandemic, according to data from the U.S. Department of Labor. For comparison, the unemployment rate peaked at 9.5% during the recession of 2007 to 2009, and jumped from 3.5% to 14.7% during the short-lived 2020 recessionBureau of Labor Statistics. The Employment Situation April 2022. Accessed May 20, 2022.
Reduced consumer spending poses another risk to the economy, because it can lead to declines in production and gross domestic product.
In March, inflation increased 8.5% from a year earlier, the highest increase since 1981. Soaring inflation has driven up the price of goods and services, but it hasn't put a damper on consumer spending yet. Personal consumption expenditures, a measure of consumer spending by the Bureau of Economic Analysis, rose 1.1% in MarchBureau of Economic Analysis. Personal Income and Outlays, March 2022. Accessed May 18, 2022.
The Federal Reserve has hiked interest rates twice so far this year in an effort to curb inflation. But these hikes can also impact shopping behavior. Consumer confidence, which tracks purchasing intentions, waned slightly in April due to rising interest rates, according to a survey from The Conference Board, a nonprofit business think tank.
However, Brusuelas expects consumers will remain in a strong position overall. He notes that consumers have about $2.7 trillion more in savings than expected if the pandemic had not happened, plus wages and salaries have increased year over year. "That means households are likely to absorb rising prices," Brusuelas says.
Still, nothing is guaranteed. "The clear longer-term risk to the economy is that if the Fed does not get inflation back toward the 2% target over the next 12 to 24 months, that would require much more difficult economic policies being put in place," Brusuelas says.
Continuing war in Ukraine, pandemic conditions and any unexpected shocks in the near future could cause further economic setbacks. Recent events have affected the supply chain, oil prices and inflation at a global and domestic level. It's impossible to predict exactly what's to come or how consumers (and the government) will react.
"People don't know what's going to happen. They don't know how fast inflation is going to come down. They don't know if house prices are going to keep going up or if house prices are going to fall, they don't know exactly where mortgage rates are going to be," Leahy says.
How long will the next recession last?
Historically, recessions have lasted anywhere from two months to several years, according to the NBER. But this economic climate presents unique circumstances that make it difficult to draw a direct comparison with past events.
The Fed raising interest rates to rein in inflation has caused recessions in the past, such as in the late 1970s and early 1980s, Leahy says. "But those were also different in a lot of other ways. One is that inflationary expectations were high, and they're not quite high yet — they're high in the short term next year, but you go out three years and people aren't really expecting inflation to persist," Leahy says.
If a recession does hit, it won't necessarily be a lengthy or severe one. Brusuelas estimates it would be "a garden variety recession," lasting somewhere around six to nine months.
How to cope with recession fears
The next recession may not be imminent. But it never hurts to take precautions early. Besides, issues such as inflation and climbing interest rates may hinder your financial life regardless of the country's recession status.
There are a few ways to deal with current economic challenges and prepare for future ones. Starting or beefing up an emergency fund can help you face financial setbacks without going into debt.
"Whenever the world's uncertain, having a buffer of savings is good," Leahy says.
We'll help you get on track
See your spending breakdown and spot opportunities to save money.