How to Pick an NFL Sports Agent in 6 Steps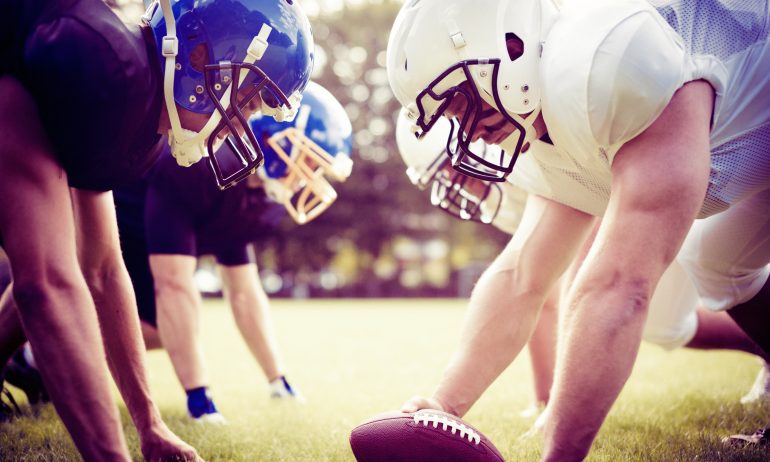 Many or all of the products featured here are from our partners who compensate us. This influences which products we write about and where and how the product appears on a page. However, this does not influence our evaluations. Our opinions are our own. Here is a list of our partners and here's how we make money.
You've decided to take your football career to the pros, and if your chances of being drafted are fair to great, you've got sports agents circling.
This isn't the part when you're told choosing an agent is easy. It's not. Because sports agents often act as the gatekeepers of the athletes they represent, picking one could be among the most important decisions of your career.
"[Choosing an agent] can be daunting and overwhelming, but the quicker you can land an agent and feel comfortable with that person, the quicker you can eliminate a lot of the stress that goes with this process," says Terrell Owens, who leaned on his first agent for help navigating the draft and transitioning from college kid to professional adult.
"

[Choosing an agent] can be daunting and overwhelming, but the quicker you can land an agent and feel comfortable with that person, the quicker you can eliminate a lot of the stress that goes with this process.

"
Terrell Owens

,

former NFL player and record holder
The next several months will be a whirlwind of preparation for your career. Remember, once you commit to an agent, you lose all NCAA eligibility, so don't put pen to paper until you're certain your college career is done.
"This is the beginning of your career as a businessperson," says Tywanna Smith, founder of the Athlete's Nexus, a sports marketing and business management firm. Smith adds that the opportunity in front of you can be great or damaging, depending on the people you pick to surround you. "Choosing an agent is the first real business decision you'll make."
Here's your step-by-step guide:
1. Mentally prepare for the work ahead
Agents will offer you the moon — but don't forget they have a lot to gain from working with you, too. An agent's fee can't exceed 3% of your salary, but he or she can make more by referring you to other professionals and negotiating other deals on your behalf. And 3% can be a good chunk of change if you're a top draft pick.
"Players trust their agents so much, often too much," says Gustavo Miguel, business partner to Terrell Owens and Eric Dickerson. All three are partnering with NerdWallet to help give young college athletes the financial know-how they need to transition to pro life. All three recommend that college athletes move forward with a healthy dose of skepticism.
"

Some, but not all, of these guys are crooked and don't have the players' best interests at heart.

"
Eric Dickerson

,

Former NFL player and Hall of Fame inductee
"Some, but not all, of these guys are crooked and don't have the players' best interests at heart," adds NFL Hall of Famer Dickerson.
Your task is finding someone you can trust — someone who'll help you with your business decisions now, as you prepare for the draft, and even after your football career is over.
2. Build your pool of candidates
Put together a list of candidates whom you'd like to get to know a little better. Being able to compare agents will give you more criteria to work with than just likability.
If there's a good chance you'll be drafted, the agents will find you. For Owens, who lived in the dorms and didn't have a cell phone, that meant a list of messages left with his roommates as potential agents tried to track him down. Otherwise, you might get your candidate recommendations from coaches and players you trust.
3. Ask the right questions
Once you've made a list of candidates, set up meetings. This is an interview — and you're the employer. You want to make sure the person you're bringing into your life is there for the right reasons and will provide the services you need. Ask all the questions you want, but make sure these are in your notebook:
What makes you different from other agents?
There is little an agent can do for your base salary. That's determined by the rookie wage scale. Other items, including a signing bonus, are negotiable, especially if you're a top pick. But no matter when you're drafted, money isn't all your agent has to offer.
Agents are, by their nature, good at selling themselves — and you. Give your candidates a chance to brag a little, but watch for words like trust, friendship, loyalty and honesty. Having an agent with connections and the power to make things happen is good, but yours should be as interested in creating a lasting relationship as you are.
"

You want an agent that will be down for the long haul, one that will help you transition to life after football.

"
Who are the draft picks you've represented over the past few years? Can I speak with them?
This will give you insight into not only the caliber of players an agent is accustomed to working with but how transparent he or she will be about past relationships. If an agent won't give you names, it'll make it significantly harder to get an outside perspective on his or her work.
Tell me about the players you've represented who played for three years or less. Where are they now?
You want an agent who will represent you for the long haul and help you transition to life after football. An agent whose former players are down on their luck and struggling to get by might have lost interest in them as their football careers waned.
How many athletes do you currently represent, and how do you manage that load?
"There's no way it's humanly possible to cover well 100 athletes," Miguel says. If you decide you want a big-name agent with a long roster, you might have to sacrifice accessibility.
You want to know how accessible each agent is. If the agent is part of a big firm, will he or she remain your point person even after the draft? If so, what response time can you expect if you leave a voicemail message?
Would you have any problems with me seeking out my own team of professionals?
As an NFL player, you'll need a team of professionals on your side, including a financial advisor at the least, and possibly a tax advisor, real estate advisor, marketing agent and more. Your sports agent might very well be able to connect you with those people, but there's a chance the referrals will be based on kickbacks rather than professional quality. If a candidate bristles at the idea of you seeking out your own team, it could be a red flag.
The agents you interview should have a fair idea of your projected success in the draft. But you'll want to know how they can help if those seven rounds pass and your name isn't called. Make sure there's a backup plan that sounds good to you.
Where will I train, and how will it be paid for?
"Training for the NFL combine is a very big deal," says Chris Gronkowski, a former NFL fullback who now has two successful businesses. "It's also very expensive."
It's not unusual for agents to cover the cost of training, as it's unlikely that you, as a college athlete, can pay the thousands of dollars it costs. However, you'll generally need to pay that money back. Get specific about which training facilities are on the table, and when you make your agent selection, get the details of any loans or lines of credit on paper.
Will you offer me a loan or line of credit on my signing bonus?
You'll have expenses to cover between the time you sign with an agent and receive your first check from an NFL team. In addition to paying for training, you might need to move off campus, furnish your new place and travel. Most agents are willing to help with these expenses, but understand: The money is not a gift. By asking about a loan, you tell a potential agent that you're well aware the money he or she sends your way during this pivotal time has strings attached.
"

Never give an agent total control of your money.

"
Eric Dickerson

,

Former NFL player and Hall of Fame inductee
Are there any situations in which you'd ask me to grant you general power of attorney?
Assuming you're about to come into more money than you've ever had, handing control to someone you think you can trust could feel like a relief. But this is rarely a good idea. The potential for abuse is just too big. Granting someone power of attorney means you give them permission to make legal and financial decisions on your behalf.
"Never give an agent total control of your money," Dickerson says. "They may not ask for it off top, but eventually they may find a way to make it sound like it's the easiest option." For example, suggesting your agent could handle a certain situation for you — like setting up an endorsement deal — but getting all of the legalities together would be easier if you granted power of attorney and got out of the way.
If you started out with 10 candidates, narrow the list to five. If you started with five, narrow it to two or three. You want a manageable list of potential agents going into the final steps of selection.
Even if you think you know whom you want to hire, keep a backup candidate in the mix. This will be valuable if the reference checks make you question your original selection.
5. Check their references
Hopefully, you walked away from your interviews with lists of references. These people can give you another perspective about how the agents operate. You'll want to talk with at least a few current and former players whom each agent has represented. The more variety you have, the better. If you can talk with a player the agent took through the draft and signing, great. But if you can chat with one who wasn't drafted and one who lasted only a few years in the league, even better. If your parents are involved, set up phone calls between them and the players' parents, too.
You'll also want to seek out people each agent has worked with and didn't mention. After all, they're going to give you the names of people who will vouch for them. Ask around for names of coaches, trainers and other players who might have insight into each agent — and whom you wouldn't find through the references he or she provided.
Finally, call the NFL Players Association Salary Cap and Agent Administration Department, where "players can receive background checks, past player contracts, any disciplinary cases and how the agent has worked with the NFLPA in the past," says Carl Francis, a spokesman for the department.
6. All else being equal, go with your gut
You have all of the information at your fingertips, so the decision should be easy, right? It's not. If you find yourself stuck between a few different candidates, go with what feels right.
"Pick an agent that you would want to have as a lifelong friend," recommends Gronkowski, whose agent supports his post-football businesses to this day.
If you ask around, many athletes will tell you their choice of agent came down to the person they got along with best, the one they were just more comfortable with.
"This is the first, the core relationship for most of the other professional relationships players will have throughout their career," Smith says. It's important that foundation is built on trust.
More money management tips from NerdWallet