March Rent Report: 65% of U.S. Cities Fail the Affordability Test
Rents in most cities make it impossible for median earners to spend 30% or less of their income on housing.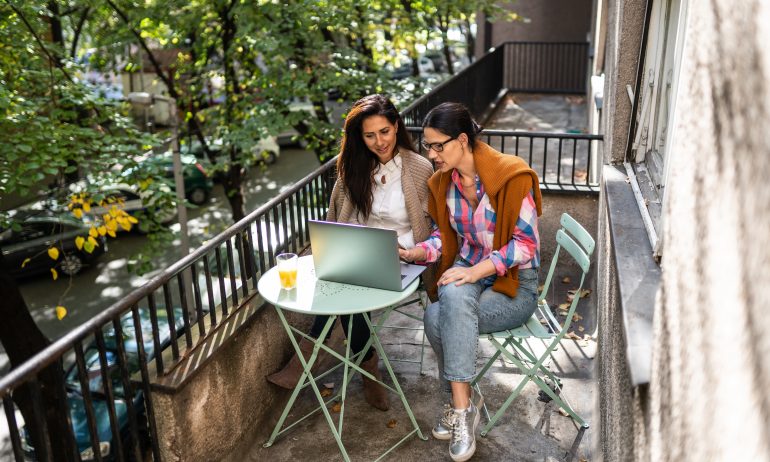 Many or all of the products featured here are from our partners who compensate us. This influences which products we write about and where and how the product appears on a page. However, this does not influence our evaluations. Our opinions are our own. Here is a list of our partners and here's how we make money.
If you follow the rule of thumb that households should spend no more than 30% of gross income on rent, then most U.S. cities are unaffordable.  
A monthly NerdWallet rent-to-income ratio analysis of 225 cities in the U.S. finds that, based on the most recent data, 65% of rents on the market are equal to or above the recommended 30% ratio in February. In January, the ratio was 64%.
That means market rents are moderately to severely burdensome for residents in 65% of U.S. cities measured. Market rent comes from data on the real estate website Zillow, based on February data, and median income used for this analysis is from 2021 U.S. Census Bureau data. The data doesn't differentiate between incomes for residents who own rather than rent in those cities.
By federal standards, spending 30% to 49% of income on rent means a household is "moderately rent burdened," and spending 50% or more means a household is "severely rent burdened," according to the NYU Furman Center, which conducts research about housing and urban policy. 
Among the 225 cities analyzed, six have rent-to-income ratios that put renters with median incomes in the "severely rent burdened" category for February 2023, including:
Bridgeport, Connecticut: 70%.

Trenton, New Jersey: 68%.

Santa Maria, California: 61%.
Renters with the greatest financial burden for housing tend to be seniors, low-income households, immigrants and racial or ethnic minorities, according to a 2015 Zillow analysis of U.S. Census Bureau data.
Here are the cities with the least and most affordable rental housing markets, according to February 2023 rental market data by Zillow.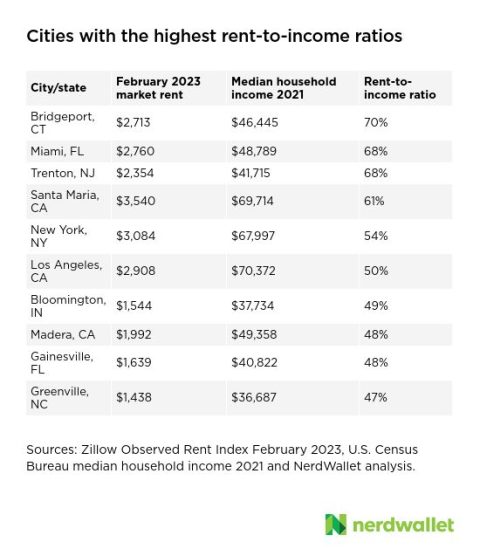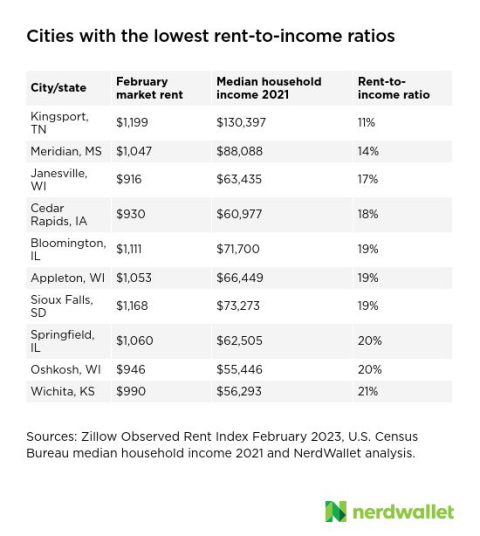 Are rents increasing or decreasing?
From January to February, the price of advertised rents increased by 0.3%, according to Zillow's rental report for February 2023. Typical asking rents increased 6.3% compared with the same time last year.
Among the 51 cities Zillow tracks in its monthly Observed Rent Index, only eight saw rent decreases from January to February, with the most significant decreases in Cleveland (-1.03%); Jacksonville, Florida (-0.43%); and Salt Lake City (-0.35%). Among the 43 cities that saw market rent increases from January to February, the highest growth was in Hartford, Connecticut (1.27%); Sacramento, California (0.93%); and Chicago (0.78%).
Annual rent growth peaked at 17% in February 2022 since Zillow began tracking in 2016 and has been slowly declining ever since. The city with the highest annual rent increase in February was Cincinnati, with an increase of 9.4% compared to February 2022. Las Vegas was the only city measured with a decline in rent — down 1% in February from the year prior. 
Rent is one of the biggest contributors to how inflation is measured. Shelter, which includes rent, is the biggest portion (34%) of the consumer price index, a proxy for inflation. In February, shelter accounted for more than 70% of the monthly increase in inflation, according to the most recent consumer price index, or CPI. 
But current inflation doesn't necessarily reflect current market conditions, because of the lag in how rent data is reported. That's due to the cycle of renewals for leases, most of which last around a year.
Even with that lag, the rent-specific portion of the CPI has outpaced overall inflation for decades.
Methodology: Rent-to-income ratios by metro area
NerdWallet pulled the most recent available market rental data for 495 cities from the Zillow Observed Rent Index and matched it with the most recent available median household income data (2021) for cities by the U.S. Census Bureau. Certain cities identified in the Zillow Observed Rent Index weren't included in the U.S. Census Bureau list of median household incomes by city and thus weren't included in this analysis. A total of 225 cities were identified by both sets of data. Then, NerdWallet calculated the rent-to-income ratio using the following formula: Market rent/(median income/12 months).