June Rent Report: Rent Growth Is Cooling, but Prices Remain High
The May data, released June 6, shows typical rent prices in the U.S. are now $2,048.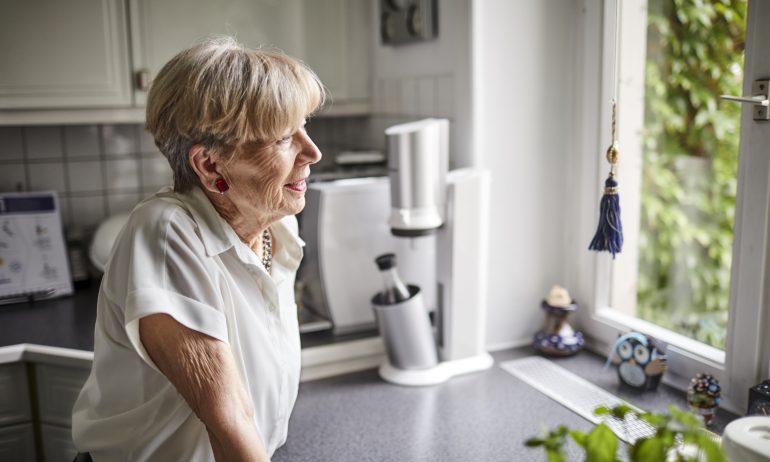 Many or all of the products featured here are from our partners who compensate us. This influences which products we write about and where and how the product appears on a page. However, this does not influence our evaluations. Our opinions are our own. Here is a list of our partners and here's how we make money.
Renters may still be feeling the sting of skyrocketing price increases from two years ago, but at least those costs are unlikely to worsen this year, according to data from the real estate website Zillow.
For about a year, typical rent prices have been slowing down nationwide, and May was no exception, according to the latest Zillow rental data. But lease prices remain above pre-pandemic levels.
The report, released June 6, shows typical rent prices are now $2,048 — an increase of 4.8% from one year ago. It marks another month of slowdown in annual growth rates since the peak of 17% in February 2022, according to Zillow.
Jeff Tucker, senior economist at Zillow, says this spring leasing season is close to normal compared with the past three very abnormal years. During that time, the rental market moved from sluggish in 2020 to overheated in 2021 before beginning to cool in 2022, he says.
"It's been several months in a row of slightly below or below normal monthly rent growth for the nation as a whole," he says.
As rent growth continues to slow, the power dynamic between landlords and tenants could shift, Tucker says. "Vacancy rates are likely rising, and landlords are feeling a little bit more pressure to lease up their units and feeling a bit of that bargaining power shifting slightly in favor of the tenants themselves," he says. "Unfortunately for renters, that does not mean rents are plummeting back down to earth — right down to pre-pandemic levels."
Last month's consumer price index (CPI) showed that shelter — including rent — was the dominant contributing factor to inflation. But there's a lag in how rental data is reflected in the CPI because of the cycle of new leases. New rental leases typically last a year, which means the rental data included in that report reflects last year's rental prices, not this year's.
And about a year ago, rent prices started slowing down, Tucker says. Last month, Tucker said he'd hoped to see the rent price slowdown of spring 2022 start to be reflected in the CPI, which didn't happen. But it will show up eventually, he says. So it's possible that the next CPI report — to be released Tuesday by the Bureau of Labor Statistics (BLS) — will start to show last year's spring decline in price growth.
In the meantime, Tucker says, based on Zillow's data, typical rents for the rest of 2023 should continue to slow down.
"If I'd bet money on it, I would expect that we continue to see subdued, sort of lower-than-average rent growth in the remaining months of this year," he says.
What makes rent unaffordable?
Recent rental data from Zillow may show a downward trend in price growth, but an analysis of rent data shows it's still unaffordable to lease in most cities in America.
The meaning of unaffordable may vary by household, but the general guideline is you should spend no more than 30% of your gross income on rent. Among the most unaffordable cities, median income earners in six places would be considered "severely rent burdened" by federal standards.
A monthly NerdWallet rent-to-income ratio analysis of 227 cities in the U.S. finds that, based on the most recent data for April, nearly 67% of rents on the market were equal to or above the recommended 30% ratio in March. The previous month's report shows the ratio in April was 67% compared with 65% in February and March.
That means if you live in one of the cities where the rent-to-income ratio is 30% or higher and you earn the median income or less, the typical rent in your area is likely moderately to severely burdensome. Market rent comes from Zillow, based on May data, and median household income used for this analysis is from 2021 U.S. Census Bureau data. The data doesn't differentiate between incomes for residents who own rather than rent in those cities.
By federal standards, spending 30% to 49% of income on rent means a household is "moderately rent burdened," and spending 50% or more means a household is "severely rent burdened," according to the NYU Furman Center, which conducts research about housing and urban policy.
Among the 227 cities analyzed, nine have rent-to-income ratios that put renters with median incomes in the "severely rent burdened" category for May:
Trenton, New Jersey: 74.12%.

Bridgeport, Connecticut: 72.10%.

Santa Maria, California: 60.11%.

Hartford, Connecticut: 50.48%. 

Springfield, Massachusetts: 50.09%.

Gainesville, Florida: 49.85% (listed as 50% in Zillow index).
In the previous month, there were only seven cities in the "severely rent burdened" category.
Renters with the greatest financial burden for housing tend to be seniors, low-income households, immigrants and racial or ethnic minorities, according to a 2015 Zillow analysis of Census Bureau data.
Here are the cities with the most and least affordable rental housing markets, according to May rental market data by Zillow: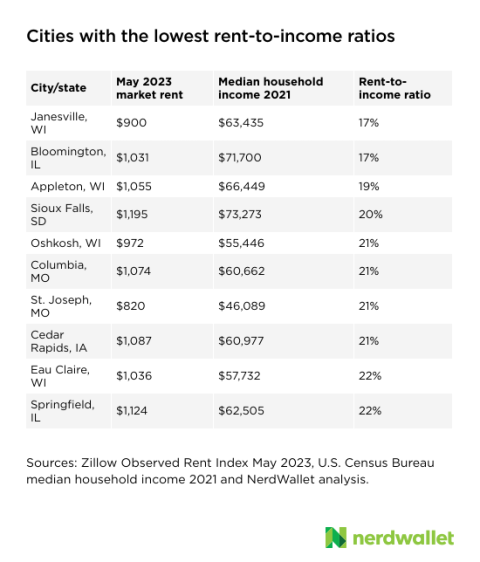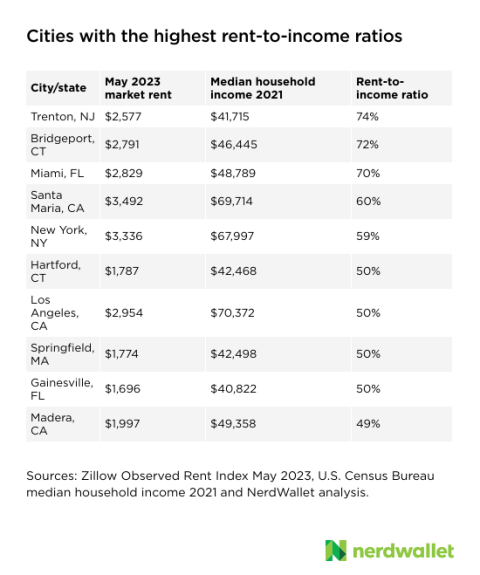 Methodology: Rent-to-income ratios by metro area
NerdWallet pulled the most recent available market rental data for 529 cities from the Zillow Observed Rent Index and matched it with the most recent available median household income data (2021) for cities by the U.S. Census Bureau. Certain cities identified in the Zillow Observed Rent Index weren't included in the Census Bureau list of median household incomes by city and thus weren't included in this analysis. A total of 227 cities were identified by both sets of data. Then, NerdWallet calculated the rent-to-income ratio using the following formula: Market rent/(median income/12 months).