U.S. Consumers Expect More Inflation, IMF Says Count On It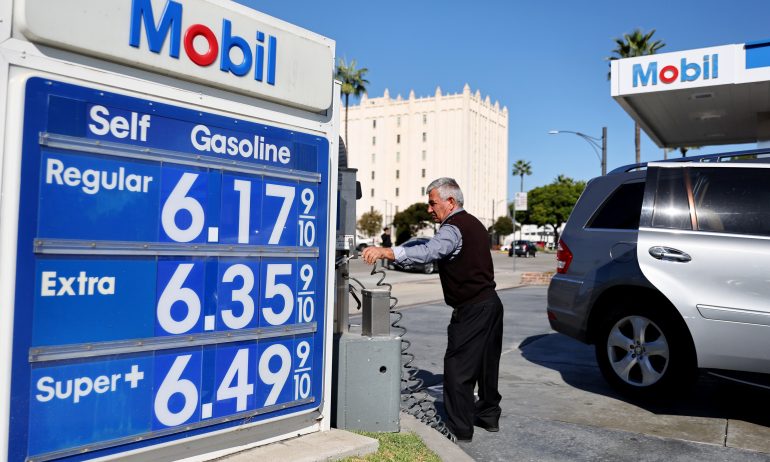 Many or all of the products featured here are from our partners who compensate us. This influences which products we write about and where and how the product appears on a page. However, this does not influence our evaluations. Our opinions are our own. Here is a list of our partners and here's how we make money.
U.S consumers have gloomy expectations when it comes to increasing prices for the upcoming year, according to the results of the New York Federal Reserve's Survey of Consumer Expectations for March released on April 10.
Survey respondents said they expect prices to rise by another half a percentage point over the next year, as inflation continues to eat into consumer wages. It's the first near-term median inflation increase expectation that consumers have expressed since October 2022, the New York Fed said.
Core inflation — price increases other than food and energy, which are more volatile — has steadily declined since September 2022, according to Bureau of Labor Statistics data. The core inflation rate for February was 5.5%.
Other takeaways from the survey reveal a slightly better price outlook for individual categories, but further pessimism among U.S. households when it comes to credit:
Slightly smaller price increases for gas, food, rent and medical care: A few consumer expectations improved very slightly compared to the February survey. Consumers said they expect gas prices to increase 4.6% in the year ahead (0.1-percentage-point decline); food prices to increase 5.9% (1.4-percentage-point decline); rent costs to increase 9.3% (0.1-percentage-point decline); and medical care costs to increase 9.3% (0.2-percentage-point decline).
Consumers are less optimistic about college costs. Survey respondents said they expect those prices to increase 8.9% (0.8-percentage-point increase compared to February).
Home price expectations lower than pre-pandemic: Home price growth expectations increased by 0.4 percentage point to 1.8% in March, which the New York Fed points out is well below expectations in the past year and prior to the start of the COVID-19 pandemic.
Credit is harder to get now: The share of households who said credit is harder to get now versus a year ago has risen to its highest level since the survey began in 2014.
Respondents were more pessimistic about future credit availability as well, with the share of households expecting it will be harder to obtain credit a year from now also rising.
Worldwide economic forecast isn't hopeful
Consumers may be right to worry about inflation and their finances. The International Monetary Fund released its World Economic Outlook report on Tuesday, which shows that it's unlikely inflation will return to target levels before 2025 in most of the world. The Federal Reserve's target inflation for the U.S. is 2%.
The IMF report also presented a bleak forecast of worldwide growth. A new prediction shows economic growth slowing down to levels not seen since 2001, except during the Great Recession and the early days of the COVID-19 pandemic.
Slowed growth does not, by itself, equal a recession. But slowed growth paired with other declining economic activity could trigger one.
In the report, Pierre-Olivier Gourinchas, economic counselor to the IMF, characterizes the world economy as "entering a perilous phase during which economic growth remains low by historical standards and financial risks have risen, yet inflation has not yet decisively turned the corner."
The Federal Reserve has raised the federal funds rate nine times since March 2022 to try to tame inflation. It is expected to increase rates again at its May 3 meeting.
Yellen says the picture is brighter than IMF says
While the IMF presented grim predictions in its report, U.S. Treasury Secretary Janet Yellen expressed less pessimism on Tuesday calling the global economic outlook "reasonably bright."
"The United States is doing extremely well economically with inflation coming down in a strong labor market and Europe is doing better than was feared at the time of our last meeting [in October] so I wouldn't overdo the negativism about the global economy," Yellen said during a press conference following her address ahead of the spring meeting of the World Bank and the IMF in Washington, D.C. on Tuesday. She pointed to easing commodity prices, resolving supply chain snarls, diminishing inflation projections, and a resilient global financial system despite recent bank failures.
"I think we should be more positive," said Yellen, adding that she believed the single best way to improve the global economy would be for Russia's war against Ukraine to end.
Photo by Mario Tama/Getty Images News via Getty Images