The Cost of Groceries: Are Food Prices Going Up?
Food prices in February 2023 increased 9.5% from the same time in 2022.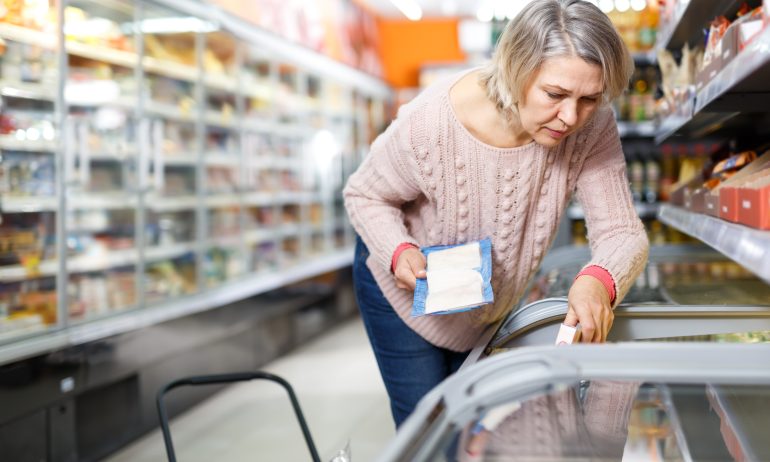 Many or all of the products featured here are from our partners who compensate us. This influences which products we write about and where and how the product appears on a page. However, this does not influence our evaluations. Our opinions are our own. Here is a list of our partners and here's how we make money.
• Updated March 14, 2023, 2:38 a.m. PT to reflect the most recent consumer price index data.
Inflation is starting to come down overall, but grocery shoppers and restaurant patrons continue to feel the pinch of higher prices. 
Food prices in February 2023 increased 9.5% from the same time in 2022, according to the March 14 consumer price index report, composed by the U.S. Bureau of Labor Statistics. From January 2023 to February 2023 the increase was 0.4% — lower than the 0.5% increase from December to January, according to the report. All month-to-month prices are seasonally adjusted.
The consumer price index, or CPI, uses indexes to measure the change in the average cost of items that consumers purchase in a given period. And there are specific indexes for these items, including food costs. 
The index for food at home (groceries) increased 10.2% year-over-year. But that increase is smaller when measured from month to month. Grocery costs increased 0.3% in February, compared with 0.4% in January.
Meanwhile, the food away from home index — restaurant and takeout — is up 8.4% year-over-year. These prices increased 0.6% in February, matching the same increase in January. Specifically, full-service (sit-down restaurant) meals rose 8.0% year-over-year, while limited service meals (takeout only) rose 7.2% year-over-year.
Recent changes to food costs
The latest CPI data show the biggest price change from January to February in the egg index, which finally fell after (-6.7%) after months of increases. By comparison, egg prices increased 11.1% from November to December. Egg prices increased dramatically in 2022 largely due to an avian flu. 
Other indexes decreased from January to February including lettuce (-4.7%); dried beans, peas and lentils (-3.2%); butter (-1.9%); bacon (-1.5%); uncooked roast beef (-1.4%); frozen and refrigerated baking products (-1.4%); fresh fruit (-1.4%); soups (-1.3%); and breakfast cereal (-1.1%). 
The indexes that increased most significantly from January to February are frozen fruits and vegetables (+4.5%); ham (+3.3%); potatoes (+2.8%); peanut butter (2.5%); sauces and gravies (+2.2%); sugar and sugar substitutes (+2.1%); tomatoes (+2%); bananas (+1.7%); seafood (1.5%); margarine (+1.5%); and pork chops (+2.3%).  
Annual increases (February 2022 to February 2023) have been most dramatic among the following indexes:
Butter and margarine: +26.9%

Flour and prepared flour mixes: +19.8%
How are food prices tracked?
There are multiple indexes that track consumer prices for food:
The Bureau of Labor Statistics tracks the CPI, which measures the change in average price that consumers pay for goods and services, including food. So the CPI is also a measure of inflation. 
In the CPI, the cost of food is of high relative importance to the overall index, compared to the other tracked goods and services. Food costs make up 13.78% of the index, to be exact. Its importance is second only to shelter (32.93%). But food prices, like energy, also tend to be more volatile, and for that reason it is usually left out of the "core inflation" version of the index.
The Bureau of Economic Analysis measures the personal consumption expenditures price index. The PCE tracks how much consumers spend on goods and services, as well as how consumers change spending habits in response to price shifts. Food is considered a non-durable good in its analysis. Core PCE — the Federal Reserve's preferred measure of inflation — also excludes food and energy. 
The U.S. Department of Agriculture measures the cost of different food plans. These plans are adjusted each month, based on CPI data and average family income levels: thrifty or low, moderate and liberal. The Thrifty Food Plan is the basis for the Supplemental Nutrition Assistance Program, or SNAP. 
Are food prices going up? 
The following are month-over-month percentage changes, seasonally adjusted, for food types tracked in the CPI.
How food prices have changed over time