What Prices Are Actually Deflating?
Some of the biggest price drops over the last year are eggs, health insurance and fuel.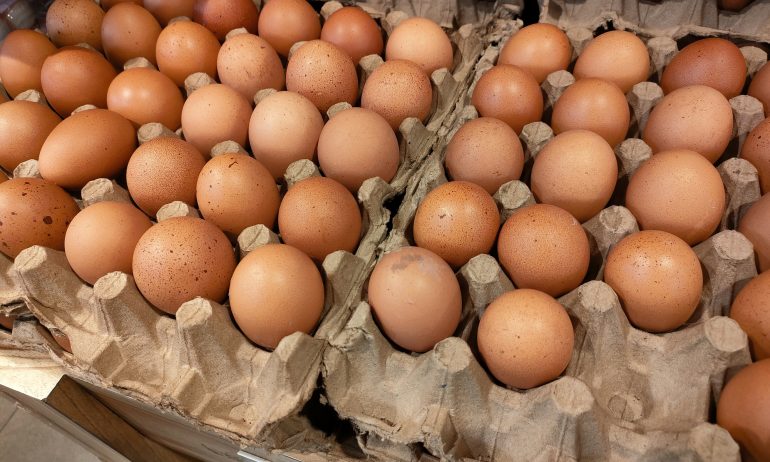 Many or all of the products featured here are from our partners who compensate us. This influences which products we write about and where and how the product appears on a page. However, this does not influence our evaluations. Our opinions are our own. Here is a list of our partners and here's how we make money.
Price increases are slowing down since inflation peaked in June 2022, at 9.1%. In fact, data released today from the Department of Labor shows its consumer price index — a proxy for inflation — remained flat from September to October, at 3.2%.
And while it may not feel like costs are coming down when you check out at the grocery store, for some goods and services, prices are actually decreasing.
While inflation measures the rate of price increases, deflation is the opposite — it measures the rate of price decreases. 

Deflation is definitely not the norm among the goods and services assessed in the CPI.

There are outliers, though. Most of the price categories that have seen deflation relative to a year ago are in goods, not services.

But some services, like health insurance, have seen a dramatic price drop. 
What prices have deflated since last year?
The most recent CPI report shows year-over-year price index drops in 92 goods and services categories (among 338 measured). Here are some of the biggest drops among foods, other goods and services.
Fresh fish and seafood: -3.6%
Fuel oil and other fuels: -17.1%

Laundry equipment: -10.9%

Computer software and accessories: -8.5%
Car and truck rental: -9.6%

Public transportation: -8.9%

Medical care services: -2%
High prices most directly impact consumers through their everyday purchases. 

The Federal Reserve also watches inflation data closely to determine interest rate hikes, which impact the price of borrowing for things like cars and homes.  

The Fed has paused rate hikes just three times since March 2022 in its efforts to battle inflation. 

Consumer spending is one factor — though not the only one — driving inflation. And that spending remains higher than usual, according to the latest personal consumption expenditures (PCE) data released on Oct. 27 by the Bureau of Economic Analysis. 

If consumer spending continues to increase, it could push the Fed to raise interest rates further. Continually rising interest rates would make borrowing even more difficult and could prevent opportunities for many consumers to build wealth through homeownership. 

If consumer spending declines, it could lead, once again, to concerns about a recession, which have otherwise largely dissipated. 
What do Americans predict for inflation?
A recent University of Michigan poll found inflation expectations remain high among Americans surveyed: Most believe costs will increase 4.4% over the next year and 3.2% in the next five to 10 years. 

The current expectation levels are the highest since April and hover well above expectations seen in the two years prior to the pandemic. 

Find and move all your old 401(k)s — for free.
401(k)s left behind often get lost, forgotten, or depleted by high fees. Capitalize will move them into one IRA you control.