Where to Sell Your Clothes Online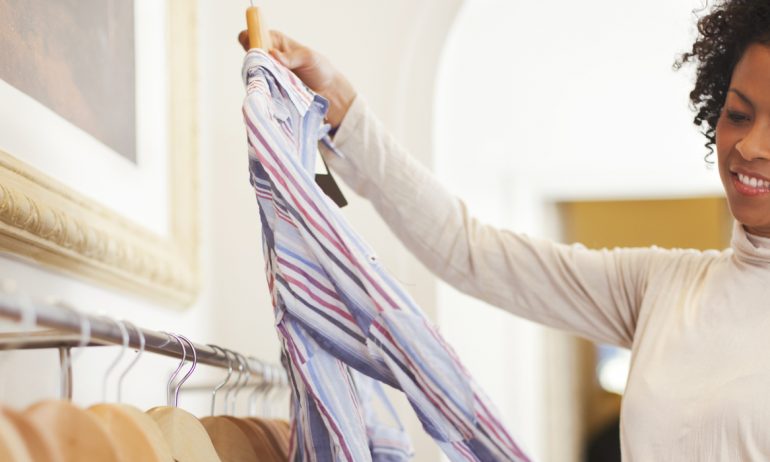 Many or all of the products featured here are from our partners who compensate us. This may influence which products we write about and where and how the product appears on a page. However, this does not influence our evaluations. Our opinions are our own. Here is a list of our partners and here's how we make money.
Admit it — the last time you cleaned out your closet, a bunch of items in the discard pile were hardly worn, and a few even still had the tags on.
But you can recoup some of what you spent by selling your clothes online. Sure, you could lug those items to the nearest consignment store, but why not sell from the comfort of your own home?
There are several sites where you can sell your clothing; which one is right for you depends on what you have and how you want those pieces to be sold. Is your stuff mostly from H&M or Louis Vuitton? Do you want to send your clothes away and let someone else deal with them, or market your stuff and set the price?
Whatever your situation, this list can help you start selling.
If the stuff you're getting rid of is more Forever 21 or Anthropologie than Prada, these resellers are for you. Choose where to sell based on how much work you want to do.
Online secondhand stores are like your local consignment shop, without the judgmental look you get when you hand over what you thought were perfectly good Levi's. These sites are convenient, but you may wait a while for your cash.
ThredUp accepts women's, men's and children's clothing from a variety of brands. Sending stuff in is easy: The company mails you a bag, you fill it up and ship it back via FedEx. If you want your shipment expedited, you can pay ThredUp a fee. Those willing to wait can receive and return the bag for free.
If your clothes are accepted, you'll be paid one of two ways: an immediate payment for pieces that ThredUp thinks will get snatched up quickly, or compensation upon sale for clothes that are up to snuff but may take longer to move. Commission is based on the list price that ThredUp assigns to your pieces, or how much it sells for.
Rejects are sent to the site's third-party partners or recycled. You can also opt to have unaccepted items returned to you for a fee of $10.99.
Swap.com consigns clothes for men, women and children, as well as toys, books, and various outdoor and home items. Like ThredUp, you send in a box of stuff, Swap.com prices it, and you get a cut of the profit.
Unlike a brick-and-mortar secondhand store, Swap.com has a complex fee structure that may put off some sellers. It's the only site on our list that charges for shipping — it costs $11.99 to send in your box. You incur another fee if over 40% of your box doesn't pass muster, and you pay more if the site doesn't accept over half. If you want the rejects back, you have to fork over $5.99.
You're paid commission on a sliding scale, starting at 30% store credit or 20% cash for purchases under $10 and 70% credit or 60% cash for transactions over $20.
Some reselling sites make you do most of the work, including providing photos, setting prices and handling shipping. As a result, fees may be lower and you don't have to wait for the company to process everything before getting paid.
Poshmark has an app that makes it easy to sell stuff through your smartphone. You can post all kinds of clothing and accessories, including men's and children's items. Just take a flattering photo of your item, set the price, add a detailed description and share. When you make a sale, Poshmark provides a United States Postal Service priority shipping label, but packaging is up to you.
Fees are simple. Poshmark takes $2.95 on sales under $15 and 20% of the listing price for transactions of $15 or more. After your buyer receives the item, you get your share within three days. And to be clear, Poshmark is not a consignment store, which is how it's been erroneously described in several online articles.
The app also hosts "Posh Parties" a few times per day. During these events, you can submit items that fit into the designated theme so motivated buyers can find them. Brands, special occasions and departments, such as men's or maternity, are common focuses.
Depop has a similar platform to Poshmark. You market items and are responsible for shipping them upon purchase. You can sell any brand as long as the piece is described honestly and is in good condition.
Buyers have to really know what they're looking for when using Depop. You can search by keyword or tag, but you can't filter by department. It's essential to tag your items accurately.
You're charged 10% for every sale. Payments are delivered through PayPal, and standard fees apply.
Perhaps you have the budget for both quality and quantity, but your closet space only goes so far. Online luxury resellers can help you get rid of your designer castoffs. Which site you pick depends on how involved you want to be.
With luxury consignment sites, you ship your things and the company handles the rest. All you have to do is wait for the cash or credit to roll in.
TheRealReal wants to make consigning easy for both the seller and buyer. You provide the designer and clothing type on the site to ensure each piece meets TheRealReal's standards. If you have more than 10 items, you can arrange for a free pick-up. Otherwise, you can print a USPS shipping label provided by the site and send it yourself, free of charge.
Unlike other online consignment stores, you won't get paid per item. Instead, you'll receive a commission for everything sold over a calendar month, starting at 55% for sales of $1,500 or less. For example, if in a given month one blouse and two pairs of shoes sell for $300 total, you'd get paid 55%, or $165. Payout is on the 15th of the following month. You can get cash via check or direct deposit. You could also opt for site credit, which ups your commission rate 5%.
Material World, like other luxury resellers, only accepts clothing from certain designers. You're sent a free mailing envelope, you fill it and send it back. Once Material World accepts what it wants, you're given credit up front, with the option to donate the rest or have your clothes returned to you for free. There are no fees associated with the process.
One factor may keep you from using Material World: There is no cash payment option. Instead, you get a branded reloadable debit card that you can use to shop Material World or its partner sites and stores. It is only loadable with credit you earn by sending in items, so if you're planning to use the money any other way, skip this one.
Resale marketplaces let you control how your clothes are sold. You take pictures, promote your stuff and ship it when it's purchased. The site only connects you to buyers.
Tradesy is a resale marketplace that looks like a traditional online retailer. Unlike luxury consignment stores, you're responsible for taking photos of items, though the site will help improve the quality of the main display image. You can post clothes from all price points, but higher-end brands are easier sells.
As for fees, Tradesy takes $7.50 on every transaction under $50 and a 14.9% commission for all other purchases. The site provides USPS priority shipping labels and adds that cost into the item's list price. You can also choose to send orders another way and add those expenses to the buyer's total. If you want to get fancy, the company offers branded shipping kits at various price points.
You can get paid in as few as four days after a buyer receives your package. Like many other resellers, you can redeem your earnings for cash or store credit. A 2.9% fee is applied to cash or PayPal transfers. If you choose to take store credit, you forgo this charge.
Browse any of the sites mentioned earlier and you'll notice that they're marketed toward women. But if you're a man with style who also wants to offload some stuff, you do have options.
Grailed, like Poshmark, is about marketing your own treasures. You take pictures, describe each piece and set the price. The site has three tiers for sorting items:
Grailed, for special collectible pieces worth the high price tags

Hype, for streetwear or new stuff

Core, for well-known mass market items or vintage items that are on trend
Grailed also has a feature that boosts items that haven't sold yet. If you cut the price of a piece of clothing by 10%, it shoots to the top of its category page.
Grailed takes a lower cut than some sites: 6% commission on all sales, plus standard PayPal fees. The business has some bad reviews, mostly from buyers who unknowingly purchased knockoffs or dealt with a shady seller. So if you use Grailed, be honest about what you're selling.
TheRealReal, Poshmark, Depop and Swap.com also accept or allow sales of men's clothing.
Children go through a lot of clothing, and chances are you bought some clothes that were never worn because your kid quickly outgrew them. A few sites we already mentioned can help you get some value from your child's hand-me-downs.
ThredUp made a name for itself as a secondhand children's clothing swapper. It's still one of the few consignment sites with a dedicated section for kids. Poshmark also has a kids department, if you prefer to sell the clothes yourself.
If you'd rather sell to people down the block than across the world, try local reselling.
Craigslist has provided an online space for secondhand selling since 1995. You have to do all the work, including setting the price, haggling with potential buyers and agreeing on a safe place to make the transaction. It's a good site to sell your stuff if you just want an uncomplicated platform you likely already know.
Facebook Marketplace is like Craigslist, except you have a better way to identify who's buying your stuff. You can sell to people in your area, and you'll have to arrange the payment method and pickup with your buyer.
VarageSale was created before Facebook Marketplace existed. The site aims to make peer-to-peer neighborhood sales easier. You have to be approved before you can sell in a community, so you have assurance that everyone else on the site is vetted.
Once you have a favorite site and a strategy, selling your clothes online can be a fun way to make some extra money.