How to Start an Online Boutique
Learn how to start an online boutique quickly and easily. Review costs, product sourcing, funding options and more.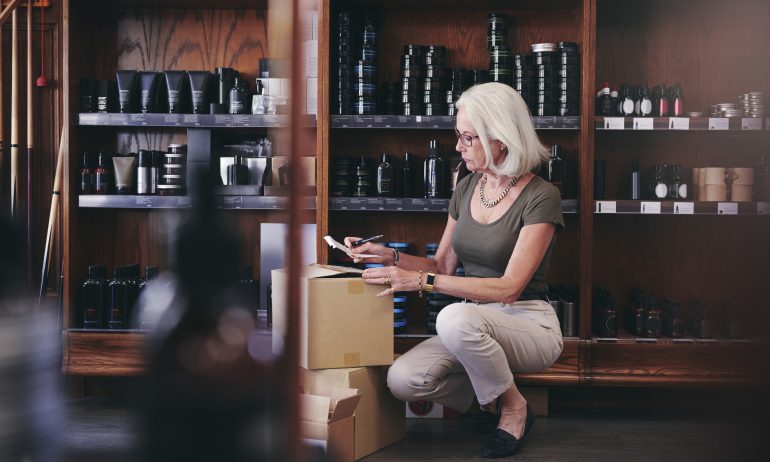 Many or all of the products featured here are from our partners who compensate us. This influences which products we write about and where and how the product appears on a page. However, this does not influence our evaluations. Our opinions are our own. Here is a list of our partners and here's how we make money.
In the digital age, online boutiques are a popular alternative to heading to your local store and shopping around, looking for an item they might not even have in stock. So, if you're looking to learn more about how to start this kind of e-commerce business, there's really never been a better time.
Although starting an online boutique can feel intimidating, the process can be made much more approachable when you take it one step at a time. In this guide, we'll explain how to start an online boutique, walking you through each step, and the key things to remember when making those first decisions about your new business.
Starting an online boutique
Just like with starting any business, there are some general steps you have to take when starting an online boutique because, well, it is a business. Additionally, there are some steps unique to online boutiques you'll need to consider, as well.
Step 1: Choose your business name and entity type.
Part of starting an online boutique will be deciding on its name and the business structure you want for it. This means deciding whether you want to go it alone, or have a business partner, and more.
Here are some common business structures to consider:
Sole proprietorship: This is the easiest entity to set up, as you don't actually have to register it with the state where you'll be operating. With a sole proprietorship, either you or you and your spouse can be the sole owner, and you'll report your business income and losses on your personal tax return. You will also be personally responsible for your online boutique's debts and legal obligations.

LLC: A limited liability company, or LLC, is a flexible business structure that separates your business's liabilities from your personal assets. LLCs are treated by default as pass-through entities for tax purposes; however, you can choose for your LLC to be taxed as a corporation.

Corporation: If you plan to issue stock or want the option in the future, you may decide to form a corporation. Although corporations are also registered business entities and offer limited liability protections, like LLCs, they differ in their tax and ownership structures, among other aspects. If a corporation sounds like the right fit for your online boutique, you'll want to decide between an S-corp and C-corp.
If you're unsure which business entity to choose, this is a good time to consult a business attorney or tax professional who specializes in small business finances. They will be able to steer you in the right direction for your business.
Next, you'll also need to choose a business name so that you can move forward. Both of these decisions will be necessary for the next step: writing your business plan.
As with any business, you'll want to search on your state's online business database to ensure the name you want is available. You might also search federal, state, and local trademark registrations to ensure your business name and potential logo aren't infringing on another business's intellectual property.
This being said, something that's extra important to consider when starting an online boutique is whether your desired business name will be available to use as your business domain name.
Your domain name will be the URL of your online boutique and how your customers find your site. If your domain name isn't available, you may want to consider another business name altogether, as it can create a confusing customer experience.
It's also worth noting at this stage that if you chose a business entity that does not need to be registered with the state—namely, a sole proprietorship or general partnership—your business name will default to your name. If you don't wish to publicly operate under your own name, you should file a DBA, or "doing business as" to register a different name for your online boutique.
Step 2: Create a business plan.
After you've completed this initial step, the next part of learning how to start an online boutique is developing a business plan.
At the very least, your business plan will serve as a roadmap for you as you launch your online boutique. Beyond your personal use, your business plan will also be essential if you decide to apply for funding down the line (more on that later).
To this point, you want your business plan to be as detailed as possible so that when it comes time to actually start selling items you'll be ready to go. This being said, as you begin planning and writing your business plan, here are some components you'll want to include:
Executive summary and company overview: What is your business and what are you going to sell?

Market analysis: What does your market look like? Who is your target audience? Who are your competitors? How are you going to approach the market and differentiate your business from others?

Financial plan and projections: How are you going to earn money? What costs do you anticipate having when you're first starting out? How will you obtain funding if you need it? What will your potential revenue look like as your business progresses?
How much does it cost to start an online boutique?
One of the most important elements of your business plan will be your financial projects, which means you'll want to think about startup costs. You may be wondering, therefore, what costs look like for starting an online boutique.
Luckily, compared to brick-and-mortar boutiques or other types of businesses, the costs to start an online boutique will be much more manageable—and you'll have a decent amount of control over where and how you spend your money.
This being said, it's very likely that you can open an online boutique with a few hundred dollars. Although it will be difficult to start an online boutique with no money, you can make it very affordable.
With this in mind, here are some of the top costs you'll need to consider:
Website costs: These might include web hosting, a custom domain name, an e-commerce platform subscription, a merchant services provider, and anything else you need to get your online boutique website up and running.

Inventory costs: Inventory will likely be the most important cost to consider—after all, you can't have an online boutique without products to sell. Ultimately, these costs will vary based on the specific products you sell and suppliers you work with, but nevertheless, you'll want to evaluate how much inventory you need carefully.

Shipping costs: As an e-commerce business, shipping will be essential to your process. Therefore, early on in the process, you'll want to start to think about different shipping options, providers, and potential costs.

Marketing and promotion costs: Although there are a number of ways to promote your business for free when you're starting out, you'll want to at least consider what marketing and advertising costs will look like for your boutique as you get up and running.
Of course, if you've chosen an entity type that needs to be registered with the state, you'll likely have registration costs, as well as possible licensing costs. As you might expect, however, these costs will vary based on the state and the specific registration or licenses your business needs.
Step 3: Decide what to sell and find suppliers.
Next, you'll want to need to answer a very important question: What do you want to sell?
Although most business owners looking to start an online boutique are planning to sell some sort of apparel, there are a variety of products you might choose to sell. You might start a simple online clothing boutique, or conversely, you might start an online boutique that sells custom dog collars.
Ultimately, in order to decide what type of products you're going to sell, you'll want to take time to think it through and perform the necessary research.
To this point, Lynn Thompson, author and the owner of the online boutique Old Maid Cat Lady, told us:
"One thing I'd advise people thinking about [starting an online boutique] is to do a lot of research on your idea first. Make sure there's a market for what you're doing. Are you fulfilling an actual need people have, or is that wishful thinking on your part?"
This being said, many business owners advise potential entrepreneurs to "find their niche." You'll have much greater success if you can fulfill an open need or outdo a competitor in some way.
Along these lines, as you decide what you want to sell, you'll also want to determine where you're going to get those products. If you determine that you want to sell eco-friendly running shorts, for example, but you can't find a supplier who offers those products, you're not going to have much luck opening your boutique.
Therefore, after you have a product idea, you'll want to start searching and comparing suppliers. As we mentioned above, inventory will be one of the largest startup costs you have, so you'll want to explore your options carefully. To cut down on costs, many online sellers choose direct product sourcing—working with manufacturers directly instead of third-party wholesalers.
Of course, you always have the option to create the products yourself, in that case, you'll want to determine what supplies you need to do so, and where you can get everything you need to sustain creating the products for your boutique.
Step 4: Choose the right e-commerce platform.
After you've decided what you're going to sell and where you're going to get your products, the next part of learning how to start an online clothing boutique (or any type of online boutique) is choosing an e-commerce platform.
The e-commerce website builder you choose will dictate some of your business costs, so you'll want to choose one early on in the process and know what costs to expect, as well as what capabilities it will offer you to build a user-friendly shopping experience for your customers.
"We looked at all the big players in the space and chose the platform that best suited our needs," says Pia Rappaport, founder of the online business Pillowpia, who ultimately chose Shopify as her e-commerce platform. "They keep the price low and features are the most universal but you have the ability to add on additional features through their app store for specific needs. Their model is very a la carte. It is nice not to have to pay for features that are irrelevant."
This being said, not every e-commerce platform is created equal, so here are some questions you might ask yourself in order to find the platform that's right for your online boutique:
What to look for when choosing an e-commerce platform:
Is it a dedicated e-commerce platform, or is it a website builder with e-commerce capabilities—and, which will serve your business best?

How much are you willing to pay for a subscription?

How user-friendly is the platform—will you need coding knowledge or is it mostly drag-and-drop editing?

Are the templates mobile-responsive so customers can shop from their phones, and does the platform offer a mobile app so you can keep tabs on your online boutique from any device?

What level of customization does it offer?

How many products will you be able to list on the platform (this may be limited depending on plan), and does it handle variations, such as size, color, etc.?

How secure is the platform? After all, you want to ensure your—and your future customers'—information will be protected.

What integrations does the platform offer?

What is the platform's hosting environment?

What level of customer service do they offer?
Shopify (Rappaport's favorite) is one of the most popular online store builders out there, with prices starting around $30 a month. Similar to Shopify, you might also consider BigCommerce—which is known for its ease of use, as well as being a top Shopify competitor.
On the other hand, if you simply need a website that has e-commerce capabilities you might want to go with Wix or Squarespace instead. They're first and foremost website builders, but you can choose to add e-commerce capabilities.
With so many options out there, you'll definitely want to explore your options and take advantage of any demos or free trials to really get an idea of how to use the platform and how it can showcase your products or services.
Starting an online boutique on a marketplace or social media platform
Alternatively, if opening your online boutique and creating an entire website from scratch seems too overwhelming, you might decide to get started using a marketplace or social media platform.
In this case, you won't necessarily have to develop your own website (or at least not right away) and instead, you'll take advantage of a company like Etsy or Amazon, that allows you to create a store and sell through their platform. Similarly, you might opt to start an online boutique on Facebook—and simply use the e-commerce features on the Facebook Marketplace to list and sell your products.
Many online sellers choose this method when they're first starting out, as it speeds up the initial processes and requires less of an investment upfront. In particular, if you're looking to start an online clothing boutique with your custom-made products, you might consider getting opening an Etsy shop. On the other hand, if you're going to resell your used clothing items, you might opt to start selling on Poshmark.
Step 5: Set up your online boutique and establish store policies.
Now that you've selected an e-commerce software or alternative platform to start your online boutique, you're ready to actually set up your store. As your e-commerce website will be a customer's first introduction to your brand and your business, you'll want to consider a variety of components as you begin to build your store.
In particular, you'll want to think about:
Design: Most e-commerce platforms will let you choose from a library of free and premium themes to help you design and format your store. You'll want to choose a design that fits your business, as well as one that is clean, modern, and easy for customers to navigate. You'll also want to ensure that the design is mobile-friendly to accommodate customers browsing and purchasing from their smartphones.

Branding: As you create your store, you'll want to think about your brand—and how you can show your brand personality and values through your store itself. You might choose a particular color scheme, font family, as well as add (or create) your business logo.

Product listings: As you might imagine, your product listings will be essential. You'll want to list and organize your products in a way that appeals to customers in order to increase your chances of making a sale. To this point, when you're writing your product descriptions, you'll want to include as many details as possible, as well as images or videos. You'll also want to think about how you categorize your different products and how you can optimize your listings for SEO.

Shopping cart: Next, you'll want to optimize your shopping cart and purchasing process. You'll want to ensure that it's as easy as possible for buyers to add a product to their cart and then either continue shopping or head to checkout. You'll want to test out your shopping cart flow on desktop and mobile in order to ensure your customers can complete the shopping process regardless of where they're browsing.

Checkout: Finally, you'll want to think about your checkout process. You'll want to create a checkout flow that is easy to follow and complete. Here, you'll also want to think about shipping options, user accounts, and perhaps most importantly, payment processing. If you haven't yet chosen a payment processor, you'll want to look for one that's not only affordable, but also one that allows you to offer your customers a variety of different payment methods (credit card, PayPal, Apple Pay, etc).
Once you've taken care of the essential components we've listed above, you're almost ready to launch the website for your boutique. Before you finish, however, you'll want to establish some store policies and guidelines—so that from the beginning, your customers know how your boutique works and what to expect.
To this point, similar to deciding on a payment processor, you'll also want to choose a shipping service—as this will not only affect your processes, but the checkout options on your customer's end as well. In order to find the right shipping provider, you'll want to consider your shipping volume, how large the items you ship are, how long the deliveries will take, and of course, price.
The U.S. Postal Service, FedEx, and UPS are all solid options, but you may also opt for a shipping rate comparison software like Shippo or ShipStation. Some e-commerce platforms will also include shipping or at least help streamline your shipping processes.
In addition to selecting your shipping provider, you'll also want to think about how far you're willing to ship, whether you'll offer free shipping, and how you'll handle returns.
Finally, although not required for getting started, you might also consider potential discount codes, loyalty programs, and other strategies for engaging and retaining customers through your boutique.
Step 6: Register your boutique and get an EIN.
At this point, you've learned many of the most important steps of how to start an online boutique. Once you've created your online store and set your policies, however, you'll need to take care of a few additional tasks before you can officially launch your e-commerce business.
First, if you didn't officially register your online boutique when you chose your entity type, you'll want to do so now. Of course, not all businesses are required to register with their state or local government, so you'll want to refer to your secretary of state website, business bureau, or other local government organization to determine what you need to complete for your online boutique based on your location.
Additionally, this is also a good time to apply for an employer identification number, also called an EIN or business tax ID number. Luckily, this is a quick task that can be done online with the IRS in a matter of minutes.
Although your online boutique might not be required to get an EIN, there are benefits to getting an EIN that any business may find advantageous. Having an EIN makes it easier to keep your business finances separate from your personal ones, and allows you to easily apply for a business credit card and bank account, as well as pay taxes.
Step 7: Get any business licenses or permits.
The next step in starting an online boutique is to get any licenses or permits required of your business. There are federal and state licenses and permits that you might need for your business, depending on the type of online boutique you're starting.
This being said, on top of a general operating license, you'll also want to look into business licenses that are required to sell online. Depending on your business and location, you might need a seller's permit, sales tax license, or home occupation permit.
Similar to registering your business, if you're unsure of what licenses or permits you need for your online boutique, you can consult your local business agency, as well as consult with a business lawyer for additional advice.
Step 8: Open a business bank account and get a business credit card.
When starting an online clothing boutique—or any business—it's important to separate your personal and business expenses. From receiving payments from customers to paying your suppliers, you'll want to open both a business checking account and business credit card to handle these exchanges. Opening these accounts and using them responsibly can also help boost your business credit score, which can be useful should you seek funding down the road.
When choosing a business bank account, you'll want to decide what features are most important for your business. Since your online boutique won't be handling cash, you may decide a physical bank location isn't important, and you might explore online business accounts instead.
Similarly, when deciding on a credit card, think about your business's specific needs and how a credit card can help meet them. You may find a 0% intro APR business credit card particularly helpful, especially when you're first starting out and expenses are high. As long as you have a plan to pay off your balance in full before the introductory offer ends, you can leverage this type of credit card to help cover startup costs.
Although the overhead costs of an online boutique will be lower than a business with a physical location, you're still going to have some costs you need to cover upfront, likely before you start making any money.
If you're direct-sourcing your products, the manufacturer will likely require a larger order than your typical wholesaler. While this will mean lower prices per item, it'll require a great deal of capital on your end to make the initial purchase. Additionally, you'll want to consider other startup costs (as we discussed above), such as setting up your website and implementing a marketing strategy and using advertising to get the word out about your new online boutique.
Therefore, as the saying goes, sometimes you have to spend money to make money—and when you're a startup, you might need to borrow that money before you can spend it.
When it comes to funding, you'll have a few business loan options, depending on what you need the funds for, how much you're looking for, and more. Here are some common options that can be useful for starting an online boutique.
Business line of credit: You can think of a business line of credit as a more powerful credit card. If approved, you'll receive a set amount of money that you can draw against when business expenses arise. You don't need a great credit score, which can be helpful for nascent businesses, and you'll only pay interest rates on the money you use.

Purchase order financing: If your online boutique is in the business of providing custom orders for your customers, you may be able to use purchase order financing to cover the manufacturer's costs before you get paid. In this case, after the lender pays the manufacturer and the products are delivered, you would invoice your customer, who would pay the lender directly.
These are just a few of your loan options, and you may find that other financing options fit your business better. The good news is you can fill out one application to find out which funding options you're eligible for, and then choose the best fit for your online boutique.
Step 10: Start marketing and promoting your boutique.
Finally, you've reached the end of the process, you've successfully learned how to start an online boutique—and all that's left to do is officially launch your website and start taking and processing orders.
Of course, in order to acquire customers, you'll have to market and promote your boutique. As Rappaport said, "I think the thing that most surprised me is how hard it is to get eyeballs on your business. Good marketing and PR investments are key. Once people found us, the business built upon itself."
Therefore, once you launch your online boutique, you'll immediately want to start thinking about the best ways to market your business.
Luckily, from investing in a strong SEO strategy to word-of-mouth marketing, to simply creating social media channels, there are a variety of ways you can promote your business without investing too much money upfront. To this point, many e-commerce platforms actually include marketing and advertising tools that you can take advantage of as well.
On the other hand, however, if you are ready to invest funds in your marketing and advertising strategies, you might choose to use platforms like Google Ads or Facebook Ads. In many cases, using social media marketing can be one of the most effective ways for online-based businesses to reach their target audience.
Of course, the strategy that you choose might not pay off immediately, or it might not work at all. As you start to run your online boutique on a day-to-day basis, you'll be able to experiment and find out what works and what doesn't—and adjust your online marketing strategies accordingly.
Although learning how to start an online boutique can be time-consuming, there's no doubt that getting started selling online is often easier and faster than opening a brick-and-mortar shop.
This being said, even though you'll still need to complete many of the traditional tasks associated with starting a business, you'll also be able to dive deep into the exciting world of e-commerce as you create your store, source products, start processing orders, and work with customers.
Ultimately, Rappaport offers these words of advice: "I would tell other entrepreneurs to give their business time to develop but don't incubate too long. Get something out there and build upon it."
This article originally appeared on JustBusiness, a subsidiary of NerdWallet.