Does Home Insurance Cover Roof Leaks?
A standard homeowners policy may cover sudden, accidental roof leaks.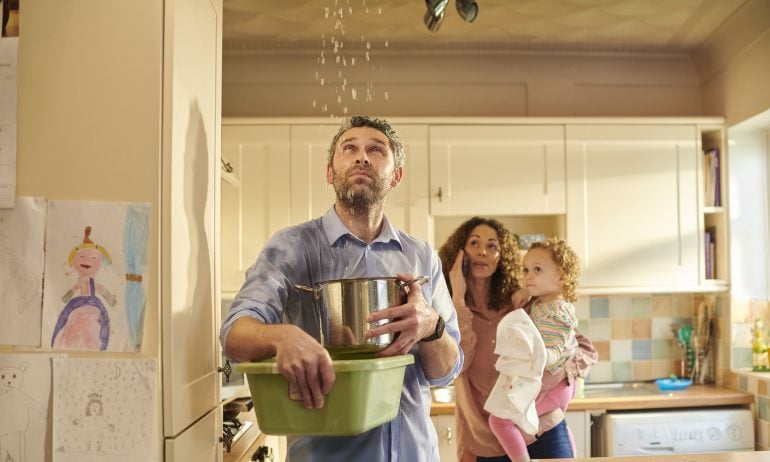 Many or all of the products featured here are from our partners who compensate us. This influences which products we write about and where and how the product appears on a page. However, this does not influence our evaluations. Our opinions are our own. Here is a list of our partners and here's how we make money.
A homeowners insurance policy generally covers sudden, accidental roof leaks — not those due to age or wear and tear.

Your insurance company may not pay the full price of a roof replacement if you have actual cash value coverage for your roof.

If you need to file a claim for a roof leak, report the problem promptly and look for a reputable roofing contractor.
If a roof leak has you breaking out the buckets, it may be time to file a homeowners insurance claim. But whether the leak will be covered depends on what caused it in the first place. Here's what you need to know.
Does homeowners insurance cover roof leaks?
Homeowners insurance typically covers roof leaks if they're caused by a sudden, accidental event such as a storm or fallen tree. Your policy likely won't pay for a leak that develops because your roof is old or poorly maintained.
Here are a few scenarios in which homeowners insurance would likely cover roof leaks:
An electrical short causes a fire in your attic, damaging part of the roof.

A blizzard knocks a tree onto your roof.

Massive hailstones puncture a few shingles.

Strong winds blow shingles off the edge of your roof. (Note: While most standard home insurance policies cover wind and hail damage, homeowners in some coastal areas may need to purchase separate wind coverage. Check with your agent to make sure.)
In addition to the roof itself, your policy may cover related damage to other parts of your home. For example, if a covered roof leak ruined a mattress and part of the floor in an upstairs bedroom, your insurer would typically pay for repairs or replacement.
Your insurer will subtract your deductible from any payout. A deductible is the amount of a claim you're responsible for.
The roof falls under your home insurance policy's dwelling coverage, which pays for damage to the structure of your home. In most homeowners policies, your dwelling is covered on an "open perils" basis. This means your roof is covered for any cause of damage that isn't specifically excluded in your policy.
Here are some scenarios that many home insurance policies exclude:
Other earth movement, including landslides, mudslides or sinkholes.

Damage from some animals, birds or bugs.

Fungus such as mold and mildew.

Neglect or intentional damage.

Faulty workmanship or materials.
Does homeowners insurance cover a roof replacement?
While many leaks can be addressed with minor repairs, severe damage might require a whole new roof. Whether your insurance company will cover a roof replacement depends on the type of coverage you have.
Actual cash value vs. replacement cost value
Some homeowners insurance policies cover your roof on a "replacement cost" basis. With this type of coverage, the insurer will pay the full cost for a new roof if you need one after a covered claim. But if you have actual cash value coverage, the insurer will reduce your payout to reflect depreciation, based on how old your existing roof is.
Say you paid $20,000 for your current roof and it was supposed to last 20 years. Now, only 10 years in, you need a roof replacement. If you have actual cash value coverage, your insurance company would deduct half the roof's value because it's halfway through its expected lifespan. That means you'd get only $10,000 toward a replacement (minus your deductible).
Some homeowners choose actual cash value coverage for their roof to save money on their premiums. But it's not always a choice. Certain insurance companies will give you actual cash value coverage by default if your roof is past a certain age.
Should you file a claim for roof damage?
Even if you think homeowners insurance will cover your roof leak, filing a claim may not always be the right move.
First, check your deductible. Many homeowners choose deductibles between $500 and $2,000. The average roof leak repair costs $379 to $1,741, according to Angi, a home services website. Once your insurer subtracts your deductible, you could get little or nothing if your repair costs the average amount.
Second, filing a claim could cause your insurance premiums to go up for the next few years. Consider whether the payout now will be enough to cancel out those future increases.
Getting quotes from a few roofers can help you decide whether the repair will be expensive enough to make filing a claim worth it.
How to file a claim for roof damage
Once you've decided to submit a claim, here are some steps to take:
File promptly. You may be able to file your claim by phone or on the insurer's website or app. It's best to file as soon as possible to get the process started, especially if your damage is due to a widespread natural disaster. It can take longer to settle claims if there are hundreds of other nearby homeowners who also need help.
Document the damage, if possible. While we recommend leaving the inspection of the roof to a professional, you can take pictures of interior problems such as damaged furniture or water stains on your ceiling.
Hire a reputable contractor. Don't just choose the cheapest roof repair company and call it a day. Check references, read reviews and make sure the company you choose is licensed in your state.
In particular, beware of roofing contractors going door to door after disasters. They may dangle suspiciously low rates or promise to get you a free replacement roof from your insurance company if you let them file a claim on your behalf. Such offers are often scams.
How to prevent roof leaks
Have your roof inspected regularly to spot small problems before they turn into big ones.

Keep your gutters and downspouts clear.

Trim back tree branches and tall bushes that are close to the roof. This can help keep debris out of your gutters and prevent moss from growing in damp, shady spots.

Check your attic for telltale signs of problems such as mold, blocked ventilation, algae or rust.
Get more smart money moves – straight to your inbox
Sign up and we'll send you Nerdy articles about the money topics that matter most to you along with other ways to help you get more from your money.